As we become even more aware of the importance of making our clothes last longer, there are a few tips that can help prolong their lifespan. Restoring & repairing isn't as scary as it sounds, and can actually be pretty therapeutic! Teaching yourself a new skill, like using a sewing machine, can save you money & help bring life back into your clothes. Altering hems so they don't drag on the floor, or bunch at the bottom can change your entire outfit and make it more flattering.
Here are my top 7 gadgets to help your clothes last longer.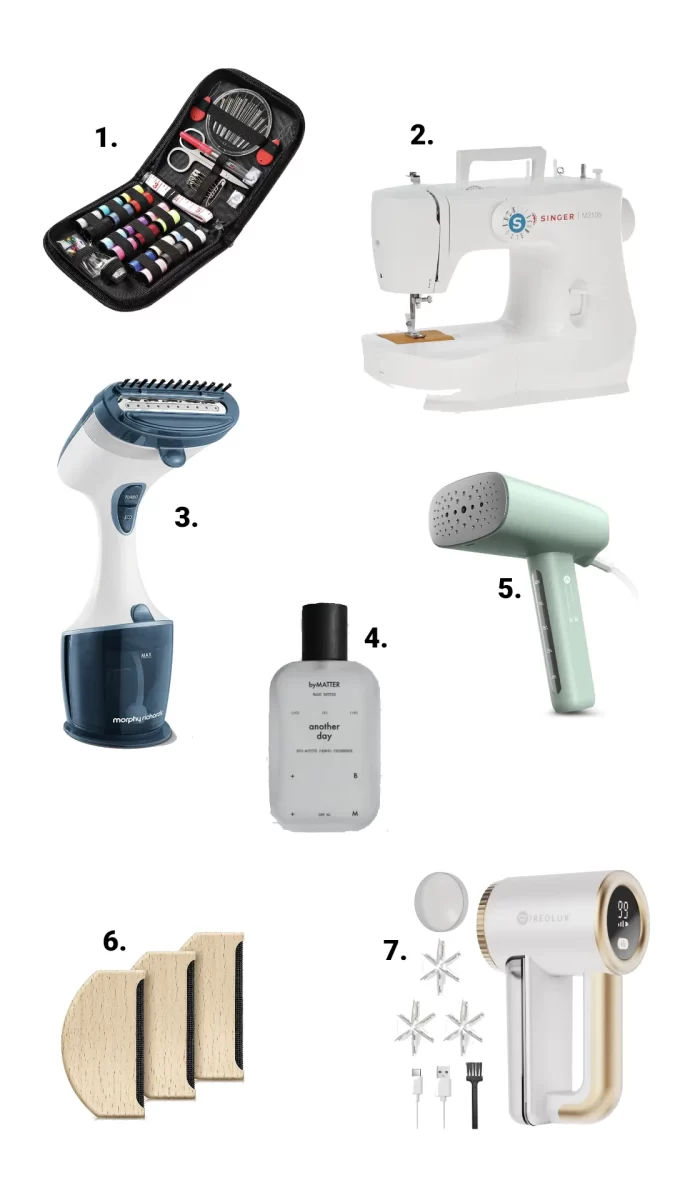 1. Mini sewing kit: This kit has all you need to stich up holes. It's easier to sew holes that are on a seam (where the fabric joins) or if it's not on a seam then you could add a patch. Here is an easy sewing tutorial if you are a beginner – WATCH HERE.
2. Sewing machine: This is a simple enough machine for a beginner. It comes with easy instructions, and the options are endless. From hemming trousers legs, to shortening a dress, and my personal fave, turning your kids trousers that are too short or have holes in the knees, into shorts!
3. Handheld steamer: I've worked in the fashion industry as a stylist for over 15 years, I've tested out numerous steamers along the way – from industrial upright steamers on film sets, to fancy mini steamers on location shoots in Miami – and this is the best of the best. It's ready to steam in 35 seconds and removes creases from fabrics pretty instantly. It works best on lighter, natural fabrics (linens, silks & cottons, and is great for bedding.) I don't own an iron and only use this.
4. Fabric refresher: Washing your clothes less will allow them to last longer, reduces energy and wastes less water. Fabric refreshers are great for giving them an instant sprucing up. My favourite is By Matter, a carbon negative brand that works with scientists to create home products that are environmentally safe and actually work. A quick spritz of their Bio Active fabric refresher will revive your clothes without the need for a wash cycle.
5. Mini Steamer: If you are going away then this is a great gadget to refresh your clothes. It's not as powerful as a large steamer, but it does the job on holiday to remove creases from your summer dress, or bring life back to your linen shirt. The head unscrews so it seperates into two parts and fits into a small bag, around the size of a pair of shoes.
6. Fabric comb: A cheap (and weirdly therapeutic) way to remove bobbles from your clothing. All knitwear will bobble (or pill) no matter if it's cheaper or expensive. It's what happens when there is friction between the fabric, so it usually appears under the arms quickest as the arm rubs with the side.
7. Electric debobbler: A more time efficient way to remove the bobbles from your clothes. Lots of fancy brands, pretty looking do similar, but this is brilliant. You charge it by USB, its really powerful and comes with extra blades. It's also very satisfying seeing the filter fill up with the excess fluff from your jumpers.
(Affiliate Links used)