We've recently had lots of feedback that you are all as nosey as us and would like to have a snoop inside our homes, so without further ado, this is Gemma's old house.
For those who didn't see me moaning on Instagram about it back in December, I moved in to a new house just before Christmas (MOST STRESSFUL EXPERIENCE EVER!) as we'd outgrown this and needed more space as our family expands, but it was so hard to actually close the door on this place as I loved it.
I've lived here for 4 years, and it holds SO many memories for me. It went from being a wild party house (for my husbands 30th we held a party, and I was so drunk I fell down all the stairs and had a black and blue bum for a month!!) to the home where we brought Belle home from hospital. It's where she learnt how to walk and how to talk.
I loved laying on my couch and looking out the glass roof at all the greenery and whenever I'm in my home I feel like I escape the hustle and bustle of London, even though I'm only a 12 minute tube ride from Bond Street. We were lucky enough to have a really big garden so in summer the patio doors were always open and we always had people over.
Belle's Bedroom: This room in particular holds loads of memories. From being 8 months pregnant and sticking all those polka dots on the wall, to watching my husband build her cot. The first night she slept in this room will always stick in my mind as I came to check on her about 400 times!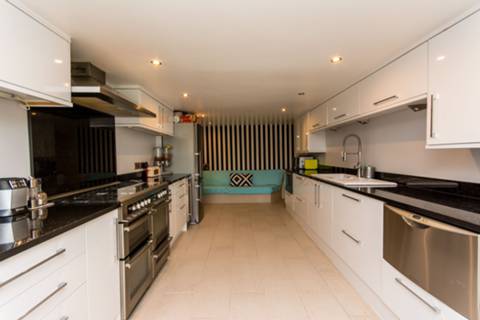 The kitchen: This was how it was when we bought it and we haven't changed anything except add the striped wallpaper to the back wall, and re-covered the bench. so it tied in with the dining room curtains.

Dining Room : We often have people over for dinner, which is hilarious as I can't cook! This table expands and we've had a sit down dinner for 24 on a couple of occasions. I love how bright and cheery this room is, and love how you can see the whole house from this angle.
Living Room: I was adamant that my whole house wouldn't become 'babyfied' (not judging if yours is covered in toys, I just didn't want mine to get that way..) so Belle's toys are all in her room apart from this little teepee which sits in the corner. I love the detail on the ceiling.
My room: This was the only room we didn't ever 'do.' It was always my intention to change the red bricks on the fireplace to white or pale grey but ya know, life got in the way! I love the trees outside our bedroom window and how bright it is. As soon as I'm totally organised and take pretty pictures in the new home then I will share it with you