How's a girl to keep up with her seasonal grooming when one minute it's snowing and the next its 26 degrees?! There's no time for an emergency pedi when you have kid (s) in tow.
Like many of you, Gemma and I aren't from London and although Gemma luckily has her mum and her sisters here now, I have no parents or in-laws living in London so Leo is with me 24/7. I can't just drop him off at my mums while I get an emergency bikini wax. No biggie. Except sometimes it is. After a pretty awful experience where I had to take Leo with me, dumped in his pram next to the beauty couch being placated with carrot puffs hot while wax was spread across my nether regions, I inwardly prayed that no woman would ever have to suffer the same experience.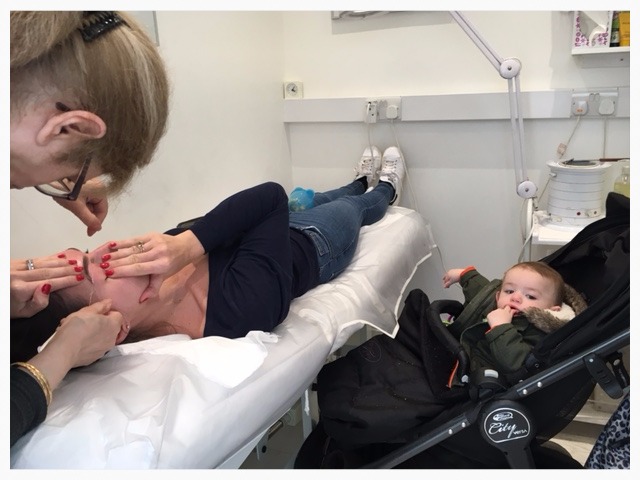 [Poor Leo. Waxing appointments. Brow threading. He's been dragged to them all.]
Thank the lord then for a new breed of at-home mobile beauty services that deliver a spa-standard therapist straight to your door once the kids are asleep for a mani/pedi/wax/massage [delete as appropriate or enjoy them all] while you watch the latest episode of Geordie Shore in your dressing gown. Thank me later.
SAM TRIED:
FOR SPA STANDARD SERVICE TO YOUR DOOR
I've tried mobile therapists before and they were ok. Nothing to write home about but they got the job done. Then I discovered Milk Beauty, a mobile beauty delivery service that sends impeccably trained, salon-standard therapists to your doorstep. I'm not joking when I say that I had the best massage of my life. My therapist (ask for Michelle) worked some sort of magic on my knackered body. Turns out that carting a 25lb child around and pushing a pram all day, 'erry day is a workout to rival Barry's Bootcamp.
It's also worth noting that as part of my day job, I've been to expensive, high-end salons where the hygiene standards weren't a patch on Milk's. During my pedicure the therapist used a brand new nail file, buffing block and footbath on me. Waxing? While most salons will use a new wooden spatula to spread the wax onto each clients skin, they will still 'double dip', which means that spatula goes back into the pot a few times. Gross. Yeah, Milk don't do that. Another plus for Milk; the after-care service is great. Contrary to popular belief, the only way that a Shellac (or any gel) manicure damages your nails is when it's removed badly. To try and encourage proper removal (we're all guilty of picking it off) Milk leave you with a little removal goodie bag containing a nail file, buffer, acetone remover, cotton wool and foil wraps.
Price: Back and Shoulder Massage, £35; Pedicure, £40
***MILK have kindly offered all This Is Mothership readers 20% off if they book online and use code 'MOTHERSHIP20' ***
GEMMA TRIED:

Those of you who follow us on Instagram will know (erm, and if you're not then follow us
@ThisIsMothership
immediately please) that I went on holiday last week. I was being my usual spectacularly organized self (don't know what I mean then click
HERE)
except two nights before we were due to fly I called Sam panicking. I'd only forgotten to book a bloody bikini wax, couldn't get anyone to babysit Belle during the day and all the waxing places near me closed at 6pm. Sam suggested Gwenelda. Ivankaarrived at my door the next night at 9pm. It's brilliant that you can get such a late appointment as I had time to put Belle into bed, put on a load of washing and pack for my holiday. I was lying on my back getting a full bikini wax within minutes of her arriving and texting Sam a second by second review – although I had to pause the live text feed for a moment to, ahem, use both hands to help out with positioning, if you know what I mean! It was thorough, painless and SO quick. She used two different types of wax and finished in 20 minutes. It felt a bit more 'mobile therapist' rather than 'spa in your house' but it was the most meticulous wax I've ever had and I would definitely use Ivanka again. We've heard inside information that there are big plans for branding so it sounds like it will be on par with the rest of the 'at home' services really soon. [Gemma]
PRICE: Brazlilian Wax, £30
***Gwenelda have kindly offered all This Is Mothership readers £10 off if they book via the app or email info@gwenelda.com quoting code 'NELDA5' and their treatment choice. ***
There are loads of these at-home beauty services about these days thanks to clever businesswomen (yes, they are run by women) who clocked that we were all too busy to make it to a salon during regular open hours. Think of it as Uber-ing a mani…
URBAN MASSAGE
– London, Manchester, Birmingham, Edinburgh, Glasgow