Spa weekenders with your girls are great when you can actually all find a date that works for you amongst the logistics and the mayhem of weekend family life/kids party schedules/sports lessons etc etc. We've both learnt that these days, it's never going to happen. But we have made the discovery that if planned well, the lunchtime nap can be the perfect source for a little local spa action. You all know by now that we're totally obsessed with Clarins skincare products. Which is why last month, Gemma and I booked ourselves into Winchmores, Clarins Gold Salon of the Year. This means that of all Clarins Gold Salons in the country, this is the best of the best. And the best bit of all, it's not even in W1. It's just around the corner from where we live in North London, situated on the most beautiful village green.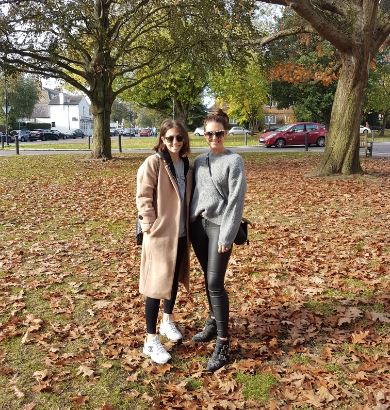 WHAT IS IT?
Upon entering, we can totally see why Winchmores beat even the fanciest,
glossiest spas's of W1. The staff are SO friendly. Not in that annoyingly fake way, but so warm and genuine. Secondly, Winchmores is an actual beauty tardis. From the outside, it looks like a cute salon. From the inside it seems to expand as you walk, housing a hair salon, a nail bar (we wanted to book in and stay all day) and upstairs, the skin spa. We've been to a few spa's in our time and it's standard to be offered a glass of water as you sit and fill in your client card. At Winchmores the water was not just water. It was a sparkling lime and elderflower glass of joy that honestly had
us re-filling. Sounds ridiculous right? We were over-excited by water. But this is the best spa in the country. Little details are why it has this award. And the little details make your experience incredible. Like the fact that when you walk into the treatment rooms, the lights are dim and the ceiling is twinkling. How many times have you awkwardly lay on the therapists' bed waiting for them to come in just looking at the paint peeling off the dusty ceiling? Not here.
WHAT DID WE HAVE?
Ok, so onto the treatments.
Sam: I went for the Pampering Face and Body Post-Natal Treatment. This
incorporated a facial too, so really it was the best of both worlds. Mumhood
means never having the time to do a thorough skincare regime and your body gets a battering carrying babes and toddlers on your hips daily so this treatment really hit all of the right buttons. My knots were completely manipulated and released and my grey, dull skin was given a thorough exfoliation as I zonked out (massage, facial + power nap!) My therapist explained that I should switch my night cream out for Clarins skin balancing Lotus Oil (I've used it every night since in my quest to get my glow back and I can tell you that it's working) Little detail: after my facial, I was asked if I'd like any concealer applying so I didn't leave
completely bare-faced.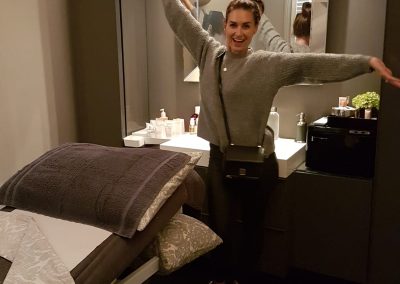 Gemma: You all know that my back is totally buggered, so I went for The Best Facial of my Life, otherwise known as the Gold Salon Winner Bespoke Facial. I don't know if it was because I was so in need of some quiet time, if the therapist was just utterly brilliant, or if I was just exhausted (I'm guessing a combination of it all) but I have never felt as zen as I did during this facial. The therapist was so knowledgeable, we talked about my skincare routine and she explained the importance of me adding in an exfoliater daily to get my glow back. I've been doing this ever since and I notice a difference in my skin and it doesn't seem as dull and lacklustre as usual. For me, the sign of a great facial is not wanting or feeling the need to put make up on after. I left barefaced and didn't apply a thing, even when I went out for dinner that evening.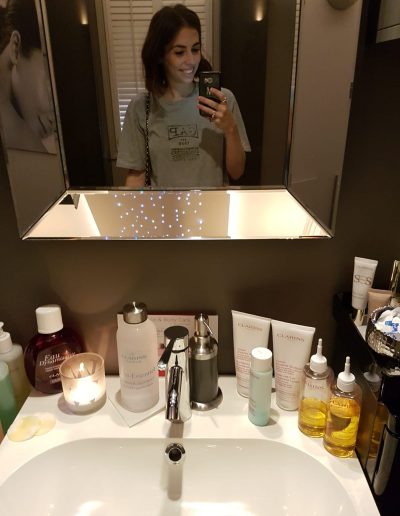 As much as we'd love a 24-hour break away with our friends, a Power Lunch Break at Winchmores is perfect. We left our houses as the babes we're eating their lunch and arrived home, rested, rejuvenated and glowing as they woke from their naps. Grab your girls. Find a few hours. Book in. Be kind to yourselves. We've already booked in for a little pre-Christmas boost.
www.winchmores.com // www.clarins.com
{This post was written in collaboration with Winchmores & Clarins}