Is half a cucumber currently vegetating in the corner of your fridge alongside half a browning avocado? Is there a spotty old banana lying on the kitchen side like the last kid to be picked for the football team? Yeah, I thought so. Me too. Avoid the weekly argument about food wastage and turn them into skin-transforming at-home facemasks…* The same fresh, natural foods that you feed the kids can do wonders for your skin. This might be the best thing you read all year (or day, whatevs)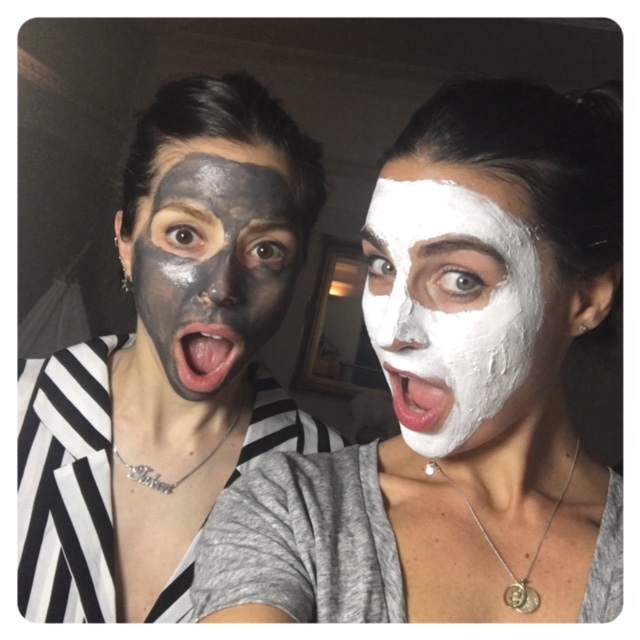 AVOCADO: TO MOISTURISE SKIN
1 avocado 2 tablespoons plain yogurt 1 tablespoon olive oil 1 tablespoon good quality raw honey
Add hydration back into rough, dry skin with this moisturizing mask. Avocadoes are a great source for vitamin B and potassium that help moisturise skin. The omega fatty acids in avocado and olive oil ensure the skin cells membrane stays as healthy as possible so it can act as barrier to keep out things that are harmful (pollution, grime etc) and keep in moisture. Adding in soothing honey and yogurt will help skin to feel incredibly soft and plump—if a little sticky. Just be careful around the hairline. Leave for ten minutes and remove with a warm, damp flannel.
BANANA: FOR PROBLEM SKIN
1 mashed banana 1/2 teaspoon baking soda 1/2 teaspoon turmeric powder
If you have blemishes, give this one a go. Bananas are packed with potassium (for hydration), B Vitamins (that protect against free radicals which are responsible for skin aging), Zinc and Vitamin A, which promotes skin-cell turnover and helps pores stay clean. Anti-inflammatory turmeric powder wards off acne-causing bacteria and the baking soda absorbs the excess oil in your skin. Apply for five minutes then rinse off.
CUCUMBER: TO SOOTHE SKIN
1/2 cucumber, pureed in a food processor 1/4 cup yoghurt 1 tablespoon good quality raw honey 1 tablespoon brown sugar
The humble cucumber may seem like a simple water-rich vegetable but studies show that fresh cucumber extracts contain many potent antioxidants and anti-inflammatory nutrients. With 95% water content it's cooling, reduces redness, and smells so good that you will feel—for five minutes—like you're in a spa, not your kitchen. Don't' scrimp on your honey; as a general rule, the darker it is, the higher in anti-inflammatory antioxidants.
LEMON: TO BRIGHTEN SKIN
Juice of 1 lemon 2 tablespoons sugar 1 tablespoon olive oil
Dewy, refreshed, and calm. That's what we're going for here. The sugar and lemon work together to exfoliate dead skin cells, while the olive oil hydrates and restores your skin to top health. Leave on for five minutes then remove with a warm, wet flannel.
YOGHURT: TO DE-PUFF SKIN
1 cup Greek yoghurt
2-3 drops of olive oil
1 tablespoon good quality raw honey
Yogurt contains lactic acid, a compound found in some chemical peels that may help clear blemishes, discoloration, and reduce fine wrinkles while honey has been used as a potent skin healer for centuries because of its antibacterial effect. It's also a powerful humectant, which means that it attracts moisture to the skin, making it easier for the skin to heal itself. Because honey is so potent, before using any of these honey-based masks, make sure to do a small patch test first. If you don't react after ten minutes you should be fine to go ahead with the mask. Leave on for 20 to 30 minutes, then rinse and pat dry.
*These are the foods that I find I waste the most. If your husband laughs at you, like mine, just reiterate that you're helping by saving money and he'll soon shut up.