Taking a shower is one of life's simple pleasures. I mean, it's pretty straightforward, right? Then you have kids. Whether you have a newborn that refuses to be put down or a toddler who just won't stop banging on the door (or a husband asking when you're coming out) the bathroom is no longer the relaxing space that it once was. However, you're still in with a chance. With a few tweaks and clever product swaps, you can maximise the moments that you do get. Here are my bathroom secrets….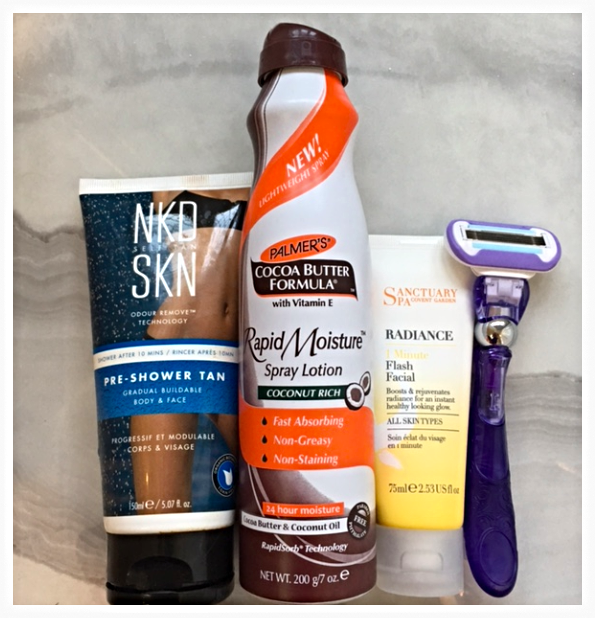 THE TWO MINUTE MOISTURISER:
Before I was pregnant, I never paid any attention to the skin on my body. Didn't have time. Then I discovered body oils for the bump (will do a post on these another time if anyone's interested?) Now, I still don't have time but my skin has become SO dry that I have to moisturise. THIS is a game-changer. Spritz, haphazardly rub in and that's the job done. It's not sticky so you can get dressed straight away.
THE ONE MINUTE MASK:
Face masks are probably one of my favourite beauty products. An 'instant' way to perk up skin, they deliver results seriously fast. Whack one on before you hop in the shower, turn your back and lather up your hair keeping your face out of the running water. As you wash your hair, the steam from the shower will help ingredients penetrate deeply. This new one, powered by three different kinds of skin-brightening vitamin C (which face it, is what we need) is a current fave; after 60 seconds my skin looks fresher, radiant and feels smooth.
THE 30 SECOND SHAVE:
A razor is a razor, right? Wrong. When it comes to speed you need get your head in the Top Gear game. Ok, so I don't actually watch Top Gear but my husband watches it while I tap away on my laptop and from what I gather, when it comes to 'fast', you need sleek and streamlined. This razor has something called a 'Flexiball' on the neck which pivots as you glide it around those awkward areas that dip and curve (your knee/underarm/bikini line) so that you don't cut yourself or miss bits when you're in a hurry. Plus the built-in moisturising shaving foam strip means that your legs don't feel itchy and dry afterwards.
BONUS TIME: THE NO-WAIT FAKE TAN
PS: Long, hot showers are overrated. According to skincare experts they're a primary cause of dry skin.