My 9-5 job is quite fun. Among (a lot of) other things, it involves doing enough research to be able to categorically say which are the best liquid liners out there. I've tried them all. From paint pots to gel wands and smoky kohls but for inky black goodness and real staying power, nothing beats a felt-tip applicator.
To pass my test, they need to have a firm point and an even flow of ink (no one wants a rogue splat of ink just as they finish their flick) stay put (no smudging onto my eyelid, thanks), dry quickly (to withstand the smudging of tiny hands) and be great value for money (don't you hate it when a liquid liner loses it's inky-ness and goes grey after a couple of weeks)
With that in mind, meet the new additions to your mum-proof make-up bags. These pass all the tests: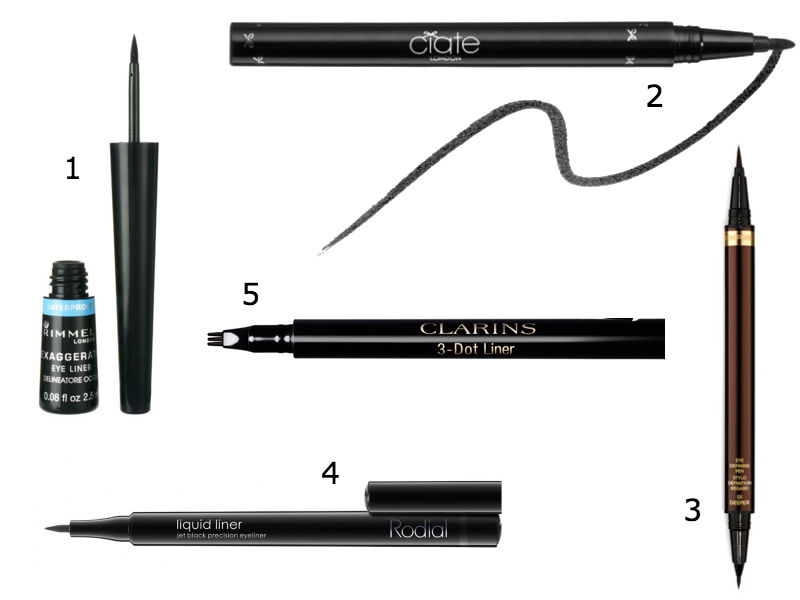 Gemma swears by this one so I asked her for her thoughts, "I've used this for YEARS. I struggled with brushes and pots, and I need the flick to be fairly thick without going back and forth over the line as that's too time consuming. Once I used this once I've never gone back- the nib is quite fat and the liner stays on for hours and hours. I never have to reapply and when I take it off with wipes (I know, I know, they are against the rules, I'm trying to curb my addiction before Sam goes mad at me!) it's quite a battle to remove so I know it can last through a hormonal crying session."
For those of you who like to switch up their liner look, this is for you. A long wearing eyeliner that stays put, it covers all angles, literally. The nib is crafted into a 'chisel' shape – meaning one side is totally flats so if you like a thicker line, it works really well – but then the tip is angled and skinny so you can then wing it out into a defined flick.
Yes, it's eye-wateringly expensive but I promise you, even if you use it every day (like I do) this will be as inky black a year later as it was on the day that you bought it. That's not even the best bit; it's actually two eyeliners in one with a longer, slightly fatter applicator on one end and a smaller, finer one on the other. I draw the flick with the long side and then extend it into a lash-hugging line with the other.
This is a recent discovery but one that was well worth finding. The nib is long and firm so you can draw a fine, precise line easily, it's a proper glossy black shade and it stays put. Like really. I rubbed my eyes forgetting I was wearing eyeliner and it didn't move.
Designed as the dummies guide to liner, it makes wonky lines a thing of the past. Place the pen on the lid (placement depends how winged you want it to look) and the nib desposits three dots in a straight line. All you need to do is fill in the gaps in a dot-to-dot style for a perfectly even look.