For anyone that's been to one of our TIM talks, you'll have heard me bang on about the transformative power of blusher for a good five minutes. If you're thinking, "Yeah, whatevs. All I need is a sweep of bronzer." I get it. I did too. Until I discovered blusher. A sweep of blusher is one of the fastest ways to make yourself look fresher and more alive, whatever your skin tone. Like a flick of mascara, it can take you from lifeless to radiant in seconds.
Here's my cheat sheet to looking fresh every day – and the best bit is that it takes approximately 10 seconds.
FIND THE RIGHT FORMULA FOR YOU:
Picking the right blush texture is as important as getting the shade right:
-Creamy blushers are my favourite for creating a really natural effect, they melt in, have a slight sheen, and work on almost every skin type including dry skins. Dab a little onto cheeks and blend with your fingers. I sometimes dab it onto my lips too on those really desperate, time-short days.
-Powder blushers are great for normal, oily or combination skin but if you have dry skin stick to creams as the powdery finish just emphasises dry patches. Skip matte blusher and go for something with a glowy sheen to give you a flush that looks like it comes from the skin.
– Gels and stains are longer lasting than creams and powders and great for oilier skins but the downside is that they aren't as mistake-proof. Apply straight on top of foundation (not over powder) and blend quickly with warm fingertips.
WHERE DO I PUT IT?
The thing with blusher is that it's all about the placement. For the most natural look, begin your blush application at the top of the apple of your cheek; smile to push the apples up then, placing the colour on the part that lies directly below your pupil, blend outward, toward the ear.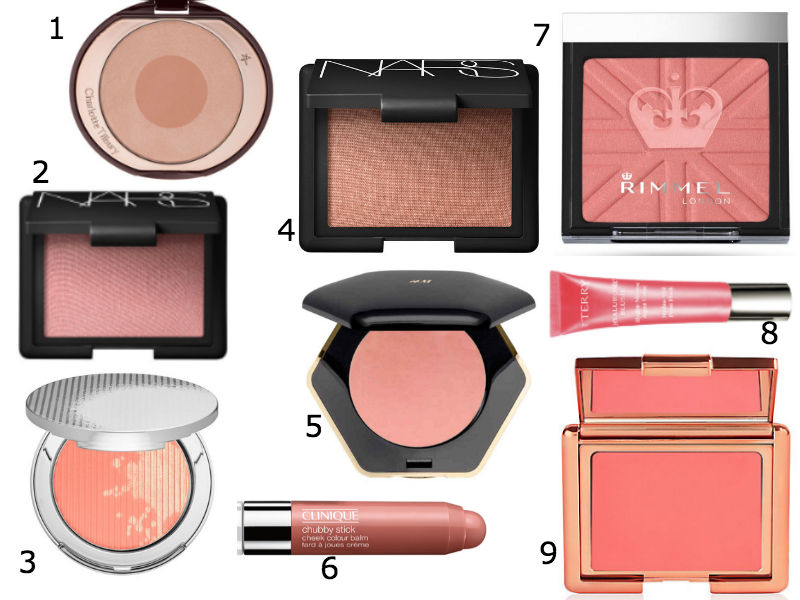 The picture doesn't do this justice, it's a lot more pinky-peach and gives my skin a lit-from-within glow. The two step 'swish and pop' technique makes it so easy for first time blush users.
This blusher has a serious cult following, and for good reason. The peachy-pink shade, with just a touch of shimmer, is flattering on everyone. Said to give you the same look as the real deal, without the effort.
One of my fave products from Estee Lauders new sister brand, this pale creamy coral is great for warming up paler skins.
This is a great blusher/bronzer hybrid. A coral-taupe shade that sculpts and strobes at the same time, thanks to the subtle shimmer.
A perfectly sheer shade that doesn't look too much for wearing to the park.
Dot onto the apple of the cheeks and blend this creamy, buildable blush from a subtle sheen to a brighter pop of colour.
A pretty shade that's perfect for medium skin-tones.
I've used mine so much that I struggled to work out what the shade name was. It feels so nice and cooling on the skin, great for wearing in summer. The teeniest dot creates a realistic blush – a little goes a long way.
A little goes a long way. Dab the creamy formula onto the cheeks and blend with your ring finger. This shade is great; not too pink, not too brown just a a really natural looking, outdoors flush.