Nothing beats the look, feel and lasting power of a gel-mani but because we can't always get to an appointment these days – and because it's a good idea to give your nails a break from them at least once every two months – you need an at-home equivalent in stock. There's loads of nail polish formulas out there shouting about how they are 'gel-like', 'non-chip' and 'long-lasting.' But do these new formulas live up to their name? To find out, we enlisted the ultimate nail testers: a group of mums. Why? Try changing umpteen nappie
s,
preparing multiple batches of Annabel Karmel fish pie and washing a gazillion bottles a day without chipping a nail. These are the five that passed the MumTest….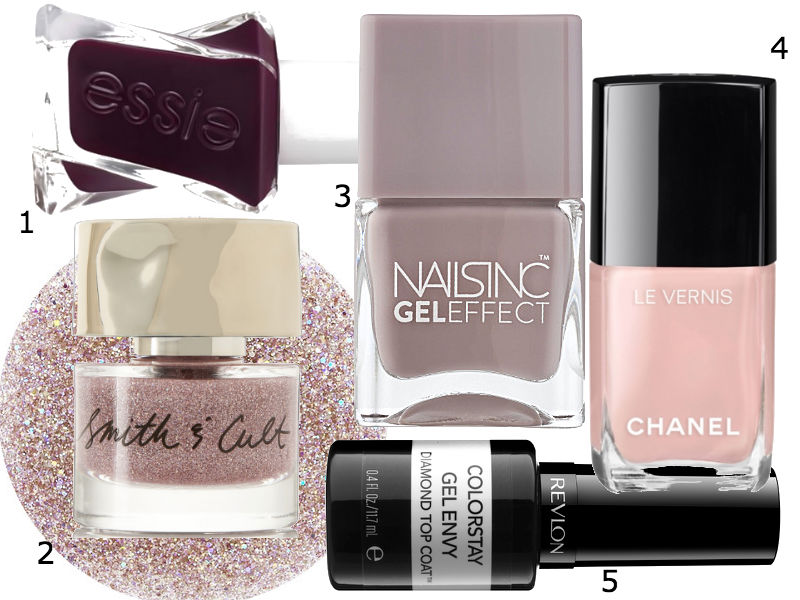 A pro-trick is to opt for a glitter polish; they're almost impossible to remove and practically bullet-proof but this makes them super-strong and ready to withstand all mum tasks. Plus when they do chip, it's harder to notice. Created by the beauty icon who launched Hard Candy (and sparked our polish obsession in the 90's), Smith & Cult is already an Instagram sensation. But does this covetable polish live up to the hype? Well, yes. It's been a good week and we still have no visible chips. When you do need to remove it, try
Essie Leave No Trace Glitter Remover.
This new Essie formula doesn't require a basecoat — just use two coats of colour and then the topcoat. It looked as thick as regular polish and set a little faster than the control varnish, plus, it was super shiny. If you're a polish junkie like me, you know that the brush is EVERYTHING. A good brush tip will give you the perfect application – this is flat and when you apply the polish, the brush rounds out around the edges to the curve of your natural nail bed. On day six, it was still intact, minus a bit of slightly visible wear at the tips.
Using patented 'plasticizer technology' this regular polish is able to create an incredible Shellac-style gloss finish. The formula is thick – thicker than regular polish – but still easy to apply. We recommend using two thin coats rather to speed up drying time. The brush is nice and wide – something necessary for a streak-free finish and it comes in LOADS of shades. This is similar to the shade that you lot liked when we posted on
Instagram
the other day (sadly that one doesn't come in a gel effect formula) and so far has survived two night of batch cooking (and washing up).
Despite launching sell-out shades each season, Chanel nail polish has a bit of a reputation within the beauty editor community for not lasting very well. Luckily, it's undergone a reformulation. This formula is thinner than the other but it went on perfectly streak-free. And the shine — even before we layered on the gel-like topcoat — was mirror-like. Five days in, it's still looking good. Tip: choosing a shade this neutral means that even if it does chip, it's way less noticeable.
I'm letting you into a beauty editors secrets here; this cheap-as-chips top coat makes even the crappiest, most rushed DIY manicure look acceptable – and it's great for reviving the shine on a manicure after a few days, too. When applying it over your regular polish, don't forget to swipe horizontally across the very tip of the nail with the brush, this helps the polish stay put at the edges is where chipping is most likely to start.