When eye-shadow sticks came along a few years ago, the make-up industry was changed forever. They put the intensity of a cream shadow into an easy-to-use stick that was formulated to stay smudgeable for a minute, then set and last for hours without fading. Now there's a steady stream of crayons for all areas of the face flooding the market and not only will they take the guesswork out of application—simply swipe and blend with your fingertips—and get you out the door ASAP, they can be tossed in your bag for fuss-free touch-ups throughout the day (if you have the time!)
There are tonnes of these products out there to suit all budgets and waiting to make your life easier.
Colouring it is not longer just for the kids. Swipe on, blend and go.
EYES
Swipe a crayon along the lash line for subtle definition or build up and blend for an easy smoky eye.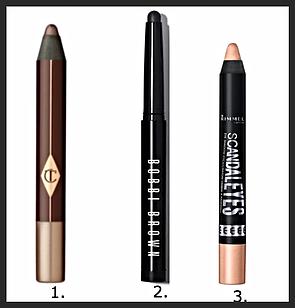 Like having a make-up artist in a stick, Tilbury designed these creamy crayons in flattering, soft-focus shades to make our eyes look more awake. The effort is totally appreciated, CT.
Use as an eyeliner or an eyeshadow, with 19 shades in both matte and shimmering finishes you can be sure there's one to suit any occasion.
Easy to wear, non-shimmery shades for a soft, day-time appropriate look that lasts.
CHEEKS
Easy, creamy formulas that blend into a pretty flush, shimmering highlight or natural-looking contour.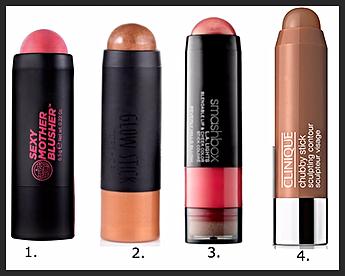 Dot onto the apple of the cheeks and blend this creamy, buildable blush from a subtle sheen to a brighter pop of colour.
Blend across cheekbones, down the bridge of the nose and over temples – the warm bronzy shade is flattering on virtually every skin tone.
Designed to be used on lips and cheeks this saves you vital minutes – and make-up bag space.
A scary-ass dark crayon that is deceptively subtle. A couple of strategically placed swipes drawn just underneath the cheekbones then blended out and you've got Kardashian-worthy contouring. Easy.
LIPS
FACT: a slick of bright lipstick detracts from tired eyes. An essential purchase for lipstick novices – foolproof to apply, doesn't make lips feel dry and stays put for ages.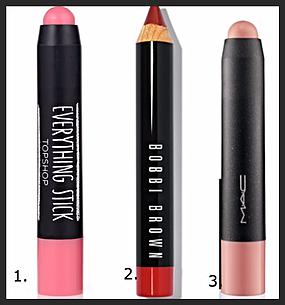 Technically not just a lip crayon, these have been designed for lips, cheeks and eyes but this shade (Naive) is the perfect hint of colour for lips.
Once you pass the newborn-want-to-kiss-you-all-the-time stage and you have a walker that's dropped it's naps and waking at 5am, a power pout is the easiest way to detract attention from the grey skin and dark circles. Hot Orange is my fave shade. Just add sunglasses for that cool, 'I've got my sh*t together' Kate Moss at the park kind of look.
A balmy-gloss in twist-up chubby crayon form available in 14 shades from super-wearable to going out-OUT.
FACE
Ahead of the pack when it comes to #MumFace make-up, clever old Clinique has launched a FOUNDATION in a CRAYON FORM. Swipe in stripes across the forehead, cheeks and chin, blend well and walk out of the door. GENIUS!