We both find ourselves googling this exact thing in the run up to our kids birthdays or Christmas. If your family are anything like ours, everyone asks what they should buy and you have no idea what to say, ending up with loads of stuff that you/your kid aren't that into.
They call them the Terrible Twos but in terms of buying gifts, this is a hugely gratifying age. Everything is exciting and kids have no concept of cost, so one of the smaller presents will excite them as much as something that costs ten times more.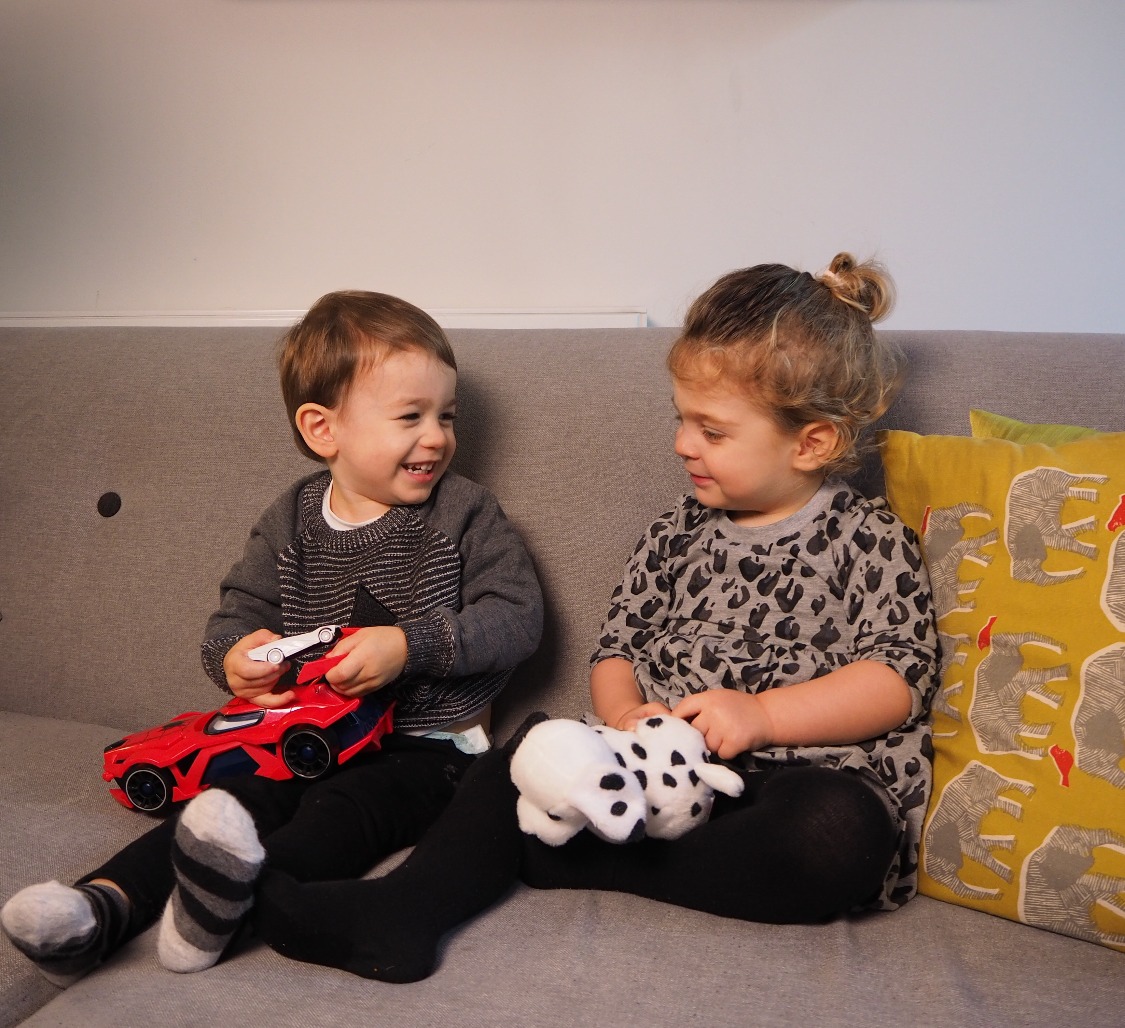 We've done loads of research, and these gifts have been tried and tested on both of our kids (meaning that whether you're buying for a boy or a girl, there should be something here) AND there's something to suit all budgets. It's worth pointing out that a lot of these things will be well loved from around 18 months (the ride on car for example) and up to 3+ years. Whether it's Christmas or birthday's, hopefully this helps…
UNDER £10
RESCUE SQUAD JIGSAW PUZZLE This is an ideal first jigsaw – choose a rescuer and then make their vehicle, it's that simple. The jigsaws come in 2 or 3 pieces making them ideal for little hands (with little concentration). This is always a winner with Leo.
POSTBOX GAME For a Postman Pat fan this is tres exciting. It's even better for learning colours and numbers. Takes up no space too. Something we love.
£15 – £30
PAINTING KIT Gemma bought this for Leo for his birthday and it's come in handy on many a rainy afternoon. The beauty is that it all packs away neatly. And the paint is wipe clean.
BBQ For those who can't face a cumbersome toy kitchen in their house, or just don't have the space, this is a winner. £15 gets you a 'bbq', 'food' and 'utensils'. Keeps them busy for hours.
MINNIE MOUSE AQUADOODLE DOODLE BAG Sam bought this for Belle for her birthday. A gift that keeps them entertained with no mess and no noise – what could be better. Perfect for travelling. It's also now on sale.
RIDE ON CAR Not joking, this was probably the best thing I've ever bought Leo in terms of use. I actually bought him this for Christmas (he was around 18 months) and there hasn't been a day (hour!) he hasn't used it. He speeds around the house on it, stores his prized possessions in the seat (that'll be his stash of Postman Pats and Fireman Sam's) and has now started calling it his Fire Engine. Winner.
OVER £50
SMYTH BOUNCY CASTLE I've talked about how amazing this has been so many times on instagram and I know that a lot of you bought this in the summer. If you've ever looked into hiring a bouncy castle for a party then you'll know why I was shocked at the price when it came to Belle's birthday earlier this year. Instead, i panic bought this on Amazon and it has been brilliant! It's the perfect size for toddlers and small enough to have up in the house if you really need to. Best thing is, it's reusable and inflates with a regular pump. A great one to keep in the garage.
ART EASEL Belle's auntie bought her this for her birthday and it's fabulous. I love that it's not plastic or primary coloured so it sits nicely in our lounge without making it look too kiddy and it keeps her entertained for hours. Honestly. She can chalk, paint or colour on it which I think is pretty good going and earns solid 3 in 1 points. It also comes with a roll of paper so she could use it asap which many don't.
PLAYHOUSE Want to keep your kids entertained? Get a playhouse. I've also popped the BBQ (see above) in here which keeps Leo and his pals entertained for hours, playing 'shops' and 'restaurants'. At one point he even wanted to eat his dinner in then. Pricy, but an investment as it'll be used for years. Plus, in the winter all of his garden toys will hibernate in there. For a cheaper option closer to the £100 mark, this one looks good.
MICRO SCOOTER We bought these for both of our kids (Belle is on her second as her first was stolen from Gemma's car – boo. Although we guess that means they are really in demand). We went for the Mini Micro 3 in 1 which grows from a bike into a scooter as they get older and more confident. A great one to take to the park.
OVER £100
Belle and Leo are lucky kids this Christmas or we are just feeling mega mum guilt as we've both splashed out and gone for these Kid Kraft pieces for their new rooms. Just to point out, you must be good at DIY to build these (or have a husband, brother, dad on hand) as they do take some time but the quality is second to none. For Leo, I've chosen the KidKraft Everyday Heroes Wooden Playset and for someone who is obsessed with firestations, he is literally going to be over the moon. I mean, it comes with a helicopter, fire engine, fireman and it even has a firemans pole running through it. Best bit is, it closes up so that at the end of the day it can all be hidden. For Belle, Gemma has gone for this fairytale palace which similarly to Leo's, it comes with lots of extra characters and furniture and closes up at the end of the day so everything can seem neat and tidy. These will be the perfect addition to their new big boy and big girl bedrooms, and hopefully keep them entertained while we are dealing with the new babies!