Word on the street is that this real summer we are having is here to stay. If, like us, you are so used to wearing jeans every day and aren't quite sure how to dress for this weather then read on.
We've recently branched out into dresses. WOAH. I like to class a dress as a low maintenance wardrobe item. You just need to select the dress and shoes and you are good to go. We both tend to opt for a floaty dress as when the weather is as hot as it's been we don't want any fabric clinging to our skin. Yes, sometimes we look like we are pregnant, but we are comfortable in our bodies to know that sometimes practicality comes over looks, especially when our days involve chasing around after some small people, then jumping on the tube to work when its 30 degrees outside!
I love
THIS
dress that I found in Next recently, mainly because I love a clashing print. I don't handle the heat very well (my excuse is that I'm from Scotland…) so I always tend to go for a sleeveless dress so that I don't get too hot and bothered. I've teamed this dress with
Sol Sana
sandals from Very Exclusive – so comfy and I like how they grunge up a girly dress. I'm wearing it with my new
Maison M
straw bag that goes with everything.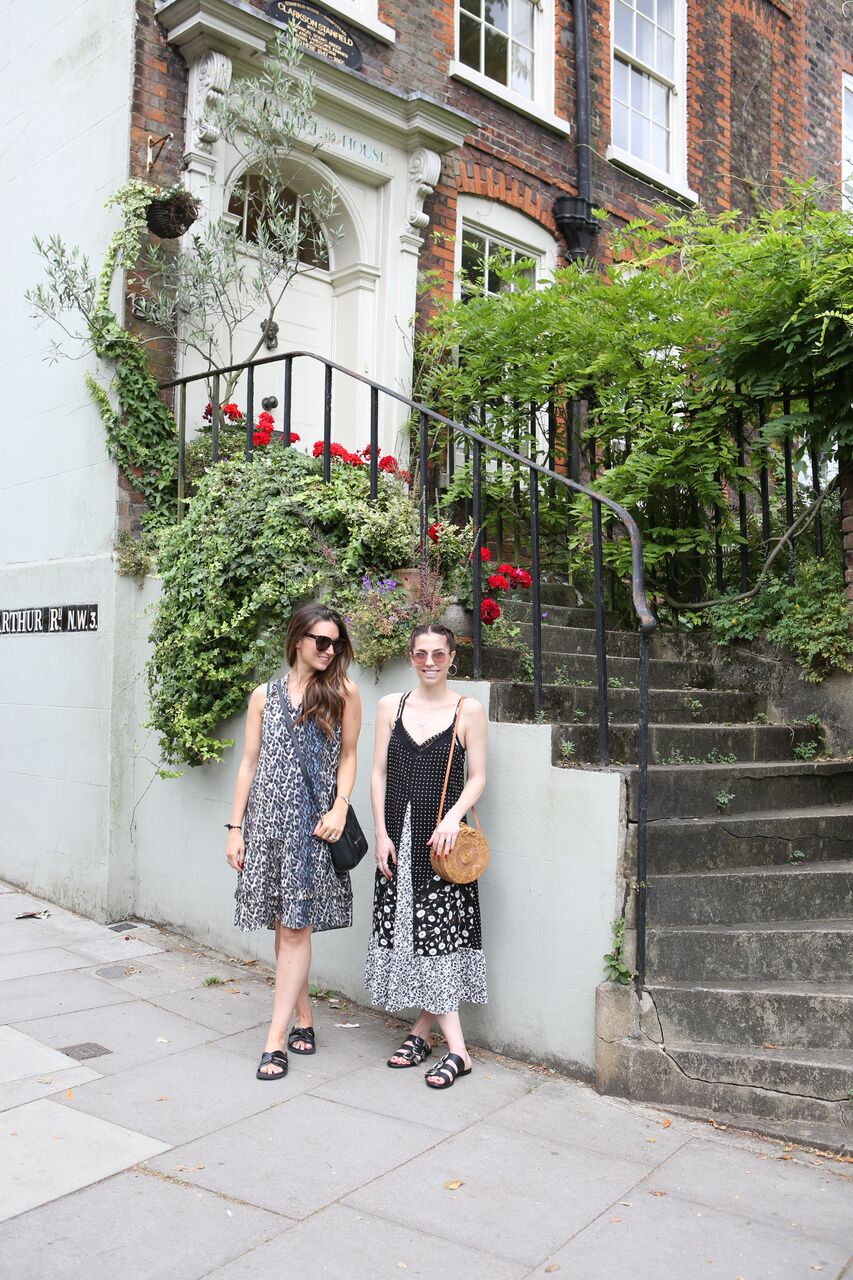 Sam is wearing this
All Saints
dress. Its just gone into the sale and only needs simple accessories as the leopard print on the dress speaks for itself.
If floaty isn't your thing then add a belt (especially to a style like Sams dress above.) Cinch it in at the waist to create some shape and to show off what is generally the smallest part of the womens body. If you like more structure then it's also worth try something like this
Y.A.S dress.
This dress by
Kin at John Lewis
is also a great option to add a waist belt to, it's really oversized but such a great print and colour.
I have this
H&M
dress. I went through a phase a few weeks ago when it was really really hot, and I literally wore it every day. I'd meet up with Sam and she would say 'that dress, again?!' I went up a couple of sizes so it would be really loose and airy.
For breastfeeders try
THIS
, especially if you aren't quite feeling yourself body-wise and want to cover your mum tum without looking pregnant. It's super cheap so it's OK if you wear it a few times summer and then never want to look at it again when you feel back to your old self!
This is a great
maternity
option – a beautiful bright print and it will keep you cool. Wear with a cropped top bra under it if you are too uncomfortable to handle a strapless bra at the moment.