The most daunting thing for a mum when planning the holiday wardrobe is the swimwear category. Nothing can make you feel worse than standing in a shop changing room with awful lighting, dirty floors and pasty skin that hasn't seen the sun in a year. Add in the fact that your body isn't what it used to be, and you most likely don't want to be seen out in swimwear! Also taking into consideration that no one looks like Chrissy Teigen while pregnant (left) or after giving birth right) But no matter what your body hang up, we are here to help. Today it's all about the black swimsuit, but we will be doing a number of swimwear features over the coming months taking you right into holiday season…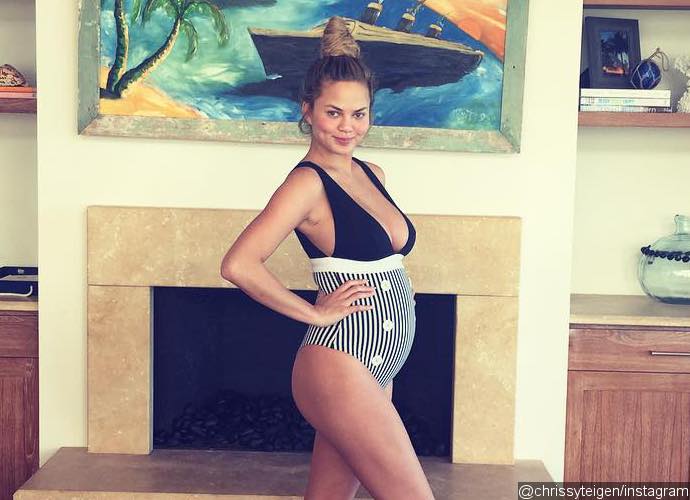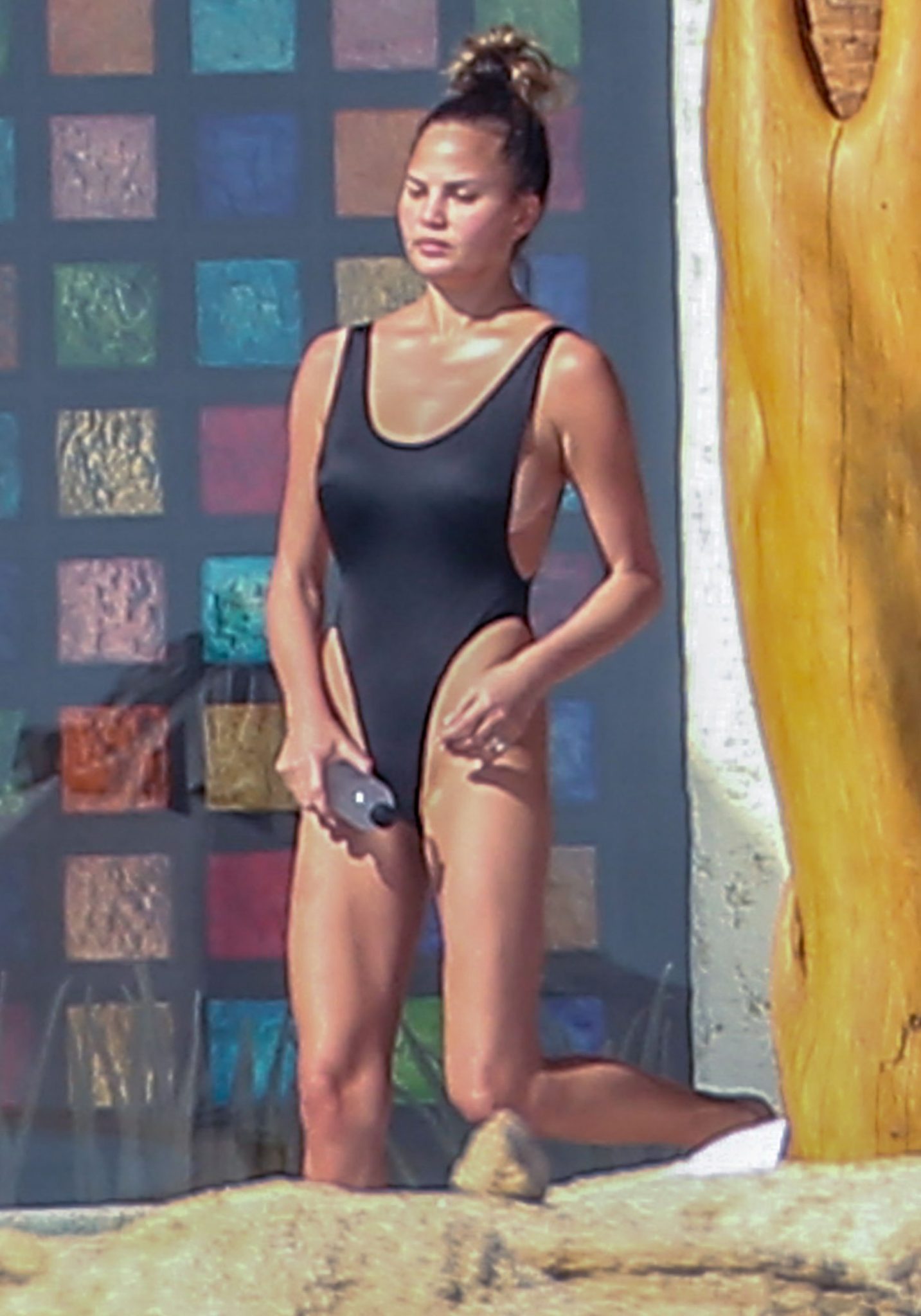 My first tip and something I now do before every single holiday is to get a spray tan. There are so many mobile tanners that can come to your house during nap time / once your baby is in bed / when you get home from work. Realistically, you aren't going to have time to sunbathe on holiday so you might as well look the part on day 1. I've realised that because I apply suncream every day on holiday, my spray tan lasts much longer (compared with when you have one at home, forget to moisturise and get ugly dry orange patches.)
Next up: Get a black swimsuit. Out of all the different styles of swimsuits and bikinis you can get, the black swimsuit is the most flattering and what will make you feel the most confident. Avoid a tankini, the top meets the bottoms at the widest part of your body, where your hips start to join your thighs. No one wants to draw attention to that.
Here are a bunch that should help make you feel fabulous – whether you're on the beach or in a skanky local swimming lesson! My advice: Order them all, in multiple sizes, and try them on in the privacy of your own home. Don't opt for the one that is roomy as the fabric will sag when you come out the pool. And try something that terrifies you – you might be surprised. Let us know how you get on by commenting on
@ThisIsMothership on Instagram
, or via
Facebook
.
SMALL BOOBS
1. Great if you are short as the V shape of the scallops elongate the body:
TOPSHOP
2. Gives the illusion of bigger boobs & balances out figure to make it look more in proportion:
TOPSHOP
BIG BOOBS
4. The ruched detail is very slimming, plus it has built in mesh panels which provide stomach control, and moulded cups for support: JOHN LEWIS
5. Don't be scared of this. ..it's worth a try. The cut out leg and leopard lace will elongate your legs, the wide straps and adjusters will pull your boobs in and up:
ASOS
6. A halter neck so you can hoik yourself up, plus ruching to pull you in around the waist:
BODEN
MATERNITY
7. You don't always need to look in the 'maternity' section. Stretch lycra pieces like this will fit over your bump and look super stylish:
MARYSIA AT NINE IN THE MIRROR
8. A classic. Add a wide brimed hat and some red lips:
JOHN LEWIS
9. No one looks like this when they are pregnant (!) but this swimsuit is REALLY lovely:
ASOS