According to our latest Google search, 40% of women struggle to find the correct fit of jeans for their body shape, and 15% of women have cried real tears over finding the perfect pair. I don't like to admit it so publicly but I've definitely cried over clothes before. It's a really bizarre process when you've given birth, lost most of your baby weight but you are entirely a different shape to your pre-baby body. Don't worry, you will eventually get back into your groove and feel yourself again. In a bid to help out some hormonal women (myself and Sam included) here is a really simple guide to working out your body shape which will hopefully make those stressful shopping trips a little easier.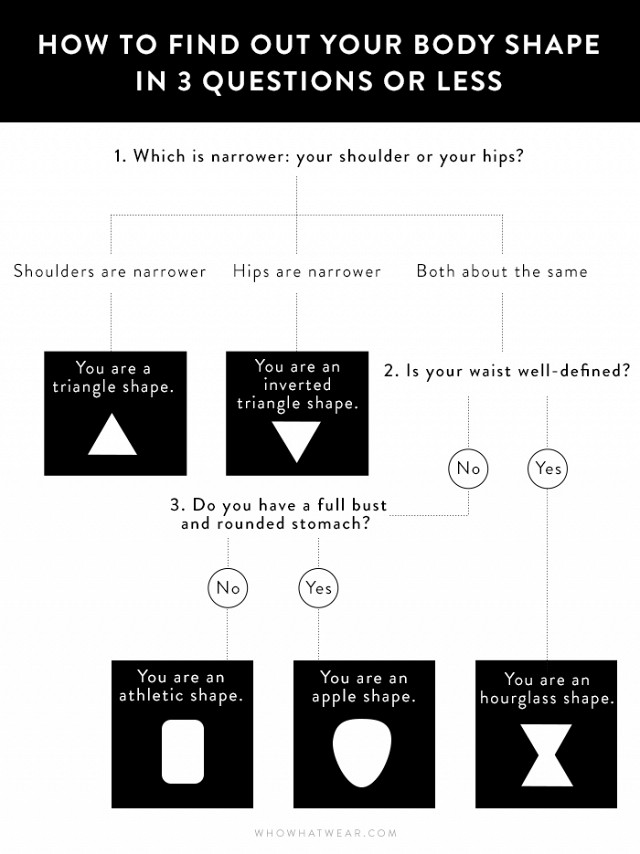 Athletic: Your silhouette is fairly straight up and down.
What you should wear: Clothing with ruffles or frills around your hips to create shapes and to balance out your body.
———————————————————————
Apple: You usually have thin, shapely legs, and carry weight around your stomach.
What you should wear: Dresses with a drop waist as it will make your torso appear longer.
———————————————————————
Triangle (also known as pear shaped): You have a thinner upper body, and carry more weight around your hips and thighs.
What you should wear:Pieces that go in at the waist, like a fit & flare dress. It will show off your upper body and kick out over your hips.
———————————————————————
Inverted triangle: You have broad shoulders, and are fairly straight between your waist and hips.
What you should wear: Clothing that nips it at your waist as it will help create the illusion of lower body curves and balance out with your broader upper body.
———————————————————————
Hourglass: You have a small waist, curvier thighs, and a full bust.
What you should wear: Pieces that accentuate your waist, like wrap dresses or high waisted jeans with a top tucked in. Belt anything loose around your waist to create a sexy shape.