I'd never been able to master the art of pancake making, until this week. I stumbled across this recipe, tweaked a few things and made them with Alfie on Monday. We ate ours plain but top them with anything your heart desires. Hopefully this simple recipe will brighten up your weekend.
NB: There's two spoons of sugar in the recipe (not in each pancake, and the recipe makes around 8-10 pancakes), but I don't mind this as a treat for my kids. They don't have them every day. If you'd prefer to not add sugar, maybe sweeten up afterwards with fruit as a topping.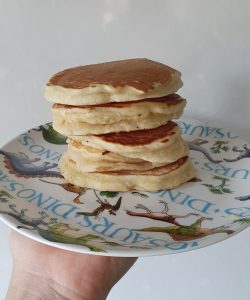 Ingredients:
135g plain flour
1 tsp baking powder
2 tbsp caster sugar
120ml milk
1 large egg, lightly beaten
2 tbsp melted butter (allow to cool slightly), plus a little extra for cooking
Method:
Sift the flour, baking powder and caster sugar into a large bowl. In a separate bowl, lightly whisk the milk and egg together, then whisk in the melted butter.
Pour the milk mixture into the flour mixture and using a fork, beat until you have a smooth batter. Let it stand for a few minutes.
Heat a non-stick frying pan over a medium heat, add a knob of butter. When it's melted, add a ladle of batter. It will seem very thick but it's meant to look like this. Wait until the top of the pancake begins to bubble, turn it over and cook until both sides are golden brown and the pancake is about 1cm thick.
Repeat until all of the batter is used up. Serve with whatever toppings you wish!
Enjoy – and tag us in any pics of them if you make them. We'd love to see!!