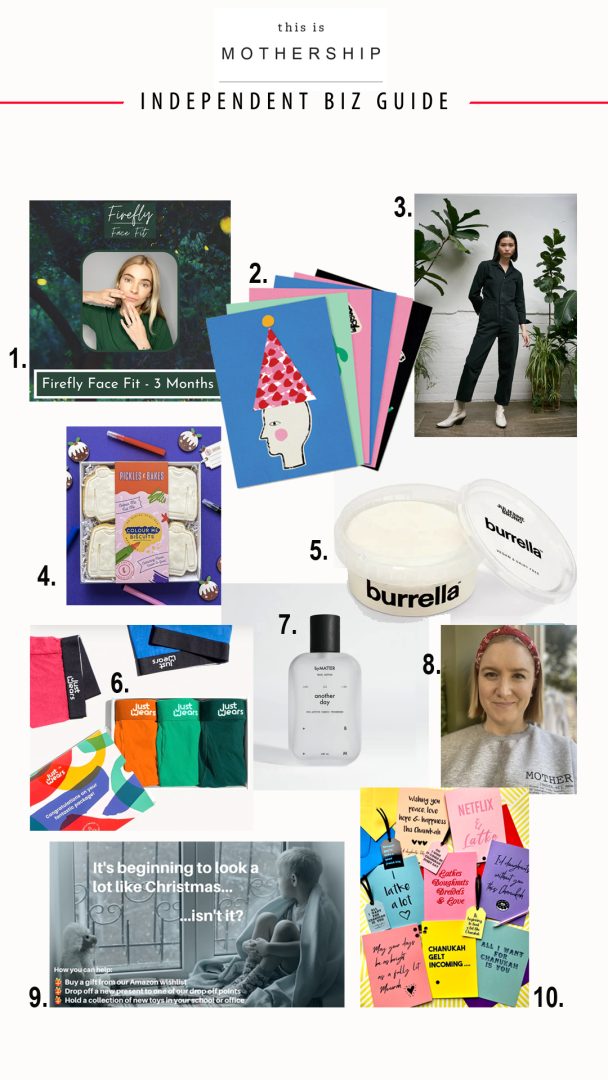 *all of us, then.
1. Firefly Formula Gua Sha Online Course
Think of this as a monthly gym membership for your face. Carelle Rose is a pro Gua Sha therapist, and face yoga instructor with the most incredible skin (a testament to what she does!) Her online course gives access to 4 hour long pre-recorded masterclasses a month, teaching you how to lift, tone, sculpt and contour your face with no injectables necessary. You can also buy the face tools via Carelle's site if you need an extra little gift.
2. Charity Christmas Cards by Rosy Nichola.
If Christmas is your thing then check out these kitchsh cards illustrated by London based artist, Rosy Nicholas. 100% of the money raised from sales (that's the full £11) will be donated to Mummy's Star, which is the only charity supporting women diagnosed with cancer during pregnancy.
One of Gemma's favourite consciously kind brands. From perfect fitting denim, to the coolest jumpsuits and pretty blouses, they are one of those brands where you'll always find something you love. Great for gifting (or for yourself!)
4. Pickles and Bakes Art Cookies
Friend's kids or family members who you won't be seeing over the festive period? Send them a set of P&B famous doodle design cookies. Delicious and a great activity to fill the holidays.
5. Julienne Bruno Vegan Crematta Cheese
We are BIG cheese fans over at TIM, so we really weren't sure when we were offered vegan cheese to try. We have to say we were really impressed. Just as tasty as our usual faves, but much lighter. Would be a great addition to pasta sauces, or with crackers.
6. Just Wears Pants
An independent alternative to Calvins tested by This is Fathership and fully approved. In fact, judged as comfier! JustWears trunks are made using the softest, organic MicroModal Air fabric fibres, which last longer than cotton, are C02-neutral, bio-degradable and feel softer than silk. They're also naturally anti-bacterial and 50% more absorbent than cotton.
7. By Matter Another Day Bio-Active Freshener
There is always someone who has everything, or someone who is difficult to buy for. When this happens to us we go totally rogue and get them something pretty random, that is useful, and this Dry Wash spray is just that. From one of our favourite radically sustainable brands, you just spray this over clothes to give them a quick refresh and eliminate odours – it has no harsh chemicals.
A different kind of gift, but one that could be valuable than anything else. For someone at a career crossroads, Alice could help. She has 8 years experience coaching those in the retail industry, and coaches new mothers on their return to work, accredited with Careering into Motherhood.
9. Sebbys Corner Christmas Pop Up
Sebby's Corner believes no child should go without basic essentials. They supply clothing, nappies, formula and baby equipment to local families living in poverty. Due to the cost of living crisis, they're seeing demand from vulnerable teens and parents too. Donate either in person at their pop-up shop or buy online from their wish list. You could even arrange a Secret Santa for them.
Celebrating Chanukah instead of Christmas? You need to take a look at Sarah's Etsy store. Filled with funny modern Jewish greetings cards, stock up for every family moment.