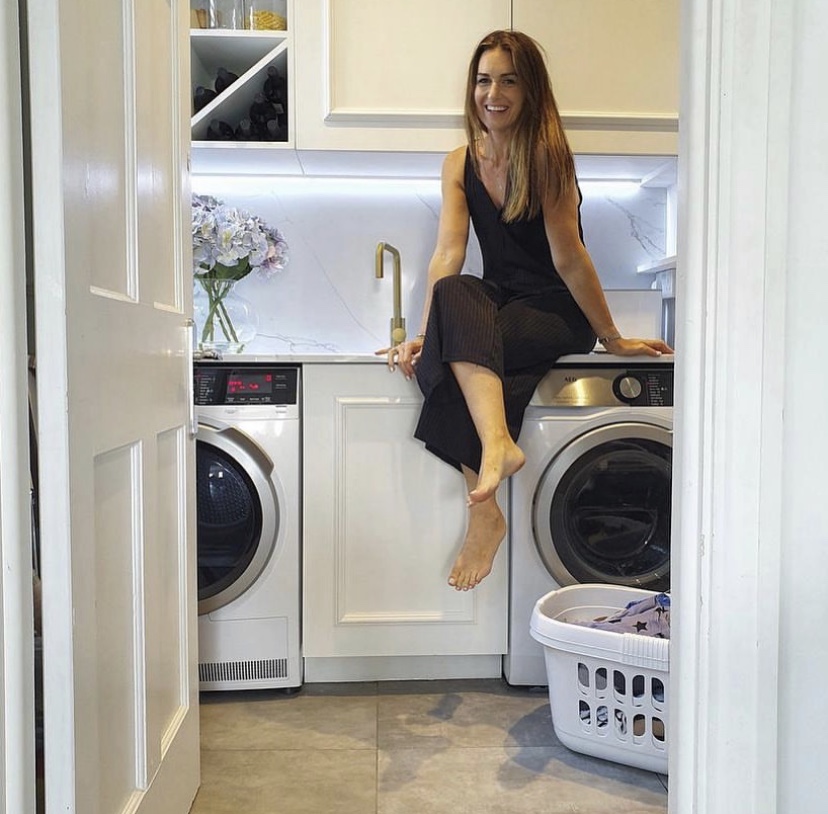 A few months ago I did a little before and after on Instastories but I thought that I'd pop it here too so that's it's always here to refer back to. Mainly because I'm still getting lots of DM's about the life-changing clothes airer!
Our house was a complete wreck when we bought it. I'm talking crumbling walls, copper wiring and lead piping. We've done it up gradually over six years and the utility room was one of the last rooms to focus on. The biggest life changer for me has been having the space to have a separate washer and dryer. Before I had a second hand combined model which had died on me once before. I was so excited when AEG wanted to work with me on their new super functional and super stylish 9000 series model. I can't tell you how much this has changed my life, especially having two boys that seem to create continuous laundry drama. The SoftWater Tech in the 9000 Series washing machine means that hard water is broken down so that colours don't fade, there's a sensor in the drum that weighs each load for a bespoke timed cycle every time and the 8000 Series dryer has a ProSteam shot at the end so nothing ever needs ironing. Plus they're both super quiet and, as white goods go, they look pretty good too.
Back to the utility room which by all means isn't really a room. By utility 'room' what I really mean the very end of the kitchen that we sectioned off with a stud wall to create the tiniest utility known to man. Four years ago, Nick fitted the tiny space out using leftover tiles and cupboards from our kitchen and we made do with it for years but it wasn't very functional and had barely any storage. It's actually a bit of an odd shape and so small that I struggle to take pictures of it so here is what I have managed…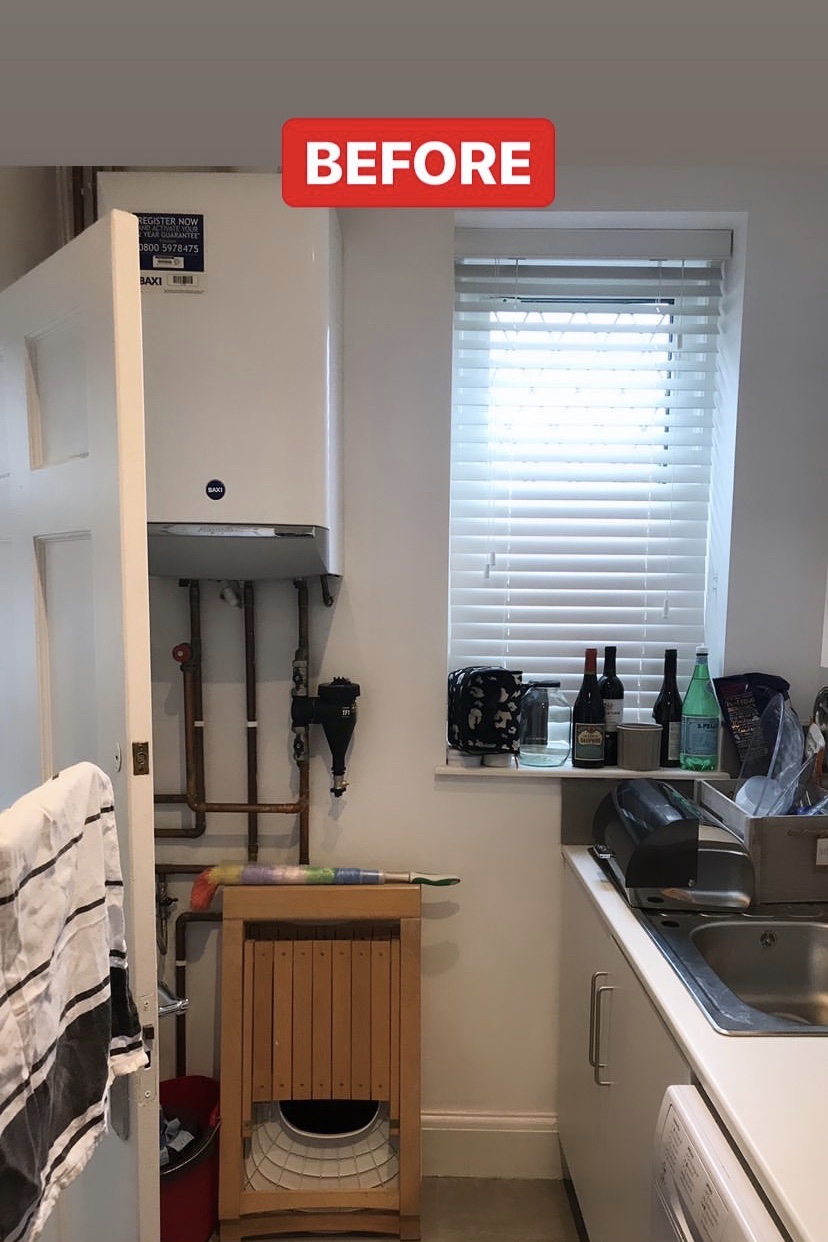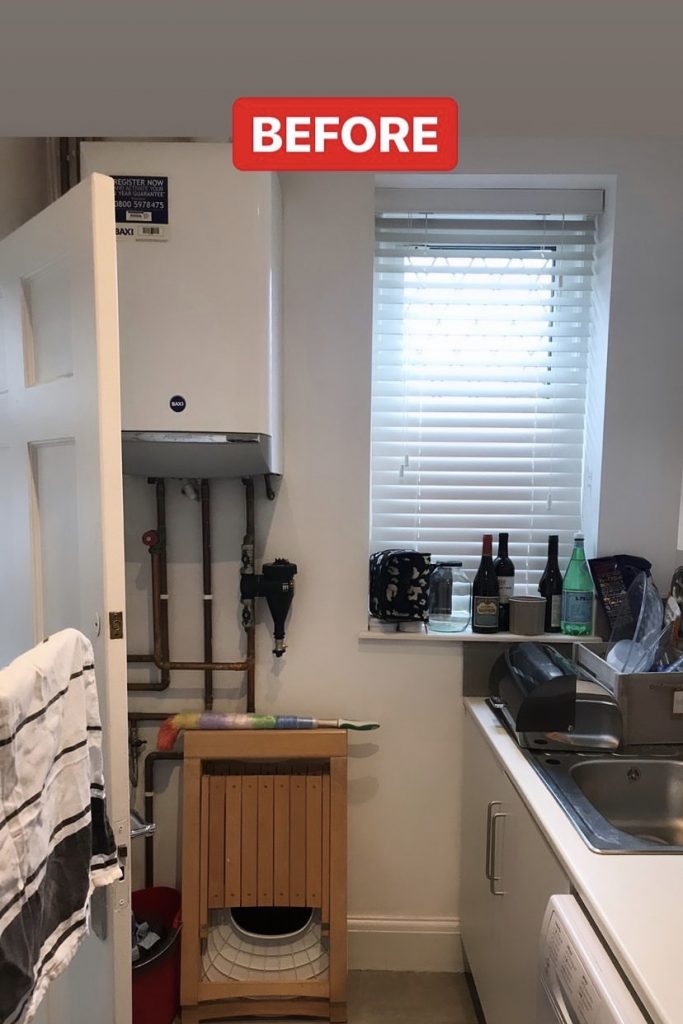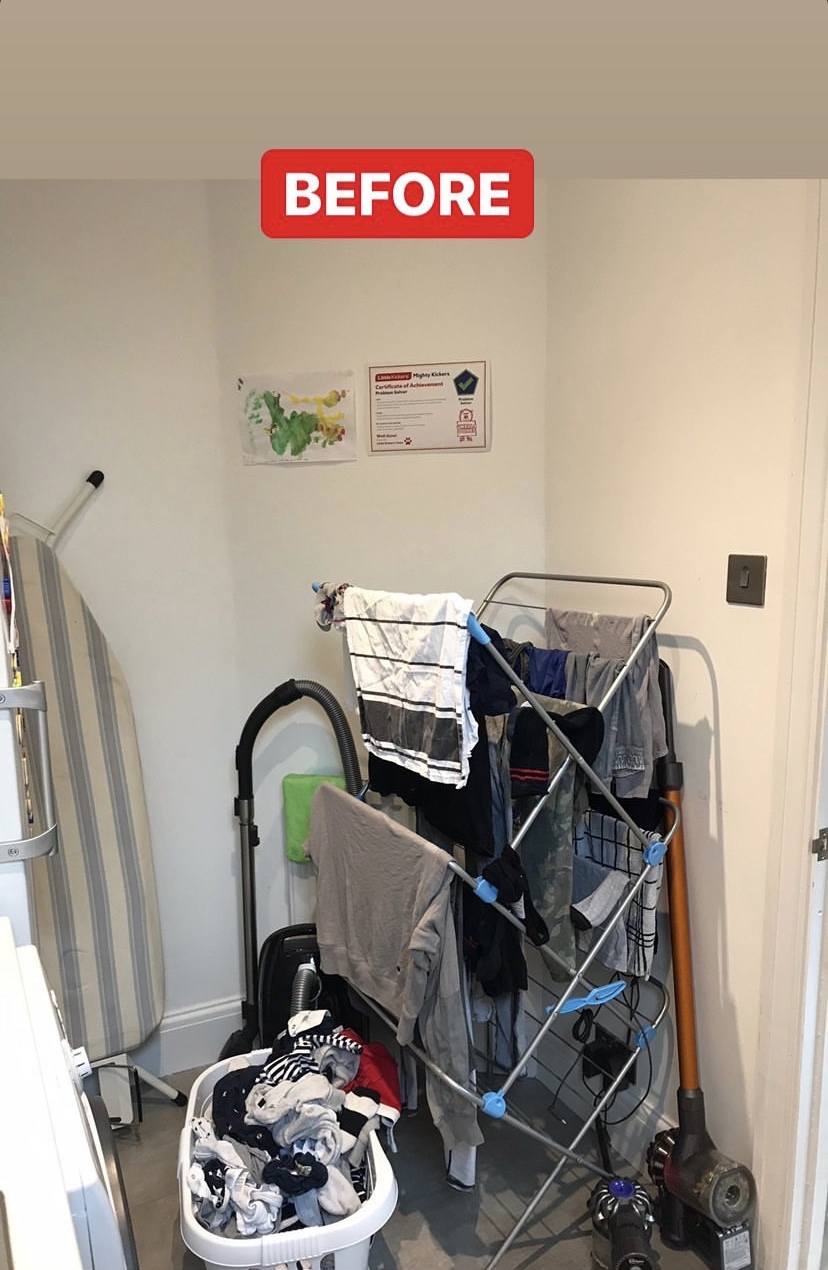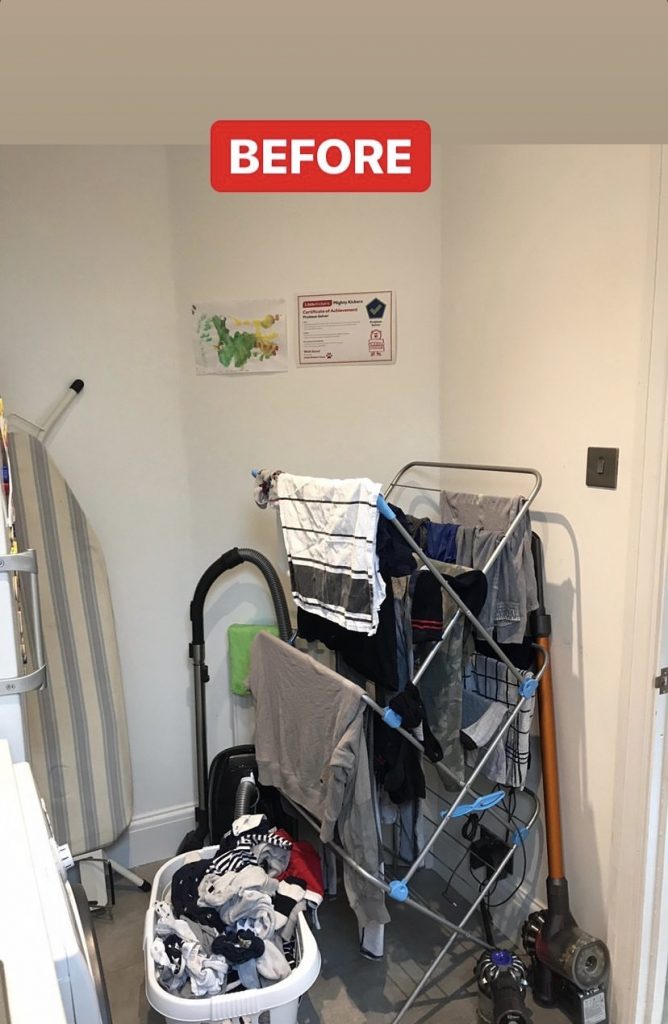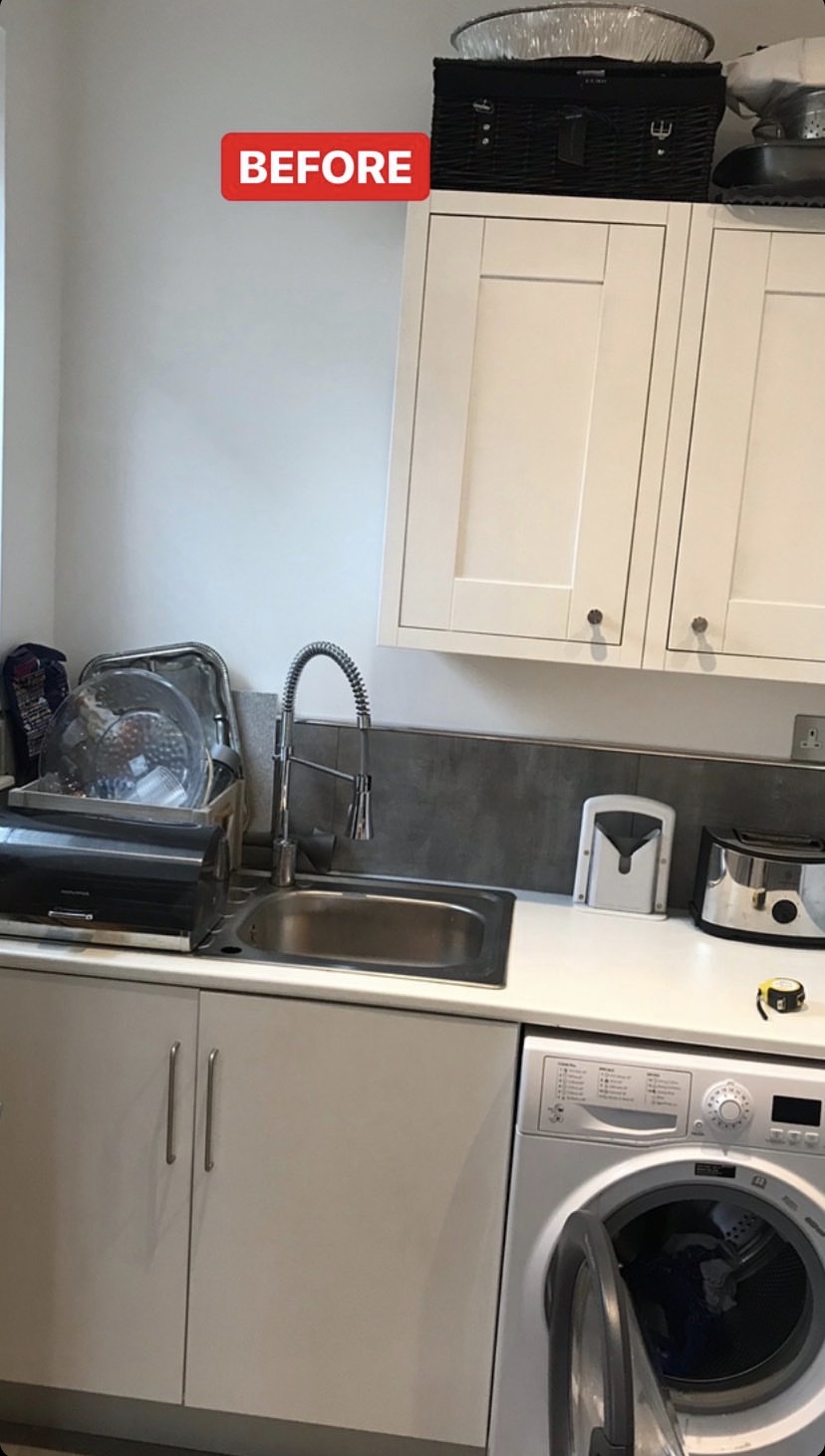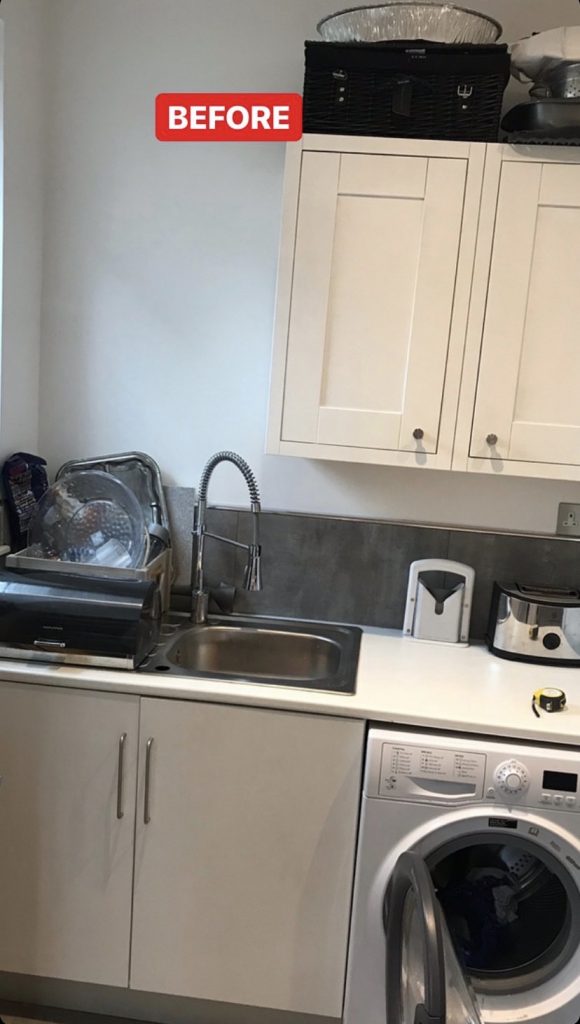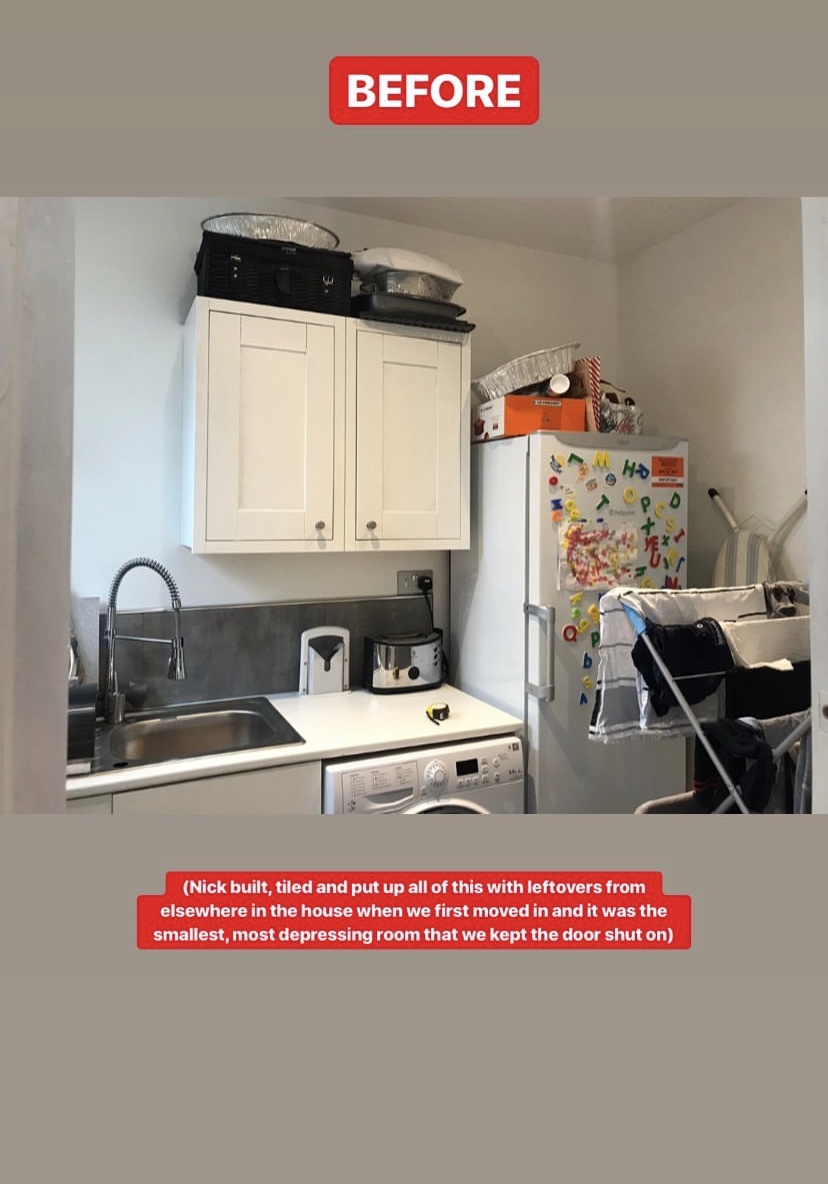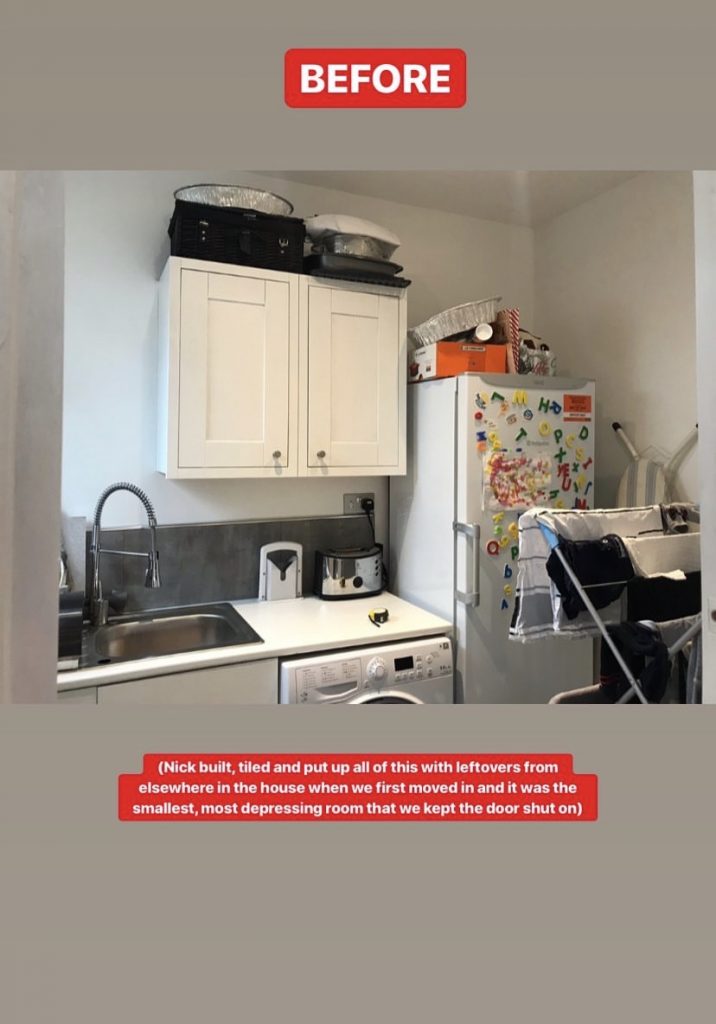 You can see what a dumping ground it had become and how there was just no storage for anything. Our main aim when it came to re-designing the layout was maximising as much storage as we possibly can out of it. Rather than having an ugly washing airer out in the middle of the room taking up all of the floor space, we found this Julu wall mounted laundry airer that folds up onto the wall taking up no space.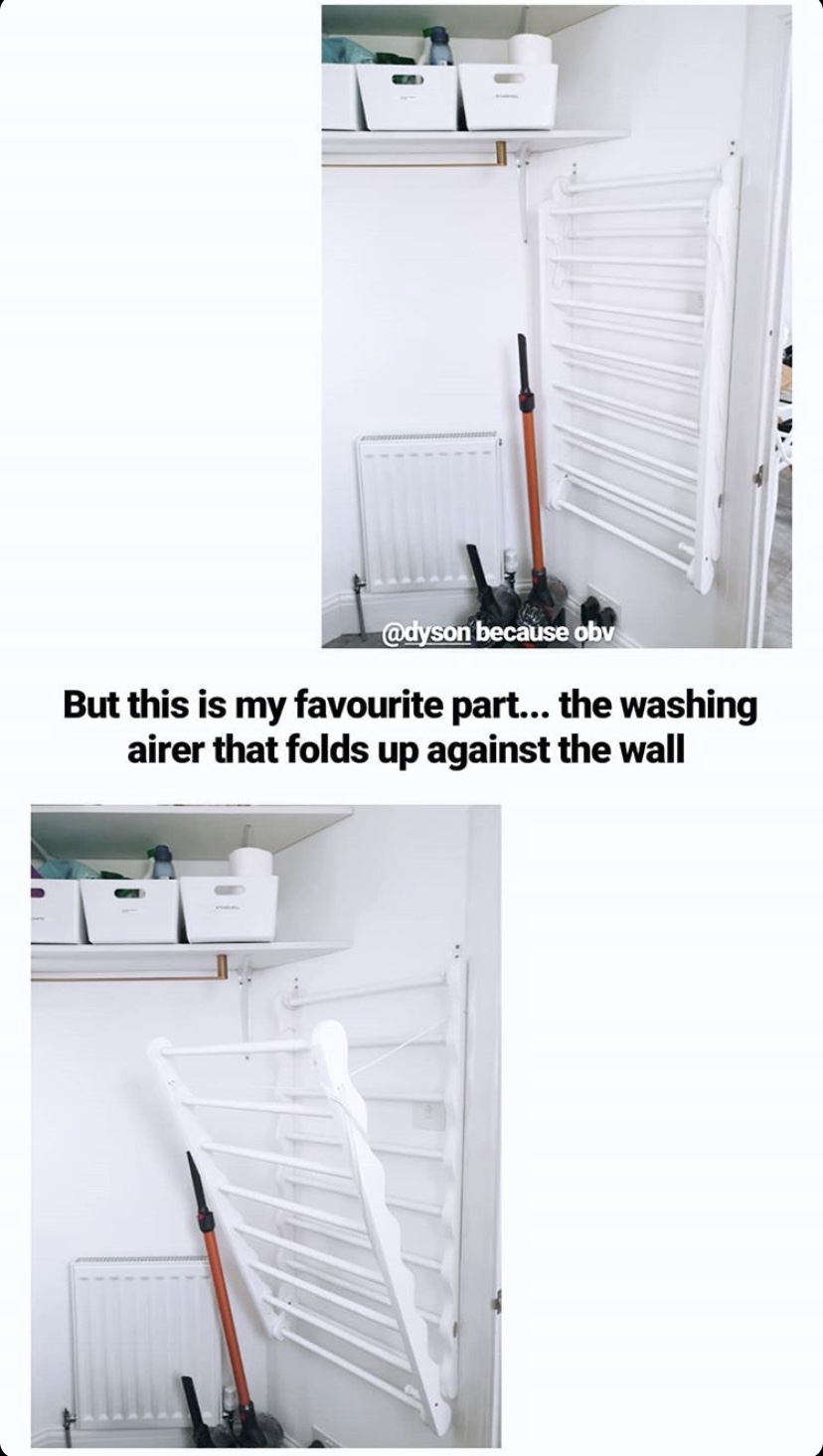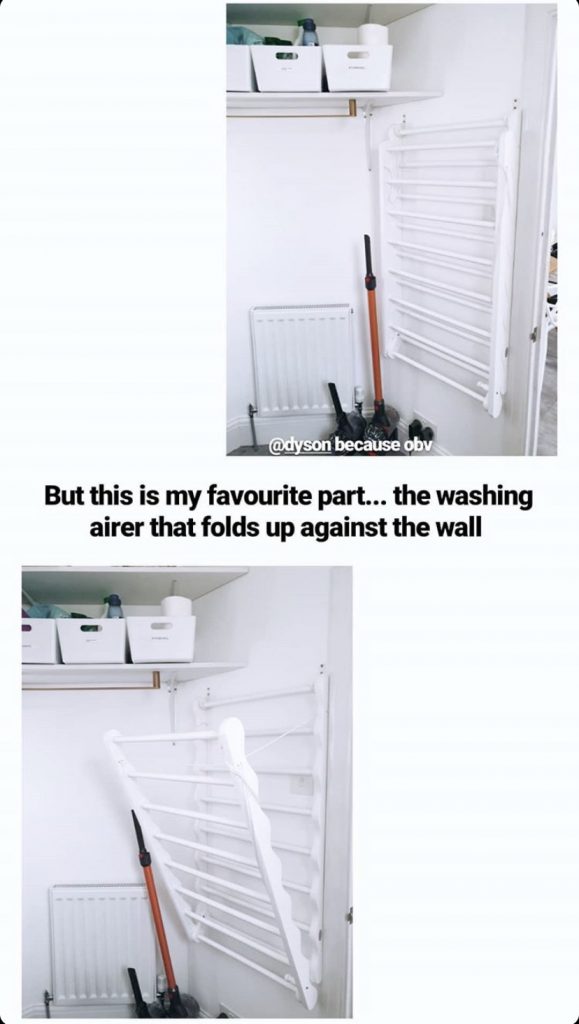 We designed the whole back wall to be a full wall of push to open cupboards with open shelving either side. At the top I store all the blenders, steamers, vases and slow cooker type stuff that i don't use daily and in the bottom cupboards I have labelled food storage. Click through the gallery below to see bigger pictures of the built in storage from as many angles as I could get.
Washing machine and tumble dryer: AEG // Toaster: John Lewis // Faux Flowers: QVC // Gold tap: Lusso Stone // Food storage containers: Homesense // Food storage baskets (various sizes): Ikea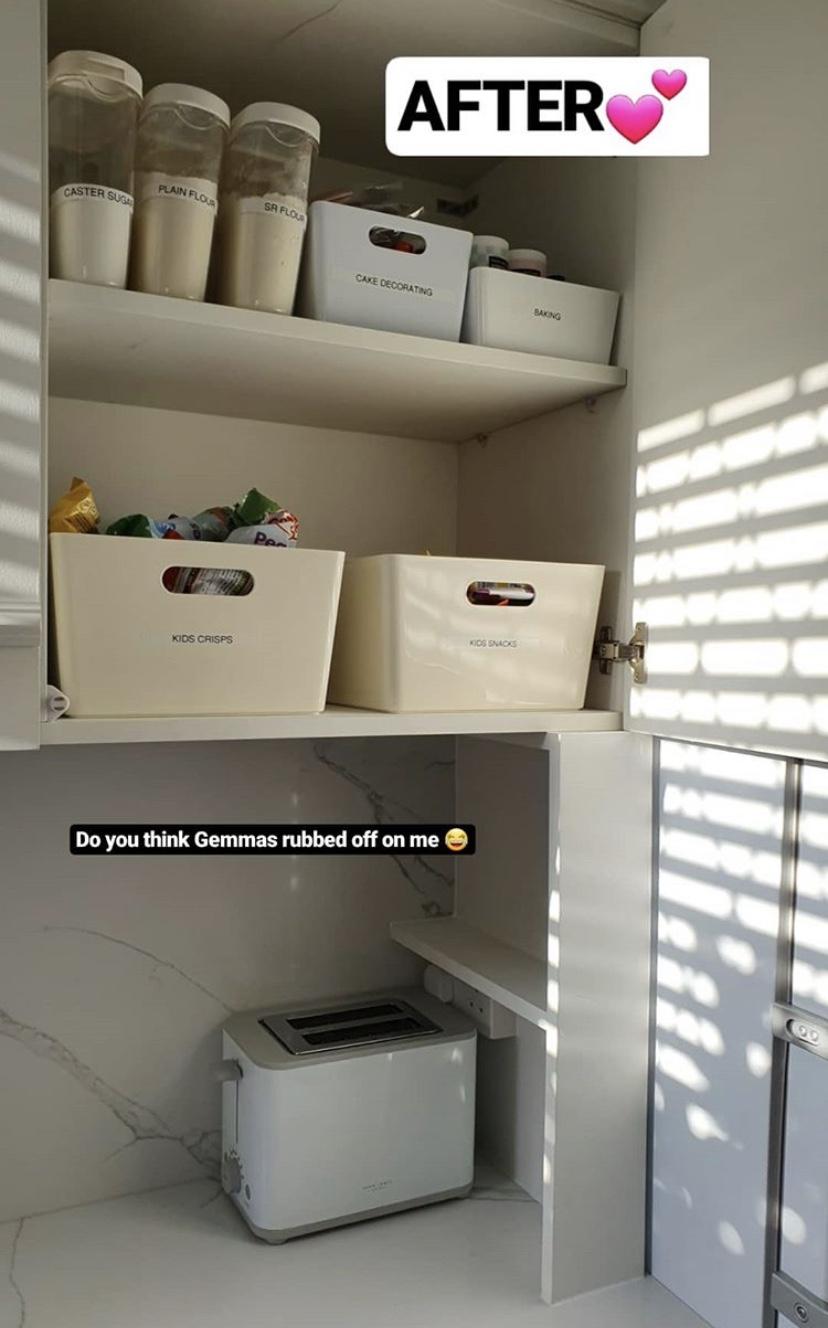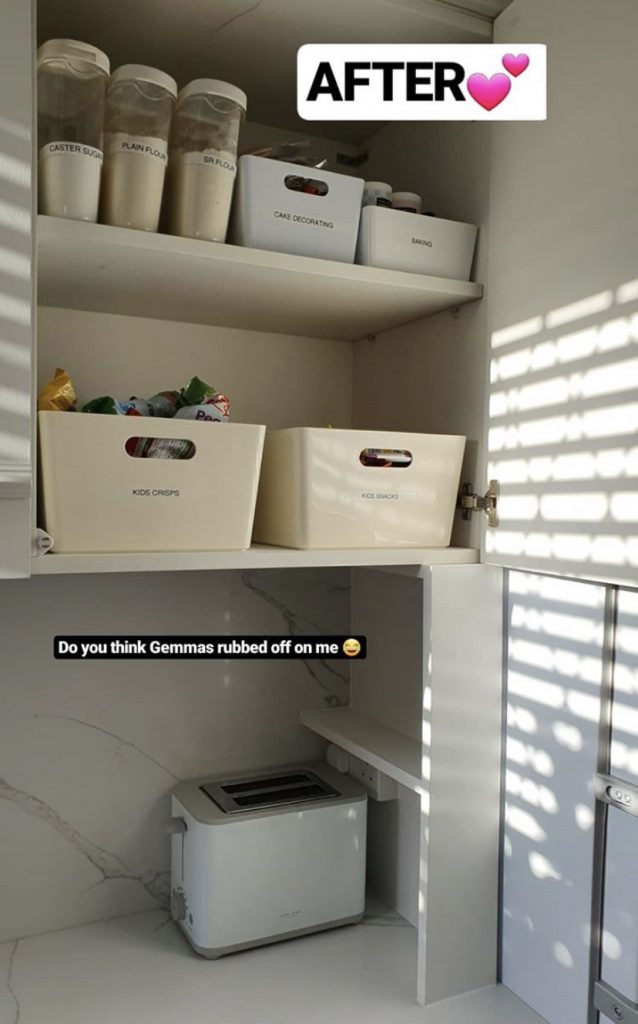 We then created two levels of floating shelves around the interior walls which I've put labelled Ikea boxes on to keep things like washing powders, bin bags etc – general house admin organised. The gold bar is a hanging rail for shirts to dry.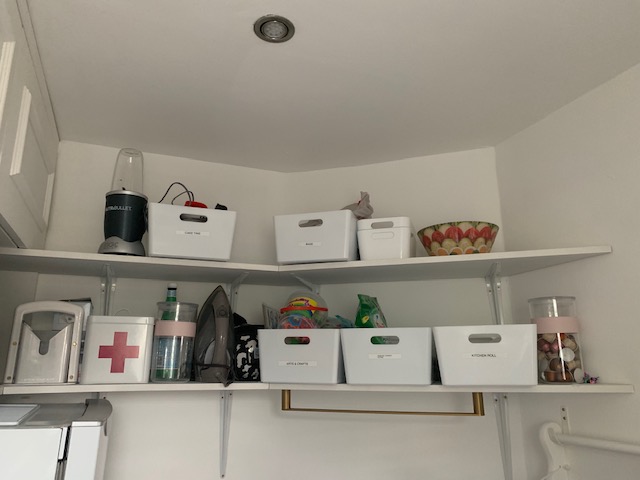 Not going to lie, I think that this is now my favourite room in the house.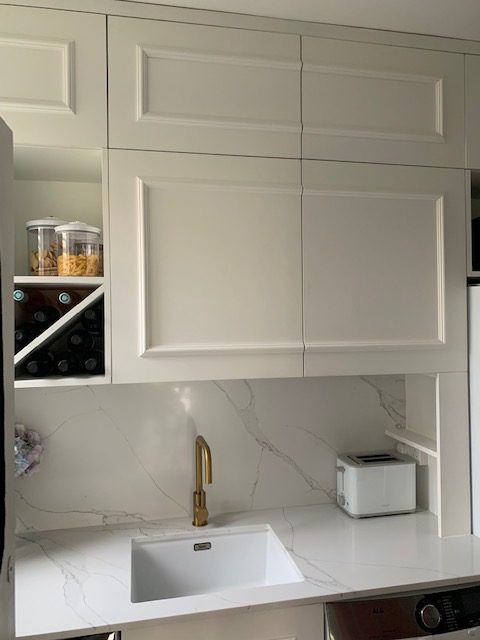 My washing machine and tumble dryer were a very kind gift from AEG after a lot of intensive white good research. The rest of the utility room was fully researched and paid for.