A smart, tailored coat should be hanging on your coat rack and is a winter wardrobe essential. It may surprise you to hear that it can be worn with the most casual of outfits (leggings & a hoody) to the smartest (a full work suit.) if you ever don't have time to pull an outfit together and you are rushing out the door then throw on the coat, add some lipstick and you will feel pulled together in an instant.
There are 3 checks before you purchase a new coat:
1.Check the fabric composition – natural fabrics like wool with keep you properly warm (and are much better for the planet!) so it's worth investing a bit more when it comes to outerwear, especially if you know it'll keep you toasty on a chilly winters day.
2. Check the length – Midi's coats (where it sits around your lower end of your calf) tend to work best for all. There is usually a note of the models height within the coat description on a website, so check that and If it's a midi on her then work out how it would sit on you. A simple rule of thumb – If you are tall, don't go for a coat that is too short, and if you are short, don't go for a coat that is too long.
3. Check the colour – Make sure it works with your wardrobe & skin tone. Black needs no second thoughts and can be worn with everything, beige or camel needs to be the right shade so it doesn't wash you out (don't just get a coat that only works with a full face of make up on) and a bold colour goes with surprisingly more than you think it will and can do all the talking so you don't need to make an effort with your outfit.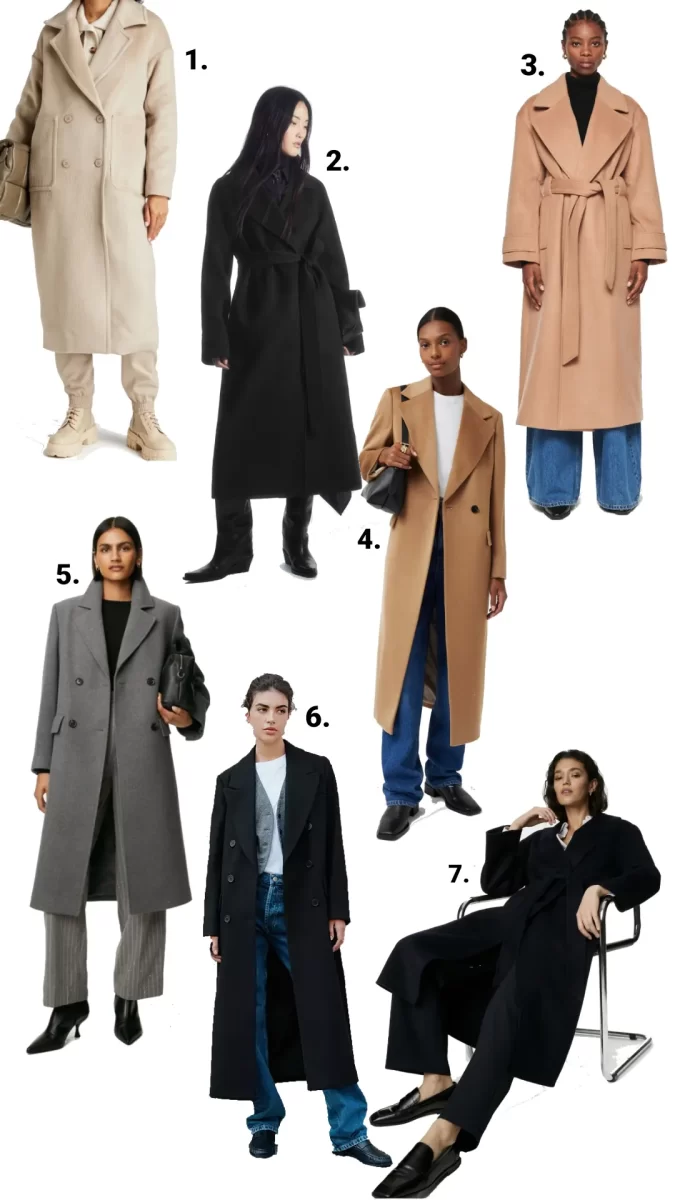 1.The Outnet X LF Markey £175 pale beige (22% discount applied at checkout) // 2. Cos black coat £225 // 3. Aligne camel coat £269 // 4. Jigsaw beige coat £385 // 5. Marks & Spencer grey coat £89 (also comes in navy) // 6. Albaray black coat £199 // 7. Marks & Spencer navy coat £179