Face masks have hit peak popularity over the last few years. We've been known to have proclaimed our love for the cheap and cheerful, insta-friendly sheet mask about a hundred-thousand times but now we're holding our hands up here and saying that we were wrong (don't tell our husbands that those words came out of our mouths!) Beauty products made to use once and throw out, like makeup wipes and sheet masks, create a lot of unnecessary waste. With all their plastic wrapping, sheet masks aren't as disposable as you'd think; they're made to use once and throw out, creating a lot of unnecessary waste and if made out of synthetic fabrics, can't break down into compost so sit for years in landfill, eventually emitting toxic chemicals contributing to global warming. Who would have thought it.
There are a few biodegradable sheet masks out there, so if you really can't make the switch then check out Eucerin Hyaluron-Filler Intensive Mask (£6) made of naturally biodegradable bio-cellulose, L'Oreal Paris Re-Usable Sheet Mask (£11.83) or Natura Rose Infused Sheet Mask (£4.94) is not only vegan but also made from bio-degradable bamboo. Otherwise check out of pick of the best tube masks that we've been LOVING for the last few months….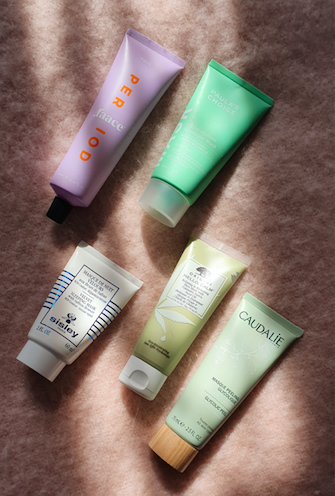 FAACE PERIOD MASK – FOR BLEMISHES
A genius small brand that comprises of three masks created by a British beauty industry insider, choose Period, Sweaty or Tired. I went for Period because my skin gets seriously stressed out and spotty during that time of the month and this blend of hyaluronic acid, zinc and lavender helps to soothe, hydrate a zap blemishes. 'Tired' is next on my hit-list; the blend of caffeine and vitamin c will perk up even the most knackered of mum-face's. The brand also believes that while yes face masks might be a luxury, sanitary products definitely shouldn't be so for every mask sold, one pack of period products will be donated to those facing period poverty. £20
SISLEY VELVET SLEEPING MASK – FOR DRY SKIN
When it comes to a real skin treat, Sisley will always be top of our list. Sam has raved about their iconic Black Rose Mask for years (think juicy, plump, expensive looking skin in a tube) but the latest face mask from the brand has a permanent space on Gemma's bedside table. This is ace for dry skin suffering from seasonal or hormonal changes (why Gemma loves it). It's super soothing and cocooning without feeling too heavy on the skin and is packed full of hydrating ingredients that ensure you wake up to calm, smooth skin. Maybe one to club together and buy for a new mum that won't be getting much sleep. £93.
CAUDALIE GLYCOLIC PEEL MASK – FOR DULL SKIN
It was hard to choose which of Caudalie's face masks to talk about here, but we both saw such amazing results after using the Glycolic Peel Mask that it was unanimous. You'd expect a 'peel' to feel drying but this really isn't, it gently lifts away all of the dull, dry skin sitting on the surface – after 10 minutes our skin really looks brighter. £19
ORIGINS DRINK UP MASK – FOR NORMAL/ DRY SKIN
This has been around for years, some of you may recognise it. Sam has used it forever, she sleeps in it, and the scent of peaches is so nostalgic for her. Each overnight masking experience is like drinking a tall glass of water for your skin – within minutes of applying, skin's moisture levels are proven to surge. It's a great budget alternative to the Sisley mask, for £22.
PAULAS CHOICE SUPER HYDRATE OVERNIGHT MASK – FOR ALL SKINS
We took this on our ski trip, it's highly effective at reducing redness, soothing skin and providing lasting blasts of hydration. It's more of a gel formula than a cream, which although lovely and light-weight we don't think that super dry skin would get as much of a benefit from this as the others here, or Paula's Choice Skin Recovery Hydrating Mask. £28 or £7 for travel size.
BEAUTY PIE JAPAN FUSION BIO CERAMIDE MASK – FOR SENSITISED SKIN
We think it's safe to say that Sam is obsessed with the whole Japan Fusion range but since receiving this mask, she's slept in it most nights. It's loaded with anti-oxidants, feels cooling when applied to the skin (an ideal formula to calm sun-burned skin) and skin looks visibly plumped after using it. £12.30 for members/ £100 for non-members.