We spend an unhealthy amount of time on Instagram. Anyone else?! When we're scrolling, there a few people that we always make sure that we check out. Here are our faves to follow…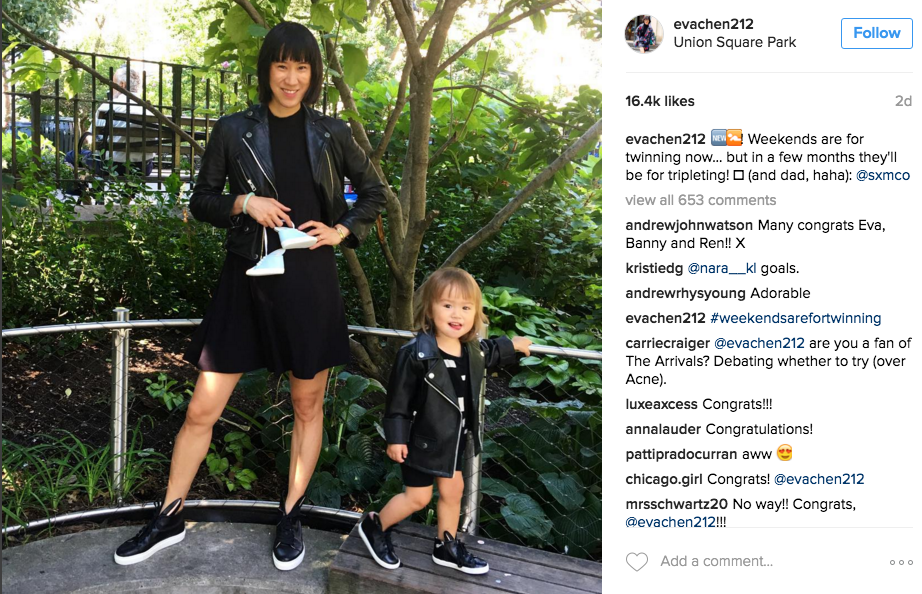 We're both fully paid up members of the Eva Fanclub having followed her on social media (waaaay back before the days of Instagram when she had a blogspot blog) Thee ex-beauty director of Teen Vogue/ ex-Editor of Lucky (mags in the US) and currently Head of Fashion for Instagram, she knows EVERYONE (expect a flurry of fashion designers, celebs and models on her news feed alongside the must-have shoes and best beauty products but we totally melt over the pics of Eva and her little girl Ren in their 'twinning' outfits. And Eva just announced her second pregnancy this week. If you like shoes, bags, beauty and celebs (who doesn't?!) then get following her.
Fave post: Erm it's almost too tricky to call but the insta-vid of Eva and Reese Witherspoon doing the 'bend and snap' from Legally Blonde is pretty bloody good.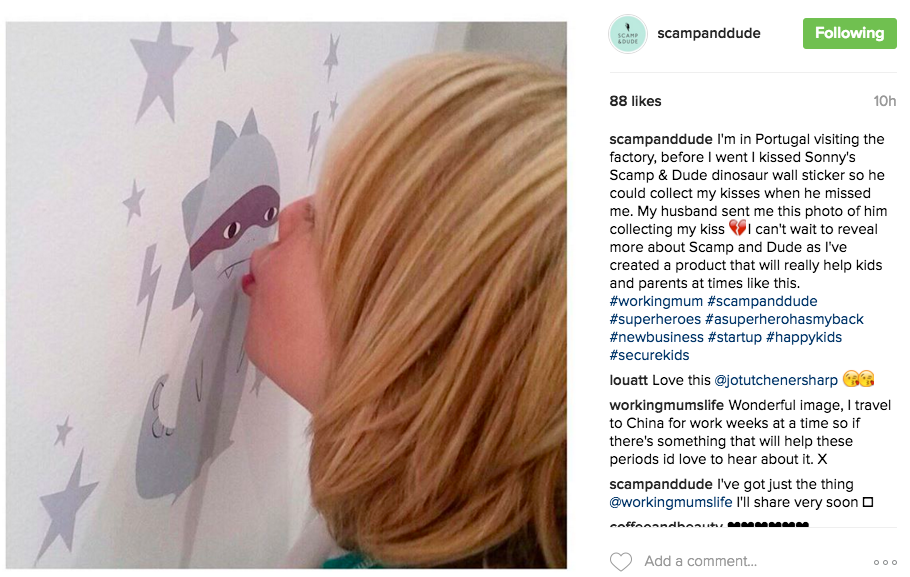 A new unisex fashion brand launching on October 22nd (mark that date in your diaries) created by Jo Tutchener-Sharp, the founder of the Brits Backstage Spa. Jo dreamed up the idea when she was in hospital having brain surgery and worrying about her two boys, Sonny and Jude coping without her. The hashtag is #ASuperheroHasMyBack – each item of clothing has a 'button' for the kids to press that bring their superhero buddy to life to look after them when their parents aren't around. We can't wait for Scamp & Dude to launch, particularly because Jo has such amazing taste (think leopard and clashing prints)
Fave post: Jo's only given away sneak peeks of the range so far but in the meantime the glimpses into her little boys bedroom is giving us serious interiors envy. Be warned. Sam is googling where to buy dinosaur wall stickers as we type…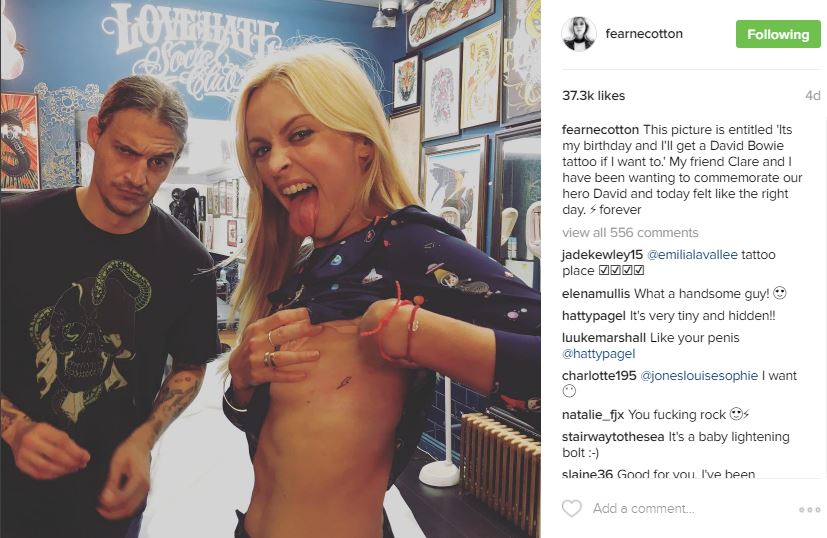 Fearne Cotton is one of those all-rounders: Super mum, radio DJ, cook, baker, tv presenter, writes a column for Glamour and has with a brilliant wardrobe… we could go on. She's the type of girl you want to be best friends. Fearne got a David Bowie tattoo to mark turning 35. She recently admitted that she decided to stop her job on Radio 1 so she could spend more time with her kids – go on her! Gemma has styled her in the past as she is just as lovely and friendly in real life as she is on Instagram.
Fave Post: Her showing off the new David Bowie tattoo she got to mark her turning 35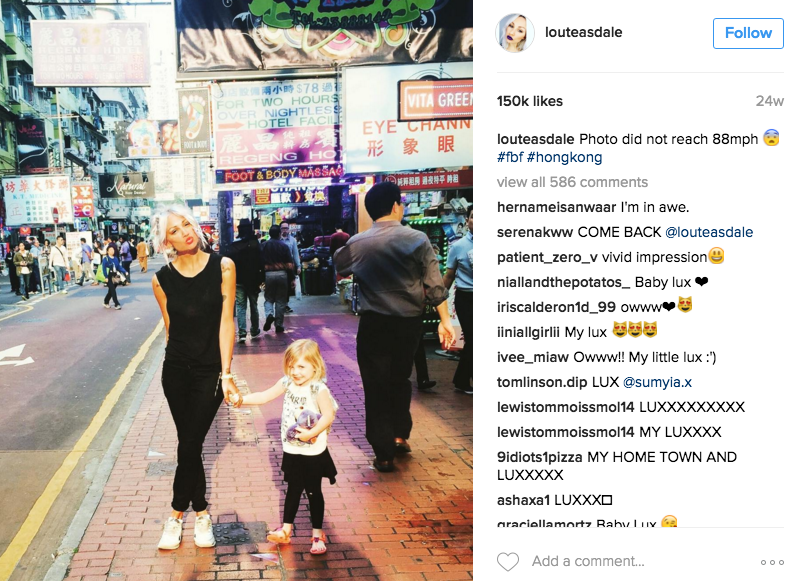 Fave post: Aside from the sneak peeks into her and Lux's celeb-tastic adventures around the world, the insta-vid of her demonstrating how best to cut a toddlers fringe (on Lux) is pretty cute.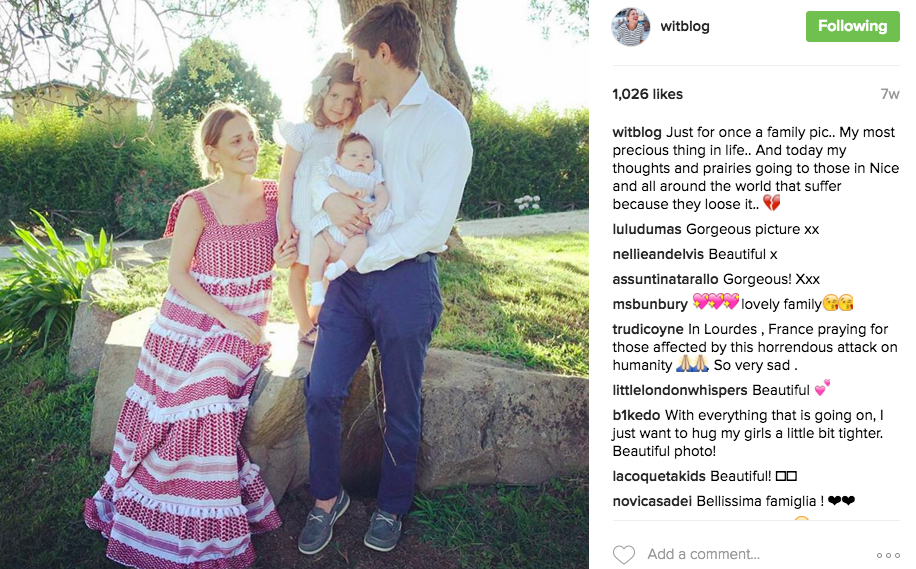 We've both had a girl crush on fashion editor Laura Fantacci for years. Way before we even thought of getting pregnant, we admired how she styled out the tricky pregnancy dressing and maternity wear, mixing high street and designer pieces, managing to look both on-trend yet not try-hard throughout. Now, on maternity leave with her second daughter and refurbishing her new house her feed is a heady mix of interiors porn, girly baby outfits and killer accessories.
Fave post: She's recently been sharing all her holiday snaps with images that include her showing off her shoes with her daughters matching shoes and possibly the most glamourous breatfeeding picture we've ever seen.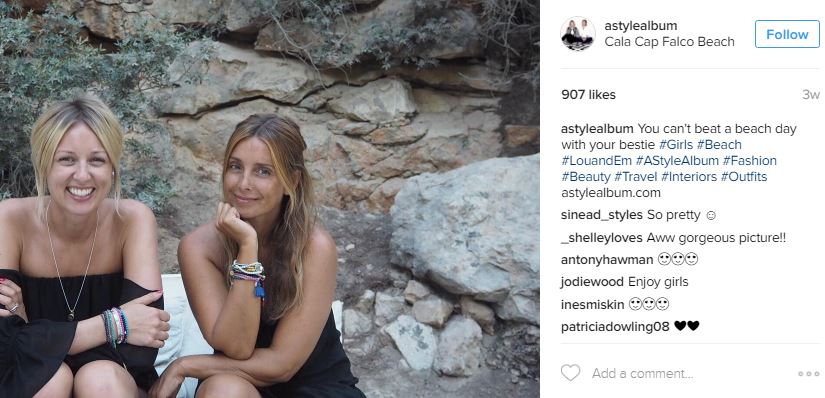 One of these super-chic duo may look familiar. Yes, that is Louise Redknapp of Eternal-soon-to-be-Strictly fame and her best friend, Emma Rose Thatcher. Proving that everyones style gets better with age, Lou and Em launched A Style Album a couple of years ago and we've been hooked on their insta-feed ever since. In their late 30's and early 40's, their feed is grown-up mix of the coolest places to eat, holiday and wear. We love their laid back style and effortless hair.
Fave post: We love the pics of their recent girls nights on their joint family holiday in Majorca – dreamy.