I've been holidaying in Mallorca since I was 3. My parents bought a flat with my dad's sister over 30 years ago and to this day I've gone at least once a year. It's my happy place. Nothing beats that feeling when we get off the plane, get in a hire car and drive to our apartment. There is a part on the motorway when you turn a bend and see the sea and I still get butterflies in my stomach every time we turn that bend. I got married in Mallorca 10 years ago, and it's where we went when Belle was a tiny 9 weeks old for her first holiday, and then Ace when he was born, so it will forever be a special place for me.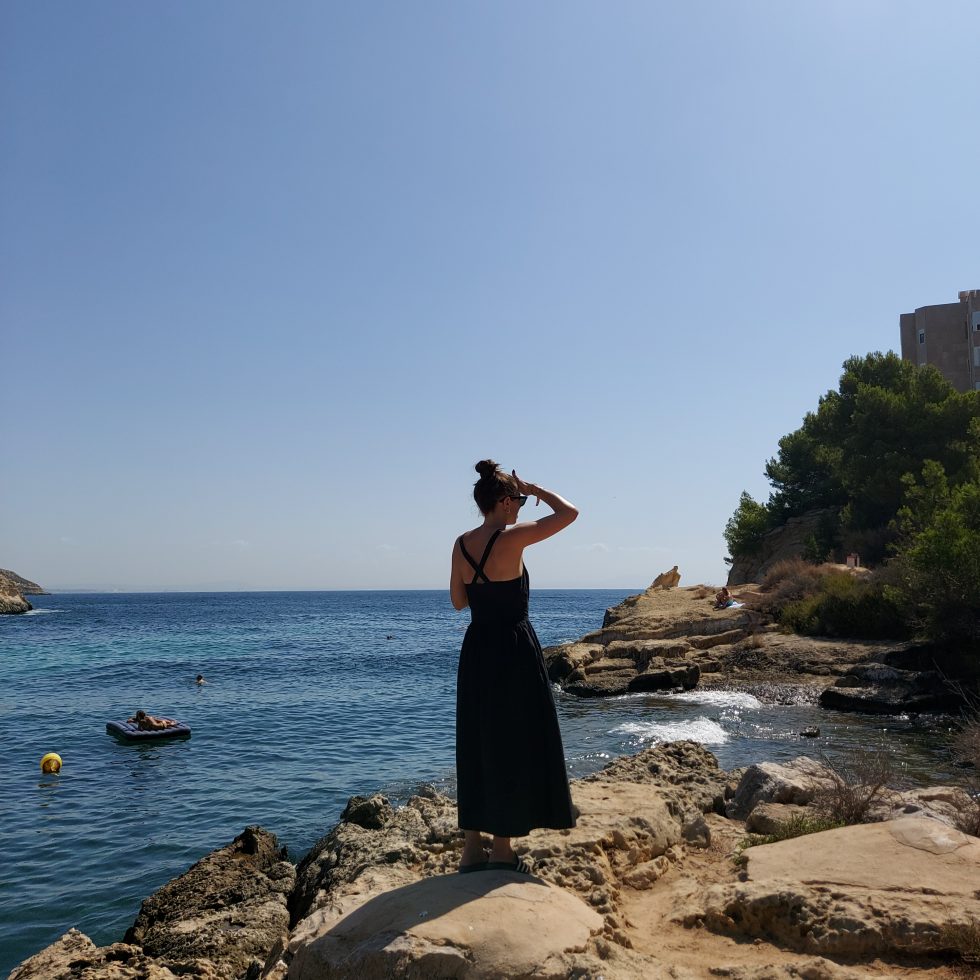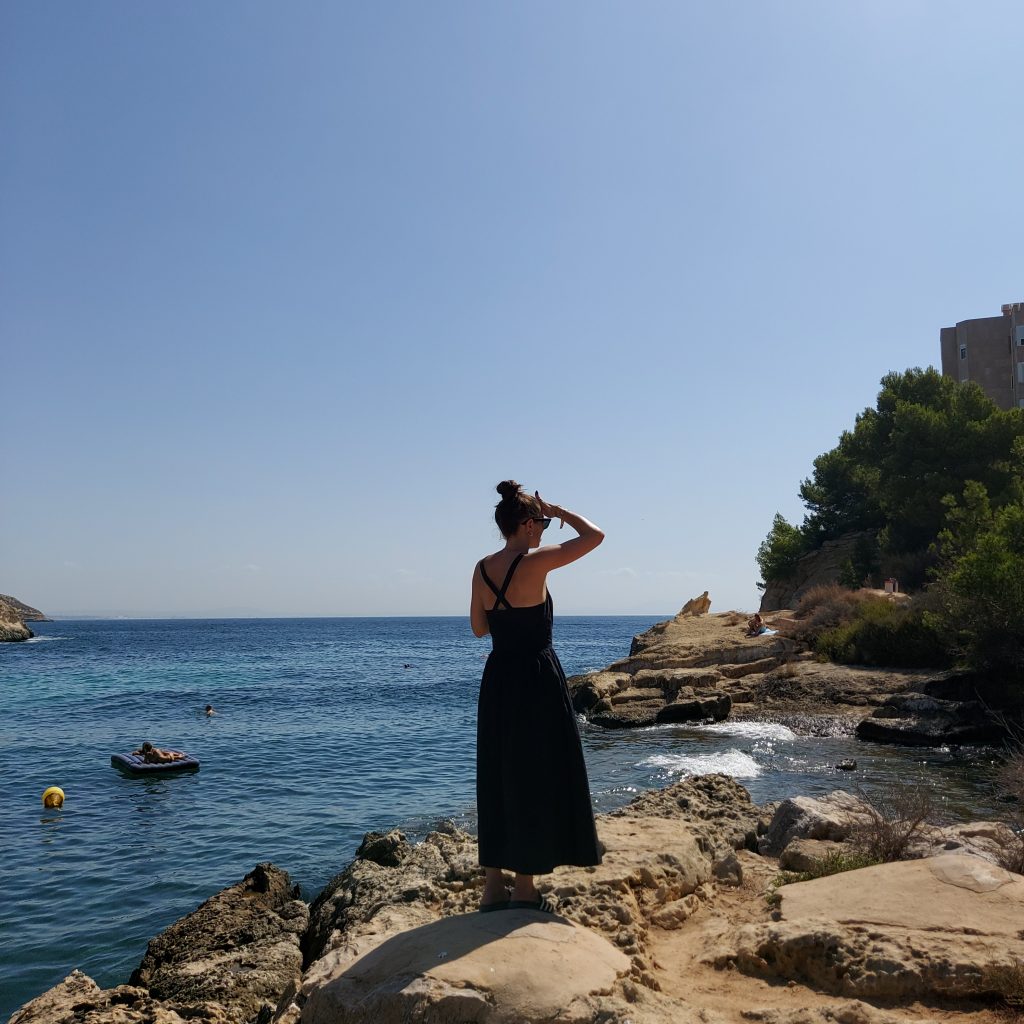 Mallorca is always such an easy holiday – a 2 hour flight, everyone speaks/understands English and you have guaranteed sunshine from May to September (although I have been before in October and it was 30 degrees.) There is obviously the added bonus of Spanish owned stores like Zara and Mango dotted everywhere.
Our family apartment is on the beach on the South West of the island so that is where I spend most of my time, and that is the area of the island I know best so that's the area that this blog post will focus on.
THE SLEEPING
We usually stay in the flat but this year we spent a week in the flat and the rest of our trip at Melia South Beach, because our family were in the flat. We initially booked one night at the hotel because we weren't sure that we would like it, mainly due to it's location. It's on the cusp of Magaluf, which 5 years ago would've been a bad thing, but over the years the whole area has been cleaned up and where the hotel is situated is an area actually called Calvia. The hotel sits at the far right of Magaluf beach, but at the end which has all been renovated so if you didn't know how near you were to the 18-30's holiday hot spot then you wouldn't even see (or hear!) it. Think white sand, clear sea, Instagrammable restaurants right on the sea, the fancy Nikki Beach club, plus a new promenade which has a Mango, an amazing ice cream stand and a Starbucks booth, just incase!
We stayed in a junior suite and it was the first time we had all shared a room without Ace being in a cot. It was perfect. A giant 550sq foot with a super king bed, a double bed that pulled down from the wall for the kids to share, a bathtub overlooking the sea, a couch and a balcony. There was also a sink & fridge, and seperate shower & toilet. It was so spacious that we didn't ever feel on top of each other.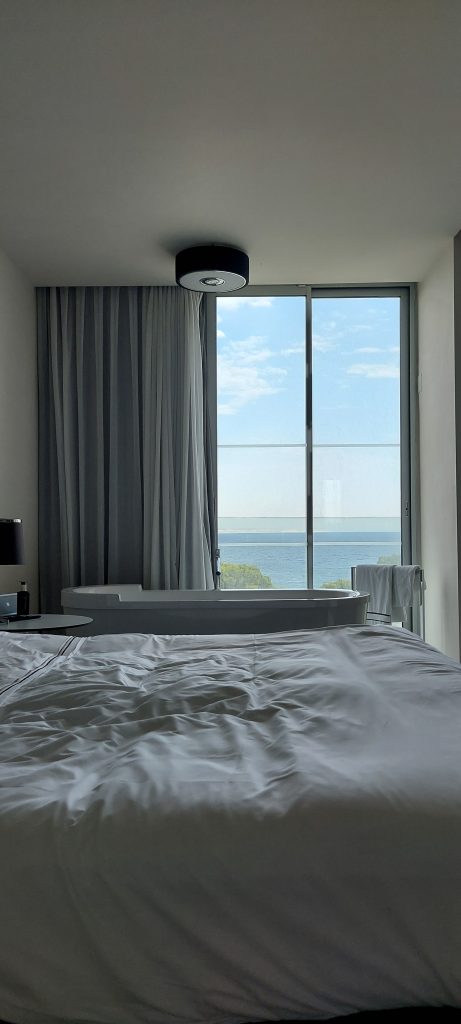 We had breakfast included, which was great. A buffet (behind clear plastic Covid safe screens) with so much choice – hot food, fresh fruit, pastries, a cheese table and cereals. The beach bar had a fairly small menu offering snacks and lunch which was pricey, but we brought the kids bento boxes and took some food from breakfast for their lunch (the staff said it was ok!) There are also loads of options for food along the seafront.
As a side note, the hotel were super Covid safe. You weren't allowed indoors anywhere without a mask and all the staff reminded you as you stood up from sun loungers, or started to walk to the doors. The screens over the buffet were huge and protecting all the food, and reception also had a big screen. Only one family was allowed in the lifts at a time.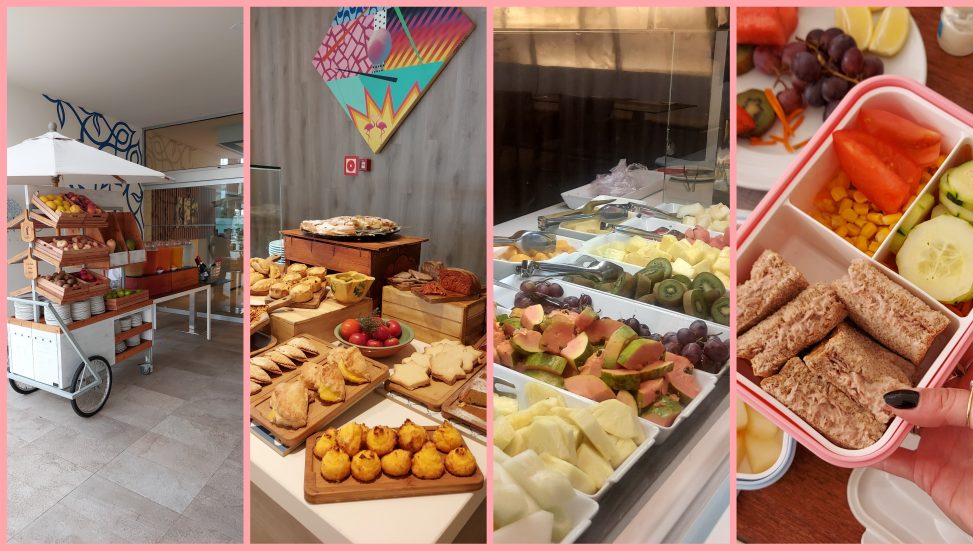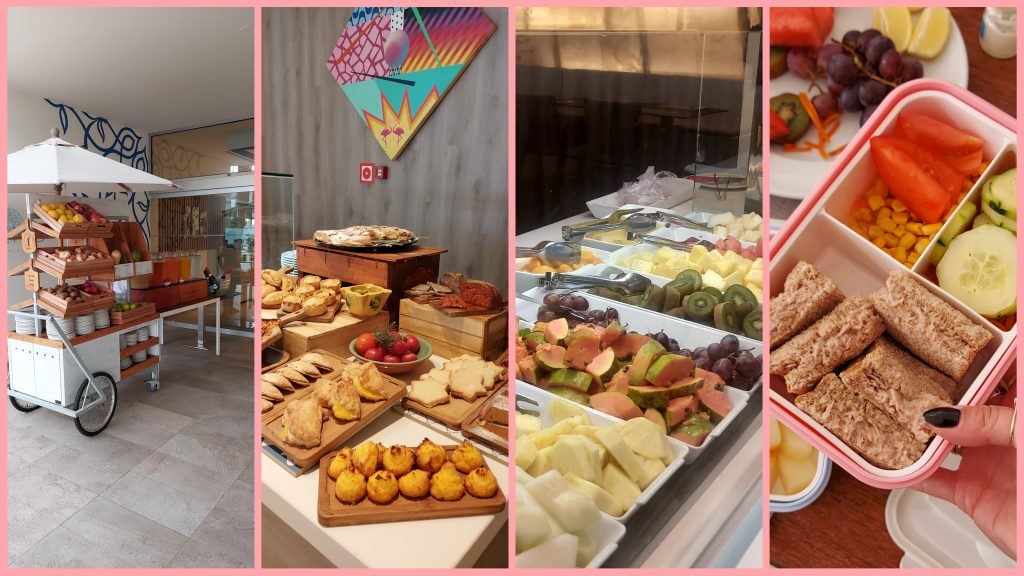 We spent most of the day at the pool and the beach. There are 3 pools, one is adult only, one is a huge pool which has plenty of shallow points for the kids to stand if they needed to, and then there is a tiny baby pool. Plus there is direct beach access within a 3 minute walk.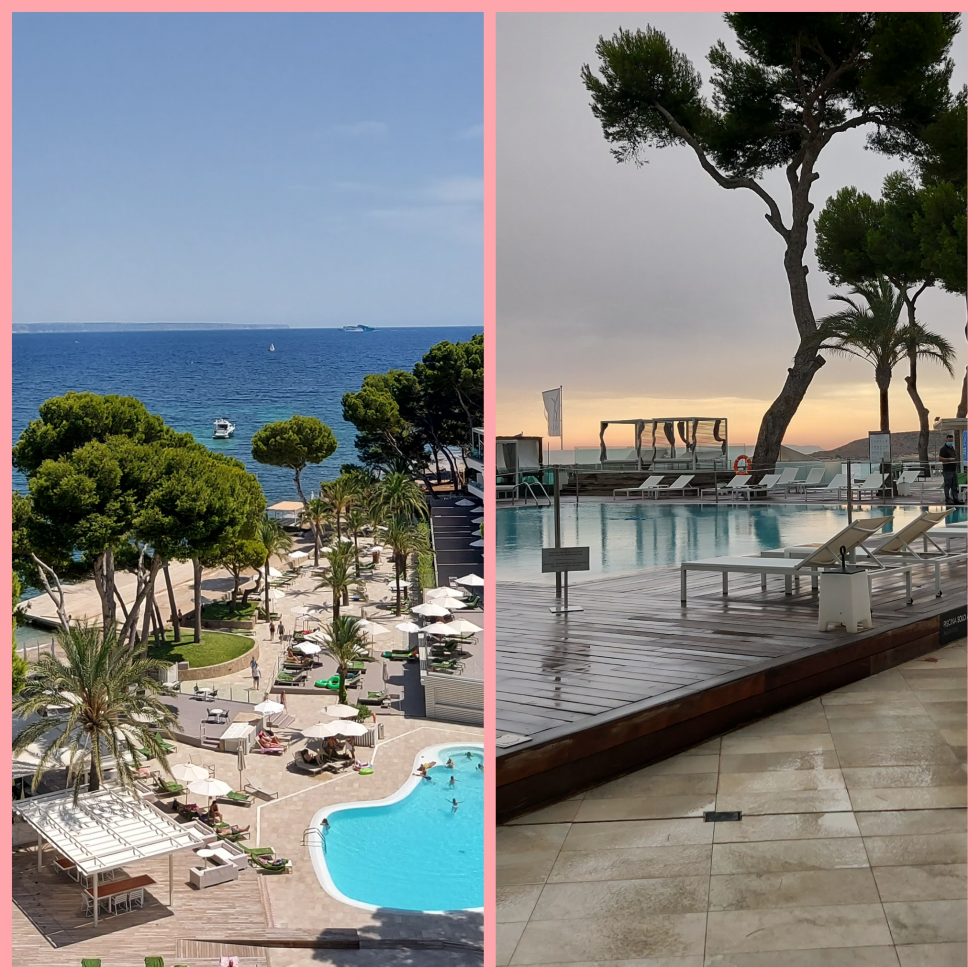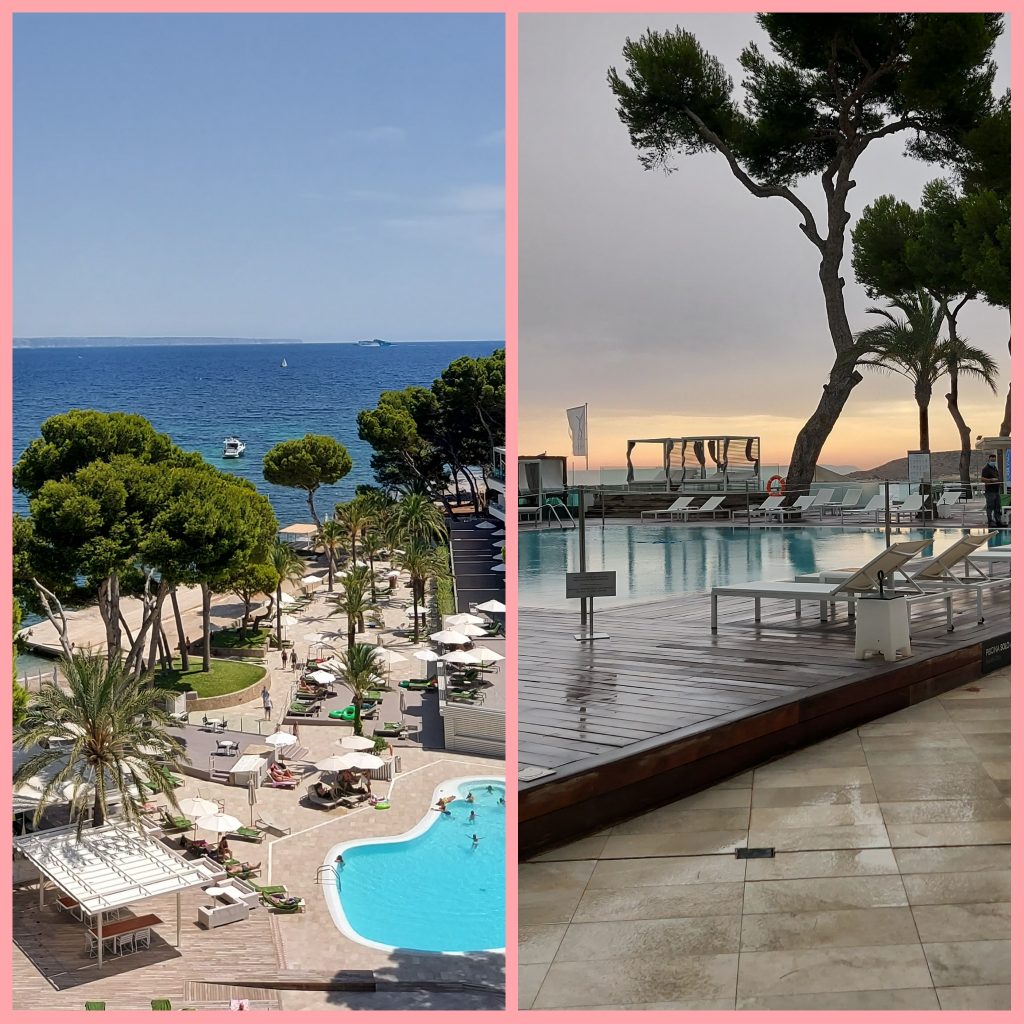 THE EATING
I've eaten in so many restuarants all over Majorca but here is a list of my favourites.
FOR CHILD FREE DATE NIGHTS
Padron Lunares – In Santa Catalina in the centre of Palma town. AMAZING steak, fresh fish and a really cool vibe. This is our favourite 'get dressed up on a Saturday night and go out for dinner' restaurant.
Um Beach House – This used to be called Mood Beach and it's the beach club that we got married in. We ate here this summer and it's been renamed, has a new owner but is all still quite similar. The burgers went down really well. Lovely atmosphere.
S'esponja – This is a tiny restaurant right at the edge of Calvia beach. The tables are on a dock right on the sea so the view is outstanding. Quite pricey for the location, but super romantic for dinner.
Il Paridiso – beautiful, romantic setting. It's on the sea in Cala Major.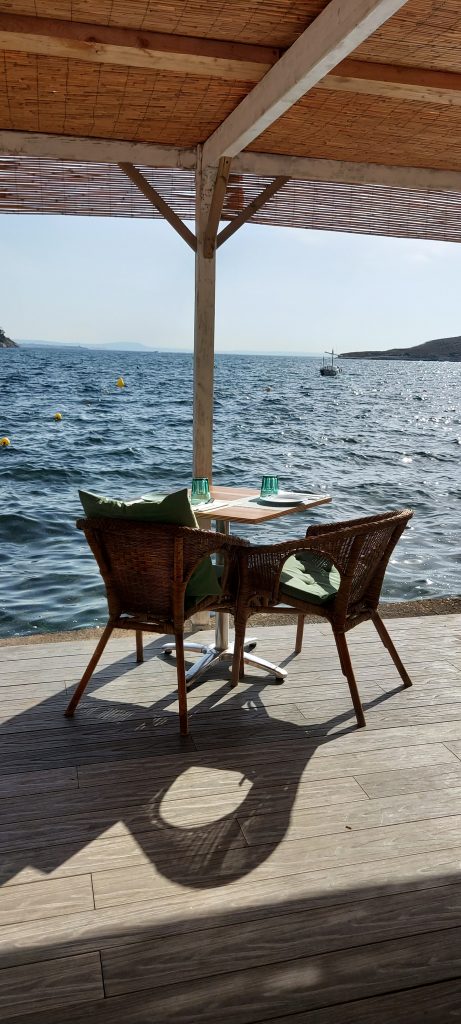 KID FRIENDLY EATING OUT OPTIONS
Cappucinos – This is a Spanish chain of coffee shops that have no expanded into restaurants. Our favourite one is located in Puerto Portals. The kids menu is great, and they have crayons to keep your kids entertained. Make sure you sit outside as you have a great view of all the super yachts that come into the port.
Siso's – It's right on Palma Nova beach, a great buzzy restaurant for lunch or dinner, with kids or without (small playground next to it)
Mar Y Mar – A great restaurant right on the beach in Peguera. Try book a table at the front so you are overlooking the beach. They have a kids assault course next door which is suitable for age 6 up (but you need proper closed toe shoes for it, and an adult has to do the course if you are with someone ages 6-8.)
Diablito – They have a few locations but try get a table on the roof terrace at the Puerto Portals restaurant. It's an easy italian with loads of options. The cheesy nachos are outstanding!
Illeta at Camp De Mar – This is worth going to just for the views alone (the food is great too though!) The restaurant is located on a tiny island just off Camp De Mar beach. You walk along a wooden bridge over the sea. Try book a table on the waters edge and make sure you jump into the sea from the rocks after. Kids menu, clean toilets & buggy friendly.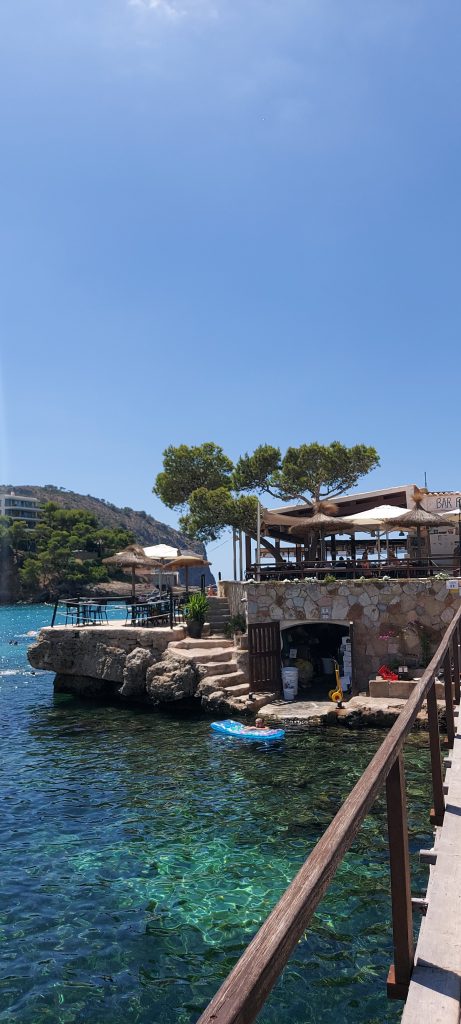 BEACHES & AREAS TO VISIT
Most of the beaches are beautiful. Some favourites are listed below:
Es Trenc: The whitest sand with beautiful turquoise waters.
Cap Falco: A tiny bay hidden away down LOADS of stairs (not buggy friendly.) You can also drive down a dirt track behind it and park close to the sea but taxis will only drop you at top of the stairs. The beach has it's own restaurant which is pricey but lovely. There are clean toilets at the back of the beach.
Peguera: A huge beach with loads of sunloungers and open space. Kids assault course (for age 6 and up) is at the top before you enter the beach.
Palma Nova: It used to have a bad reputation but has recently been cleaned up so now there is beautiful white sand, pedalos and plenty of food options. The best part of the beach is in front on Sisi's restaurant – a huge stretch with some palm trees at the back if you want shade.
Camp De Mar; See above – the beach is small but loads of shallow sea which is great for the kids to play in.
Deia : A beautiful tiny village in the mountains. Lovely to walk around, the drive up is beautiful, the beach is small and not very kid friendly.
Soller: Close to Deia, Soller has an old fashioned train ride which is a beautiful excursion and cute for the kids.
EXTRAS
For rainy days we always hide in Porto Pi which is a shopping centre with all the essentials (a giant Zara, Mango plus some cute Spanish stores.) Mallorca Fashion Outlet is an outdoor shopping space 10 minutes drive from Palma. It also has a cinema and soft play in case it's pouring and you are desperate!
Hope this was helpful, any questions then either email or message us on @ThisIsMothership