I used to be that person who wore heels every day. Yup. Every day. To work, to the supermarket, to the cinema. It genuinely didn't bother me and I wouldn't think twice about wearing them. I knew as soon as I spotted a heel whether it would be comfortable or not, and I had certain pairs that I could last 12 hours in, and others that I knew were strictly 'taxi, dinner, taxi' heels. I have a shoe room in my house. That sounds wild – however it actually was a tiny pantry. I made an executive household decision when we moved in that the food would stay in the cupboards in the kitchen and my shoes were going to live in the pantry 🙂
I have loads of pairs (I just typed the number and deleted it because it sounds obnoxious!) but these days I seem to rotate between the same ones. And the reason why? Because they have a block heel.
Mama's, you can still wear heels, you just need to know the 'type' of heel. And here they are…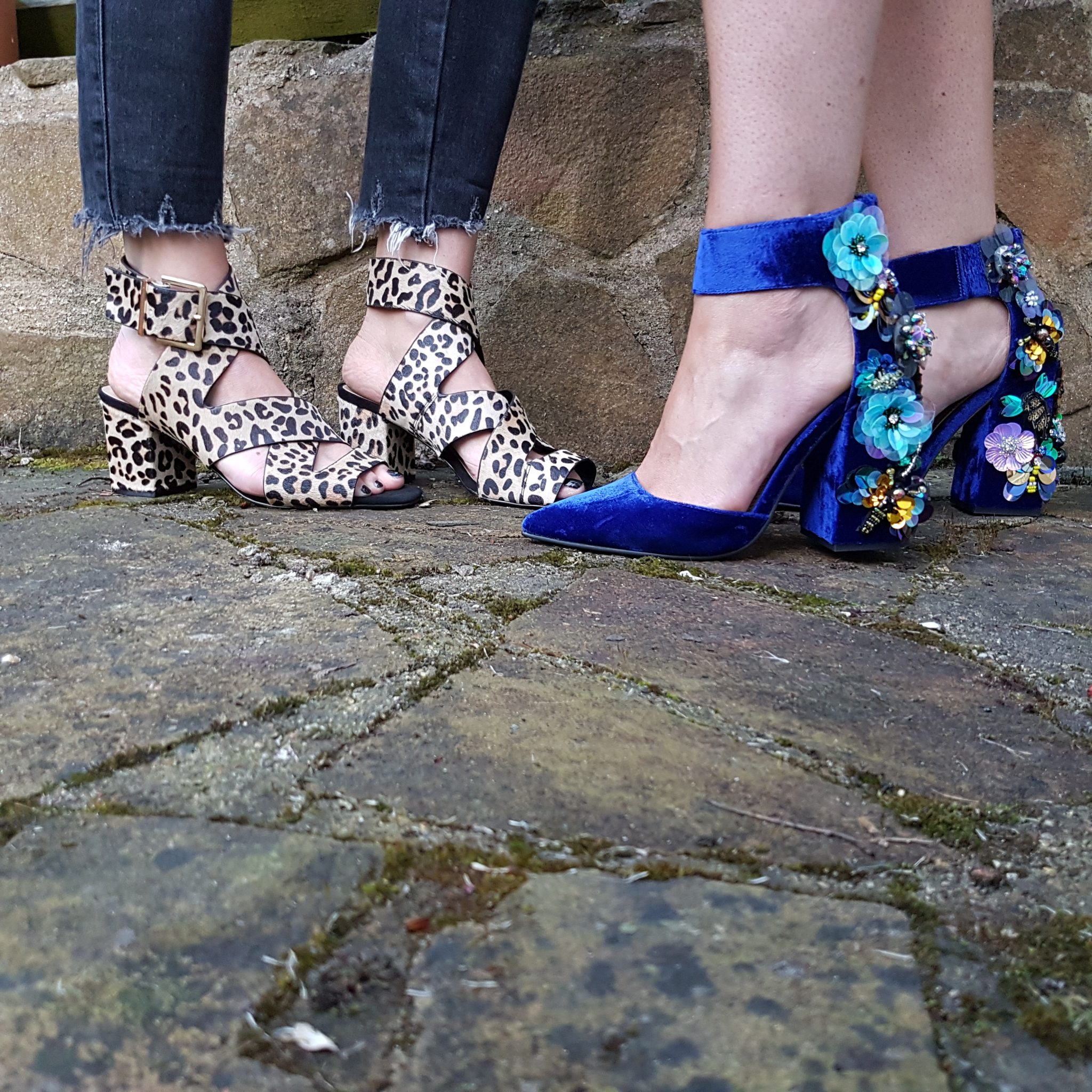 As you probably know by now, I'm the hugest leopard print lover, and these heels that I'm wearing in the image above are a winner. They have just gone on sale at
River Island.
I've also just ordered (I know, I really don't need more shoes)
THESE
from Pull & Bear. I couldn't say no to monochrome and the ribbons will keep Belle entertained for hours 🙂 Plus, they will be perfect on holiday just with denim shorts and a T. I'll tie them low around my ankle, rather than up my leg, as I have short legs so I don't need anything cutting them off and making them look shorter! The pink ones I'm wearing below are from Topshop but have sadly sold out. Similar can be found
HERE.
Sam has recently discovered the joy of embellishment on a shoe and got carried away with getting 2 pairs, both from ASOS. The
blue velvet
above look great teamed with blue jeans and a grey t shirt, and the
nude pair
she is wearing below are great for elongating your legs if you team it with a short dress. She wore these to her sister in laws wedding last week and survived the entire night in them. Tried and tested comfy mum heels!
Here are some tips in case you struggle in heels, but it's worth remembering that a platform or chunky heel will be more comfortable. So if you have an option, stick with a platform or a boxy shaped heel.
– Walk heel to toe.
– Wear them in. Put on socks with your heels at home so it gives the shoe a chance to stretch out in the places that would normally pinch.
– If the balls of your feet are your problem area then try out
THESE
to cushion the area.
– Keep
THIS
in your bag. Small enough to take wherever you go and it can be a lifesaver when you feel the pinch starting as it instantly reduces the rubbing on your skin.
Click the arrows to have a scroll through a selection of the comfiest heels around, pair no 7 from
Public Desire
are surprisingly comfortable and are perfect for a summer wedding. Teamed with any pastel coloured dress, these will make your oufit a little bit more wow without breaking the bank, and don't be put off by the heel and platform – they are not as scary high as they look!