I eat this at least 2x a week, no joke. I cannot take any credit for the recipe, it's Rochelle Humes which she also eats multiple times a week.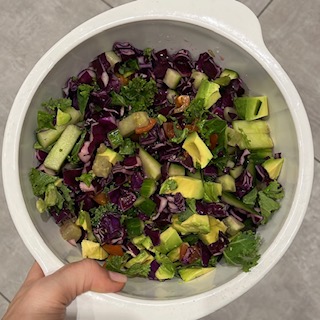 Whenever I post it, you guys ask for the recipe and I always direct you to her reels but it's quite far down and tricky to find, so I'll link it here for you, and also post the recipe below (I hope she doesn't mind)
I sometimes add to it – halloumi, grilled salmon, mozarella, spanish omelette – whatever I have in the fridge, but it's also great solo. I do think the key is this chopper, which means I can make it in seconds.
SALAD INGREDIENTS:
1/2 a small red cabbage
Ac couple handfuls of kale
Baby tomatoes
Cucumber
An avocado
FOR THE DRESSING:
Half olive oil to half sesame oil
A splash of rice vinegar
A glug of balsamic
Few drops of Maggi liquid seasoning
Season with a squeeze of lemon and salt & pepper