Do your skins barrier a favour and add this dermatologist-beloved, moisture-replenishing ingredient to your skin-care routine, stat. Ceramides are the beauty buzzword that you'll be hearing a lot this Autumn. Here's everything that you need to know….
WHAT IS A CERAMIDE?
Ceramides are fatty acids that are naturally found between our skins cells, making up 50% of our skins barrier, retaining moisture which keeps the skin hydrated. They are essentially the glue that holds our skin cells together, keeping our skin barrier intact and healthy. A healthy skin barrier helps seal in moisture and seal out harmful elements. As we age they deplete, ceramide levels naturally drop after the age of 30.
Applying them topically helps to keep skin plump, firm, treat sensitivity and fine lines.
SHOULD I BE USING ONE?
Simply put; yes. Everyone over the age of 30 should be using ceramides topically, to restore the levels in our skin. Ideal for all skin types, especially if you have a compromised skin barrier – so sensitive skins, dry and dehydrated skin will all benefit.
WHAT HAPPENS WHEN MY SKINS NATURAL CERAMIDE LEVELS DEPLEAT?
Sun exposure, harsh climates, and age impact ceramide levels, compromising your skin barrier function. Low ceramide levels lead to dry skin and can be also linked to skin conditions such as acne, eczema, psoriasis and rosacea.
HOW TO USE CERAMIDES?
They can be used day or night, in tandem with your other skincare actives (acids and retinols) and around the eyes (if fragrance free)
MY CERAMIDE EDIT: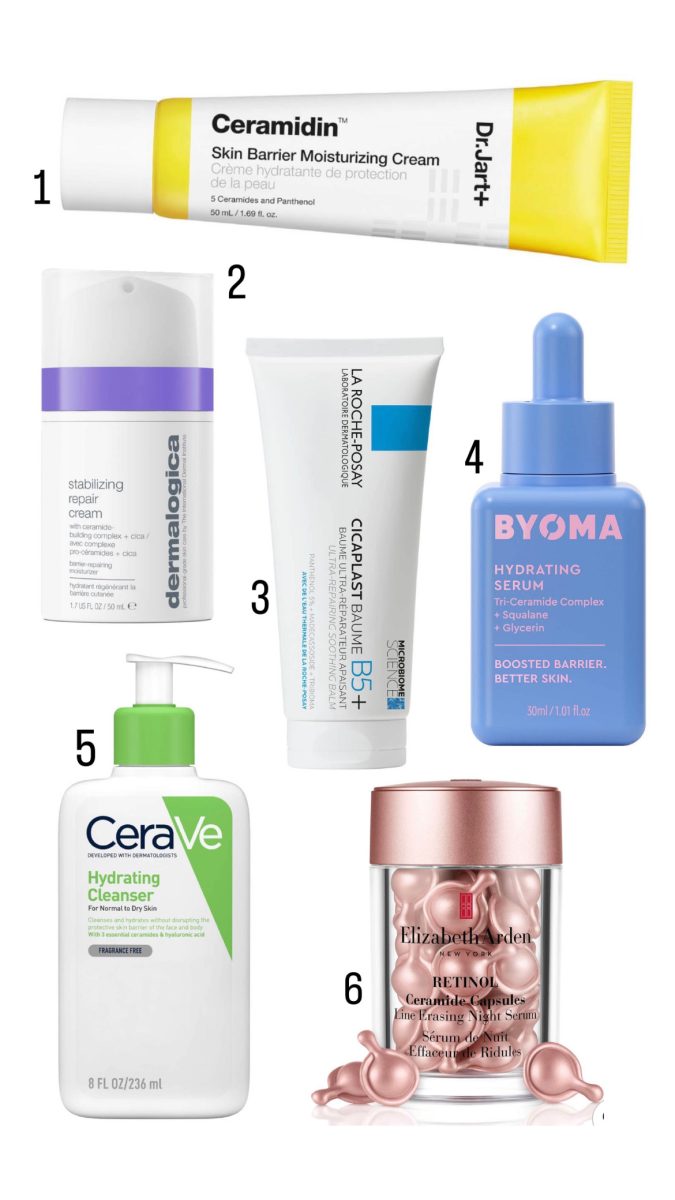 1: TAP TO SHOP: Dr Jart Ceramidin Cream, £38
A blend of five ceramides to intensely nourish and strengthen skin and leaves your complexion feeling oh-so-supple and hydrated. Expect results in just a few days.
2: TAP TO SHOP: Dermalogica Stabilizing Repair Cream, £65
Dryness is one thing, but redness is a whole other beast to tackle. The ceramide-building complex supports skin's natural ceramide production levels — plus irritation-soothing ingredients work overtime to calm skin and restore a redness-free complexion.
3: TAP TO SHOP:La Roche Posay Ciclaplast, £18
One of the originals and the one that dermatologists world-wide recommend for skin suffering with dryness and sensitivity to get it back on track. Ideal to keep in your cupboard for the winter months, it also contains shea butter and glycerin, so skin feels hydrated as it is nourished.
4: TAP TO SHOP: Byoma Hydrating Serum, £12.99
Their barrier boosting Tri-Ceramide Complex  (ceramides, cholesterol, fatty acids) combined with a powerhouse pairing of squalane and glycerin (to replenish skin's moisture levels) delivers a surge of instant hydration with long-lasting results, banishing trans-epidermal water loss, redness, dryness, and flakiness. Vegan.
5: TAP TO SHOP: CeraVe Hydrating Cleanser, £11.50
A brand based entirely on a triple ceramide approach to skincare; this jelly like cleanser enriched with barrier strengthening ceramides quickly transforms on skin, boosting hydration levels so skin feels happy, balanced and refreshed post-cleanse.
6: TAP TO SHOP: Elizabeth Arden Ceramide Capsules, £49
To help combat any potential dryness and irritation associated with using retinol, each single-dose capsule is spiked with three types of ceramides to replenish your skin's natural ceramides and restore your barrier.