Hyaluronic acid may sound intimidating – an acid, for your face?! – but science shows us it's one of the best ingredients you could use in skincare. Close to perfection; it's gentle, loves all skin types, pairs phenomenally with other ingredients (even retinol and AHAs), it can be used AM and PM and promises plumper, bouncier, more juicy-looking skin.
Hyaluronic acid, isn't an acid per se, it's a naturally occurring gel-like substance that has the unique ability to retain moisture. In fact, our bodies produce it naturally to keep our skin soft and supple and it's also found in our eyes, joints, and connective tissue.
But we produce less and less hyaluronic acid as we age. From around the age of 25, the skin's own production of hyaluronic acid slowly decreases resulting in dullness, thirsty skin, fine lines forming leading to the first wrinkles.
The best part about hyaluronic acid is that it can hold over 1,000 times it's weight in water, so when used in skincare, it literally acts as a moisture magnet, binding water to the skin, increasing skin's dewiness, bounciness & plumping up those surface lines and wrinkles.
THREE HYALURONIC ACID RULES TO LIVE BY:
To get the best from your hyaluronic acid, there's a knack to applying it:
#1: Always apply to damp skin.
Hyaluronic acid is a moisture magnet; this means that it will suck up any moisture sitting on the skins surface and help bind it to the skin. If applied to dry skin, it will draw from it's nearest source (your skin) taking what it can with it thus leaving it drier than when you started. Slightly damp from cleansing is perfect, or use a facial mist before application.
#2: Layer it correctly.
To ensure maximum efficacy, layer your products in the right order. In the case of serums, experts recommend applying from most active to least, and (usually) thinnest to thickest. This means your hyaluronic-based serums are the last to be applied, as higher strength or 'correcting' actives go closest to the skin. Plus, a soothing hydrating serum will calm everything down and help with any flaking or drying sometimes caused by stronger actives like retinol or AHA's.
#3: Seal it in.
Just as you want to stop hyaluronic acid from stealing skin's water content by applying it to damp skin, you don't want it to evaporate and take your hydration with it. Seal all that hydration in place. In the PM, for extra nourishment, you can follow with facial oil before a moisturiser to lock it all in. In the AM, a daily moisturiser with SPF is barrier enough.
MY HYALURONIC ACID EDIT: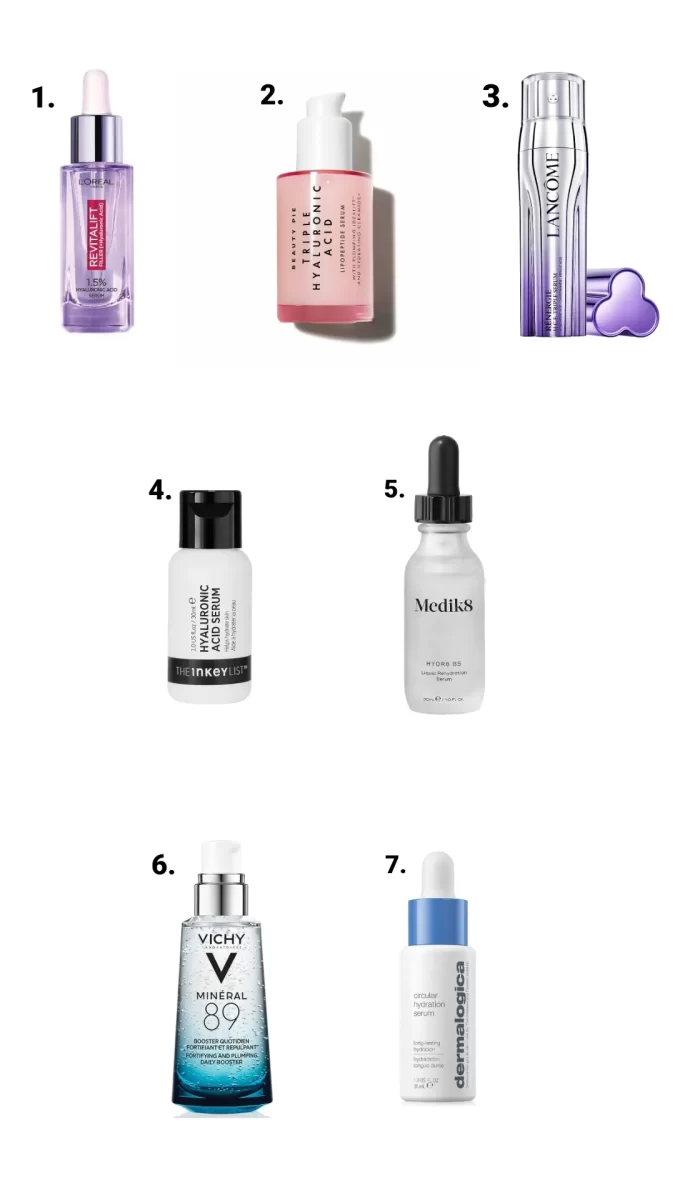 A weapon against fine lines and wrinkles, this clever serum gives skin it's bounce back. Containing L'Oreal's highest concentration of this sought after ingredient, it delivers the powerful ingredient directly to its surface. Skin looks immediately hydrated, as the formula sucks moisture deep underneath the skin. Magic in a bottle.
2: Beauty Pie Triple Hyaluronic Acid Serum, members £19 // non-members £85
I am absolutely obsessed with this one and have been through multiple bottles over the years. With three weights of Hyaluronic Acid, plumping Polysaccharides, Pro-Ceramides and gravity-fighting Super Peptides, this is GENIUS in a bottle. Skin looks dewy, plump and radiant immediately – it calms and soothes any irritations. Just a brilliant all-rounder that I recommend to everyone.
3: Lancôme Rénergie H.C.F Triple Serum, £88
A triple-pronged attack; for those short on time but with a little extra to spend this fuses your entire daytime skincare routine in one dose (although cost up the prices of these three ingredients together and you get a good deal here) Housed in triple-chamber packaging to help maintain higher levels of potency, the first contains hyaluronic acid, the second contains brightening vitamin C and niacinamide while the third formulation contains antioxidant ferulic acid. It's so intensely hydrating I often don't need a day cream on top, just a swipe of my SPF. I've gone through three bottles.
4: The Inkey List Hyaluronic Acid Serum, £7.99
This clever serum contains 2% hyaluronic acid at different molecular weights – meaning that it can penetrate and hydrate every layer of skin, plumping and hydrating all types and textures. A pea sized amount is all that is needed – that's a lot of bang for your buck.
5: Medik8 Hydrate B5 Liquid Rehydration Serum, £36
Our favourite expert brand; this lightweight serum delivers a surge of long-lasting hydration to the skin. It genuinely helps to plump out fine lines and wrinkles. It sinks into skin without leaving it feeling sticky or tacky. Oil-free, gluten-free and vegan.
This cult hyaluronic acid contains only 11 skin-boosting ingredients, including 89% Vichy thermal mineralising water, the brand's signature ingredient. It has a gel-like consistency and is gentle enough to use around your eyes – and if you do, pop it in the fridge before for an extra soothing finish. Hypoallergenic.
7: Dermalogica Circular Hydration Serum, £59
This made my skin feel immediately moisturised and it had a dewy glow that lasted all day. It does feel slightly tacky on the skin at first, but once you apply a moisturiser over the top it settles down. Does a great job at repairing the skin barrier so moisture is kept on lock-down for longer.
AND A SPECIAL MENTION WHEN IT COMES TO TRAVELLING:
Elizabeth Arden Hyaluronic Acid Ceramide Capsules, £49
Ideal for popping in your hand luggage, using in-flight or travelling light, just one of these capules gives you two applications of an incredibly hydrating and plumping, silky soft formula. Absolute game changer.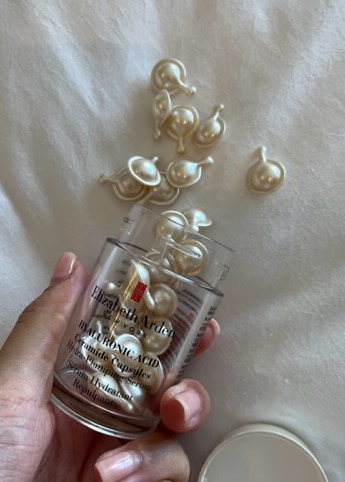 [affiliate links used]