Intrigued by beauty's most effective ingredient but don't know where to start? So many of you want to incorporate this anti-aging wizard into your skincare regime but you're scared. There are tales of skin peeling and having to stay inside away from the sun for weeks until your skin acclimatizes to it. It can also be expensive. But luckily, times have changed and everyone can now benefit from this pigmentation-blitzing, acne-reducing, wrinkle-banishing skincare superhero.
WHAT IS RETINOL?
Retinol belongs to a family called 'retinoids', which derive from Vitamin A. They improve skin turnover (which means they slough away dead, dull skin cells from the surface of the skin to reveal the newer, radiant ones), and reduce the breakdown of collagen (which means skin stays plumper for longer). They also help to reduce fine lines, pigmentation and acne marks. So in simple terms, retinol is a one-stop-shop, anti-aging powerhouse that we should all be using – that is, if you want more plump, radiant, even-toned skin.
THE RETINOL RULES:
#1: Start LOW and SLOW.
Introduce it gradually into your regime. Don't go for a high % just because you think it will work quicker.
#2: Apply in the evenings onto cleansed skin.
Start with two nights a week, slowly progressing to every other night.
#3: Add nourishing products into your skincare regime.
Irritation, dryness, flakiness come as part of the initial package when you first start Vitamin A. Adding these in will help to counteract any of that.
#4: Use the recommended amount.
This is usually a pea size. Using anymore is not going to make it work quicker.
#5: DO NOT FORGET SPF.
Retinol increases your skins sun sensitivity, plus you have lots of fresh new skin on the surface you don't want to damage. If you're using retinol in the PM, you MUST use an SPF50 in the AM.
MY RETINOL EDIT: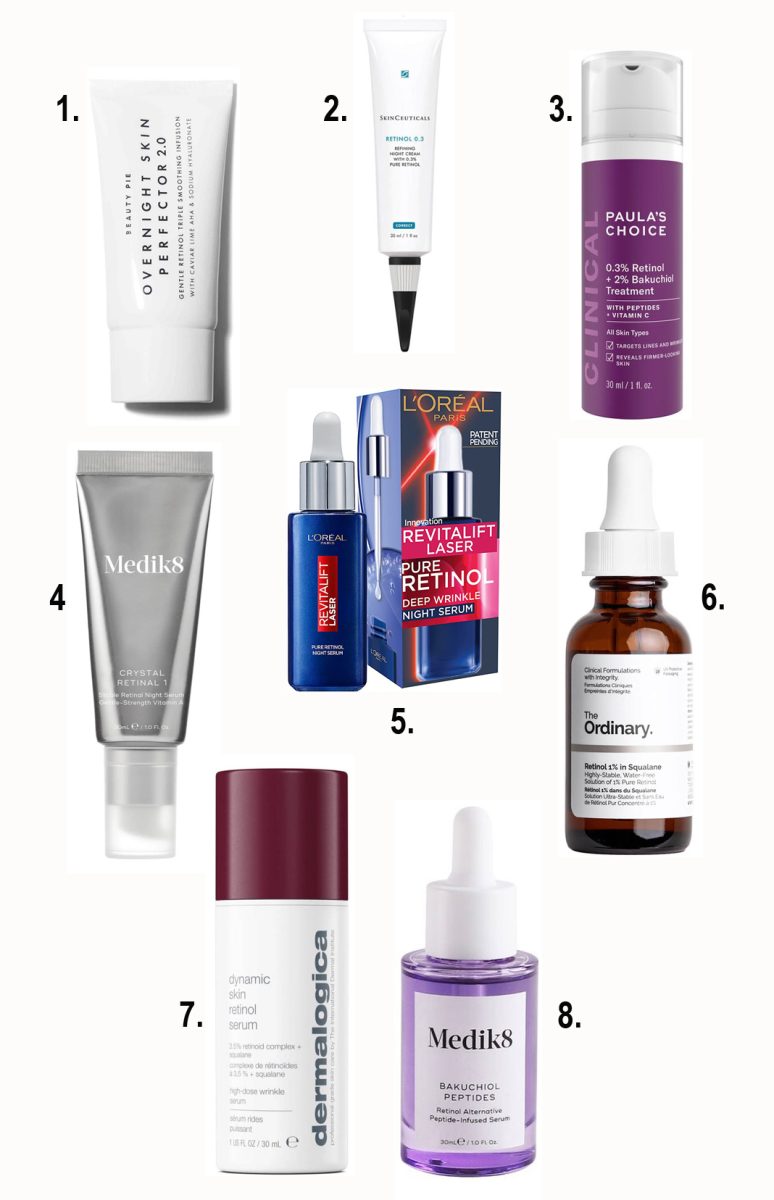 1: Beauty Pie Overnight Skin Perfector, £13 members price (£80 non-members)
Super gentle encapsulated retinol is blended with AHA's, shea butter and hyaluronic acid for an overnight cocktail that leaves skin luminous, smooth and bright by morning
2: Skinceuticals Retinol 0.3%, £65
A powerful overnight serum; pure retinol helps speed up cell turnover, removing pigmentation, lessening fine lines and blemishes for smoother, clearer skin. The addition of chamomile-derived ingredients helps soothe any irritation.
3: Paula's choice 0.3% Retinol + 2% Bakuchiol, £58
For skin that errs on the side of sensitive; this blends natural plant based ingredients with scientific innovation to target lines and wrinkles while the bakuchiol helps to strengthen skin, boost collagen and exfoliate gently.
4: Medik8 Crystal Retinal 1, £45
Retinal, an advanced form of retinol, gives all the results without the risk of irritation, redness, flaking or peeling. Studies show results are 11x faster that clinical grade retinols. Start with this serum (level 1) and climb the ladder.
5: L'Oreal Paris Revitalift Laser Pure Retinol Night Serum, £13
Target lines, wrinkles, uneven texture, visible pore size and even out pigmentation; this stuff is pretty powerful – don't judge it by the price tag.
6: The Ordinary 1% Retinol in Squalane, £8
A powerful formula at a jaw dropping affordable price. Fusing retinol with hydrating plant based squalane means there's no drying or flaking. A great one for beginners.
7: Dermalogica Skin Care Retinol Serum, £89
Fast acting, high dose, 3.5% retinol complex gives real results in under two weeks.
CAN I USE RETINOL WHEN PREGNANT AND BREAST FEEDING?
Ah, so here is the downside to retinol. Because to begin with, retinol can cause some skin sensitivity, redness, flaking and irritation, and because our skin often becomes temperamental when we're pre and post-partum, the experts advise that retinol shouldn't be used when pregnant or just after. Which is pretty annoying because pregnancy and early motherhood is really where the majority of our skincare concerns appear – hands up if you suffered from hyperpigmentation and melasma during your pregnancy and developed a general greige toned, fine-lined, sleep-deprived tone of skin. Yep, us too.
Plant based extract bakuchiol has become something of an alternative in recent years; Medik8 Bakuchiol Peptides Serum (£45), is a great one that we used back then, and as it's also anti-flammatory, it would be great for those with sensitive skin, or skin prone to eczema – it offers similar results as classic retinol based products, at a slower pace.
[some affiliate links used]