Vitamin C has so many benefits that it should be part of everyone's skincare routine. It can tackle hyperpigmentation, reduce redness, protect from environmental aggressors, boost collagen production (therefore plumping up fine lines), help heal breakouts, sunburns and generally leaves your skin looking glowy and bright. Here are the Vitamin C rules to live by…
But, it's worth knowing that not all Vitamin Cs are born equal. The most potent is straight up Vitamin C, known as ascorbic or l-ascorbic acid, (look for between 10-20% for real potency) but there are plenty of Vitamin C derivatives, too.
L-ascorbic acid has a very low pH of around 3.5, whereas our skin's pH is naturally around 5.5, so L-ascorbic acid can be quite irritating to skin that's prone to sensitivity. But that doesn't mean you can't get in on the action, this is where the Vitamin C derivatives such as ethyl ascorbic acid come in. They pass down into the skin and convert to l-ascorbic acid once inside; this conversion means they are less potent and take a little longer to work, but they're also less irritating.
THREE VITAMIN C RULES TO LIVE BY
#1: Use it in the Morning
Vitamin C is a potent antioxidant meaning it will protect your skin from all manner of ageing aggressors like pollution and UV rays. After cleansing, apply your Vitamin C, wait a few moments and then apply your serums or moisturiser as normal. Always apply SPF, while Vitamin C limits the damage caused by UV rays it's not a sunscreen.
#2: Boost the Benefits with Niacinamide
Niacinamide (also known as Vitamin B3) helps to strengthen the skin barrier, reduce the look of enlarged pores and fine lines. It also helps to brighten your complexion, just like Vitamin C, so they're a great team. You can either layer them in separate serums or find an expertly blended formula that contains both.
Rule #3: Be Careful Combining with Retinol
Retinol has a pH of around 5, Vitamin C is around 3.5 and healthy skin has a pH of 5.5, so if you want to use retinol and Vitamin C (the potent l-ascorbic acid form) then you need to apply them at different times:
AM: Vitamin C / PM: Retinol
or
AM: Vitamin C / PM: Retinol and Vitamin C on alternate nights
MY VITAMIN C EDIT: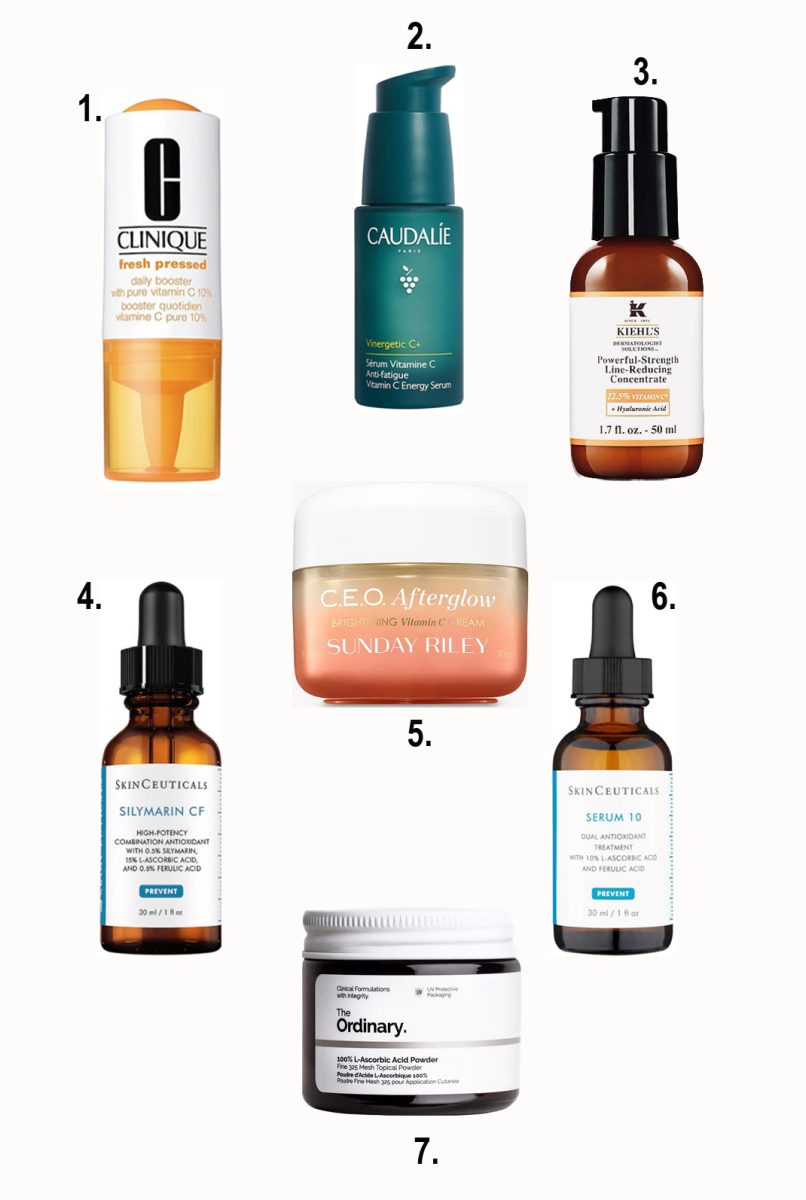 With 10% ascorbic acid, this 4-week supply of Vitamin C serum should be applied morning and night for a brighter, clearer complexion in a month.
2: Caudalie Vinergetic C+ Vitamin C Energy Serum, £39
This gentle vegan serum delivers a wake-up shot to tired looking skin. Fragrance-free, so great for sensitive skins, 93% of the 44 volunteers agreed their skin looked less tired.
3: Kiehls Powerful Strength Line Reducing Concentrate, £62
With over 12% Vitamin C, of which 10.5% is l-ascorbic acid, this is seriously potent yet mild on the skin. It also contains hyaluronic acid for a double pronged skincare approach.
4: Skinceuticals Silymarin CF, £150
15% pure Vitamin C blended with 0.5% Salicylic Acid; this is my perfect potion. A lot of Vitamin C serums tend to break me out; this is the only one I've found that gives me all of the glowy goodness, without the side effects. Worth the hefty price tag.
5: Sunday Riley C.E.O. Afterglow Moisturiser, £60
Formulated using the gold standard of Vitamin C's, this daily moisturiser has a gel-like texture, making it ideal for all skin-types, especially oily or combination. Imparting a natural glow to the skin immediately, and long term, it doubles up as a brilliant make-up canvas. When I use this, I skip illuminator in my make-up routine.
6: Skinceuticals Serum 10, £85
Designed with sensitive skin in mind and cheaper than the brands Silymarin, it has 10% l-ascorbic acid, but doesn't have the anti-blemish formula so may break some skin-types out.
7: The Ordinary 100% L-ascorbic Acid Powder, £5.70
Super affordable and potent, simply mix with your day time moisturiser in the palm of your hand before applying.
8: L'Oreal Paris Revitalift Clinical 12% Vitamin C Serum, £22
Formulated with a high dose of L-Ascorbic Acid this high street serum rivals those 8x the price.
9: Skinceuticals CE Ferulic Antioxidant Vitamin C Serum, £150
Since its launch, C E Ferulic has become one of the most widely adored products on the market—and not just by dermatologists. Beauty Editors widely hail it as the gold standard when it comes to Vitamin C serum's,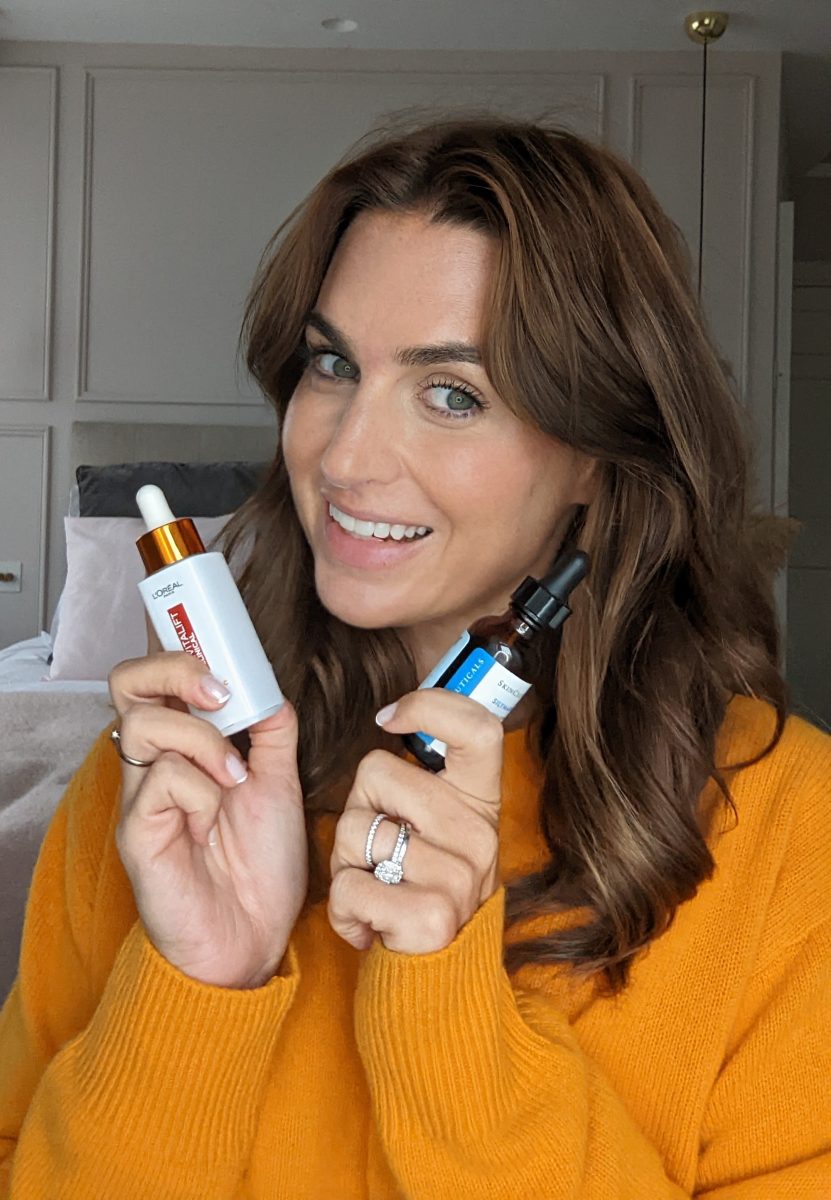 [some affiliate links used]