You've likely heard this word bandied about in skincare content for years, but do you actually know what one is, and what one does?
Our skin acts as a barrier to everything it comes up against on a daily basis. As soon as you step foot out of your door, you skin comes up against pollution, sunlight, smoke, UV. These external aggressors trigger highly reactive molecules called free radicals which damage our skins cells, and these can cause all sorts of skin concerns like premature ageing, irritation, fine lines and pigmentation. To protect our skin and stop this from happening, we use an antioxidant to topically neutralise those free radicals.
Antioxidants are things like Vitamin C, Vitamin E and Niacinamide. Each morning after cleansing, apply your antioxidant serum, followed by your moisturiser and SPF, you'll be good to go.
THE ANTIOXIDANT EDIT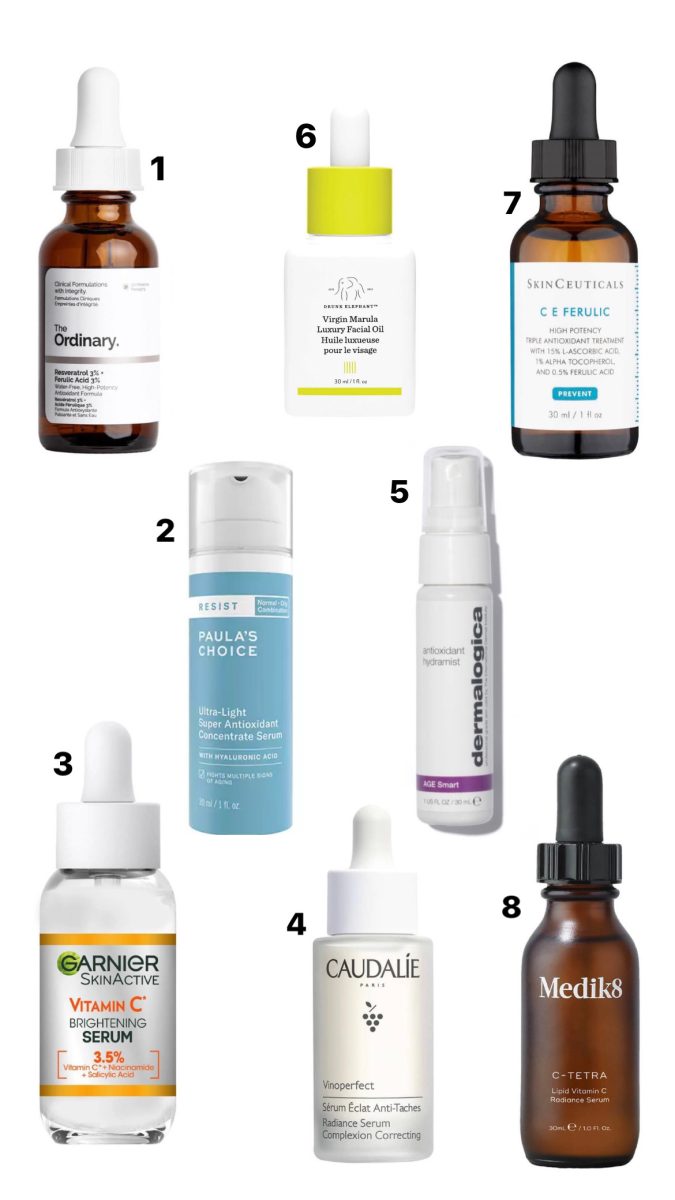 1.The Ordinary Resveratrol 3% + Ferulic Acid 3%, £8.90 [tap to shop]
A lot of bang for your buck. High levels of two antioxidants plus a formula free from water (that can affect the stability of antioxidants) silicones, oils and alcohol, it effortlessly improves skin tone and texture. Not for sensitive skins.
2. Paula's Choice Resist Ultra-Light Super Antioxidant Concentrate Serum, £33 [tap to shop]
A light-weight gel lotion cocktail of niacinamide, green tea, Vitamin C, vitamin E and other lesser-known wonders lik ecoenzyme Q10, the consistency's barely-there but it comes with a kick of hyaluronic acid . Hydrates while it reduces brown spots from breakouts and makes pores less visible. Great for oily and combo skin types.
3. Garnier 3.5% Vitamin C, Niacinamide, Salicylic Acid, Brightening and Anti Dark Spot Serum, £12.99 [tap to shop]
Looking for bright, glowing skin? Garniers gives it, without leaving behind a sticky, tacky residue like other high-street Vitamin C's often do. Great product at a great price – no wonder 8 out of 10 people agree it's the best serum they've used.
4. Caudalie Vinoperfect Radiance Serum, £40 [tap to shop]
A powerful antioxidant that comes from grape sap, Viniferine is clinically proven to be 62x more effective than Vitamin C when it comes to targeting hyperpigmentation and evening out skin tone. One bottle sells every 30 seconds.
5. Dermalogica Antioxidant Hydramist, £14 [tap to shop]
If adding an antioxidant serum into your routine still seems like too much faff (or you hate the feel of multiple layers), try this speedy antioxidant spritz. It uses white tea, licorice, vitamin E and a vitamin C complex to fight free radicals from all angles.
6. Drunk Elephant Virgin Marula Luxury Facial Oil, £63 [tap to shop]
Marula oil (from the marula fruit) boasts 4x the Vitamin C of an orange. This oil contains 100% unrefined marula oil, and nothing else. The way it's processed makes it super-smart. The oil, officially named 'sclerocarya birrea seed oil', is cold-pressed which means it's extracted without heat to retain as much of the goodness as possible. Once applied, you'll find it penetrates quickly while plumping and nourishing leaving behind an undeniably youthful glow, and protecting skin daylong.
7. SkinCeuticals C E Ferulic Vitamin C Serum, £165 [tap to shop]
Pricey, yes. But the turbo-charged formula containing 15% L-ascorbic acid, 1% vitamin E and 0.5% ferulic acid triple whammy is patented, offering gold-standard protection from environmental damage. Sure to be found in every beauty editors bathroom cabinet.
8. Medik8 C-Tetra Lipid Vitamin C Antioxidant Serum, £32 [tap to shop]
Vitamin C and Vitamin E formulated together to penetrate deep into skin with minimal irritation. The water-free formula and dark glass bottle means the Vitamin C stays potent and doesn't degrade over time.