Happy New Year and welcome back to This Is Mothership. We thought we would start of the new year by easing you in gently with some wardrobe staples. So here are 3 items that will blend your wardrobe together when you've had 3 hours of sleep and have 3 minutes to get ready in the morning, but combine them together and it will make you look like you have your sh*t together.
1. GREAT FITTING DENIM
There is no point having 20 pairs of jeans, but only wearing the pair on the top of the stack of denim. Have a cull, pass the old ones on to charity, give to a friend or take them to a Traid recycling bin if they are too damaged for wear. If you are struggling with finding the perfect fit then I recommend booking in for a personal shopping appointment at Topshop. It's a totally free service, and you get to chill out in a lovely fitting room whilst a very experienced stylist will run about getting you sizes/colours for you to try on.
Don't just stick to classic blue jeans. Mix it up with cropped wide-leg denim to balance out your body shape or jeans that have embellishment or details on them to highlight your best features. Just make sure you buy a pair that makes you feel good. If you find something you LOVE then bulk buy. Grab a couple of pairs so that when the knees wear away you still have a back up pair.
Denim faves of ours include (L-R) Mint Velvet 'Flare,' Fat Face 'Brompton,' and Topshop 'Mom.'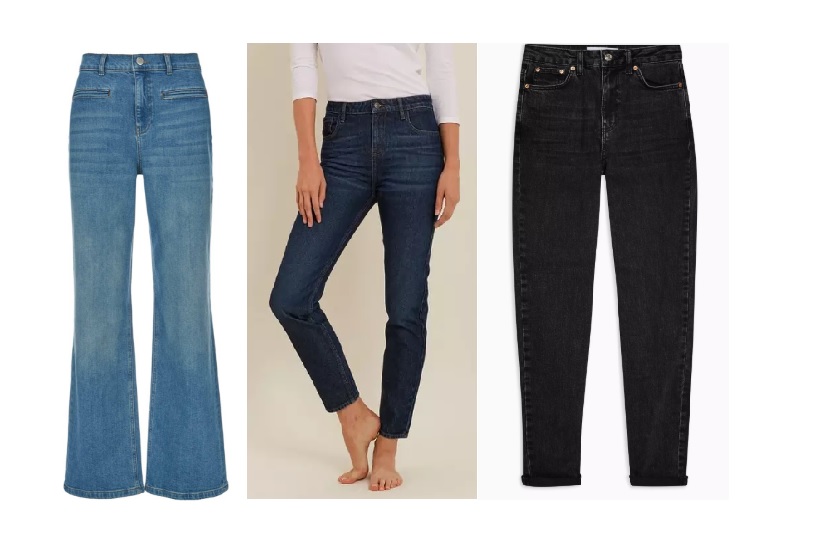 2. A LEATHER JACKET
A totally timeless item. Buy well and you will have it forever. It can be worn in summer thrown over a strappy dress, or layer it up in winter with a hooded jumper under it, and a big coat on top of it. I recommend only buying real leather as otherwise it will look cheap, and you will need to replace it often as the plastic won't last. Go down a size if it is even the slightest bit big because real leather will stretch. It's best to stick with black so that it goes with everything.
Some favourites of ours are (L-R) All Saints, AND/OR at John Lewis, River Island.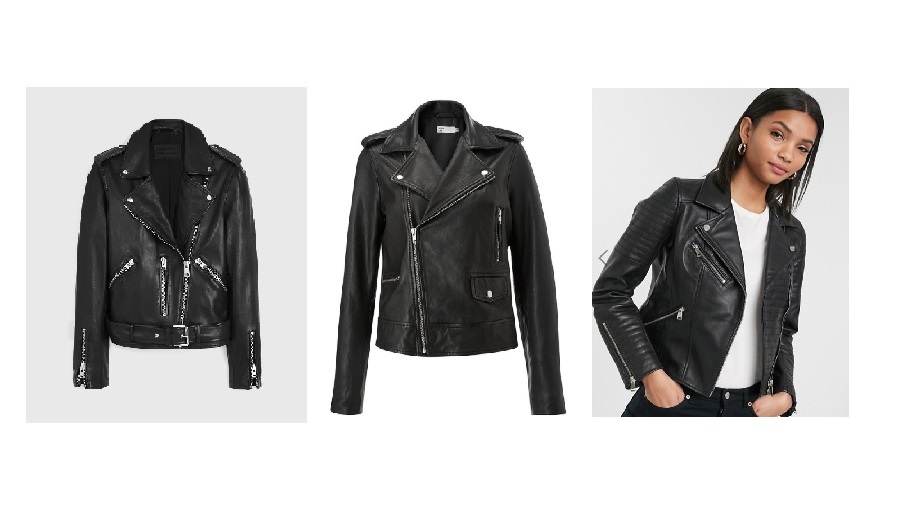 3. STATEMENT JEWELLERY
If you are going with a simple t shirt and jeans look then you can easily and very quickly add some pizazz to an outfit by throwing on some jewellery. There are no rules for this, grab something in the supermarket clothes section, some costume jewellery or wear your finest diamonds. Go chunky or delicate. Layered necklaces or hoop earrings. Combine gold and silver, or stick to one metal. Whatever takes your fancy. We leave a little jewellery pot by the bed so the first thing we do when we wake up is add some earrings, or put on a necklace. So simple, so quick but so effective.
L-R John Lewis simple hoop earrings, Susan Caplan vintage 1980's set, Liars and Lovers on ASOS.