I don't know about you but when I had Leo, any chances of me making a regular waxing/nail/brow appointment went out of the window. I know some peoples kids are quite happy sitting in the pram while they have a blowdry, but not mine (plus, I didn't really want to take him to the salon with me anyway) Now I'm back at work, it's even harder to find the time. Between needing to make the nursery run (meaning no time to just nip somewhere after work) and the fact that by the time he's in bed I'm too exhausted to head anywhere that's open for a wax – basic beauty admin is the bottom of the list.
We're sure that you're struggling with exactly the same problem. So today we're sharing our secret. Thanks to that glorious thing called technology, we order a professional home mani's and spray tans at the press of a button, give ourselves virtual makeovers while we're waiting for the kids to eat their pasta, and get salon-quality haircuts without taking a foot outside our front doors.
These apps are like Uber, but for beauty admin purposes and and the solution to our extremely, and increasingly, busy (and house-bound from 7pm) lives.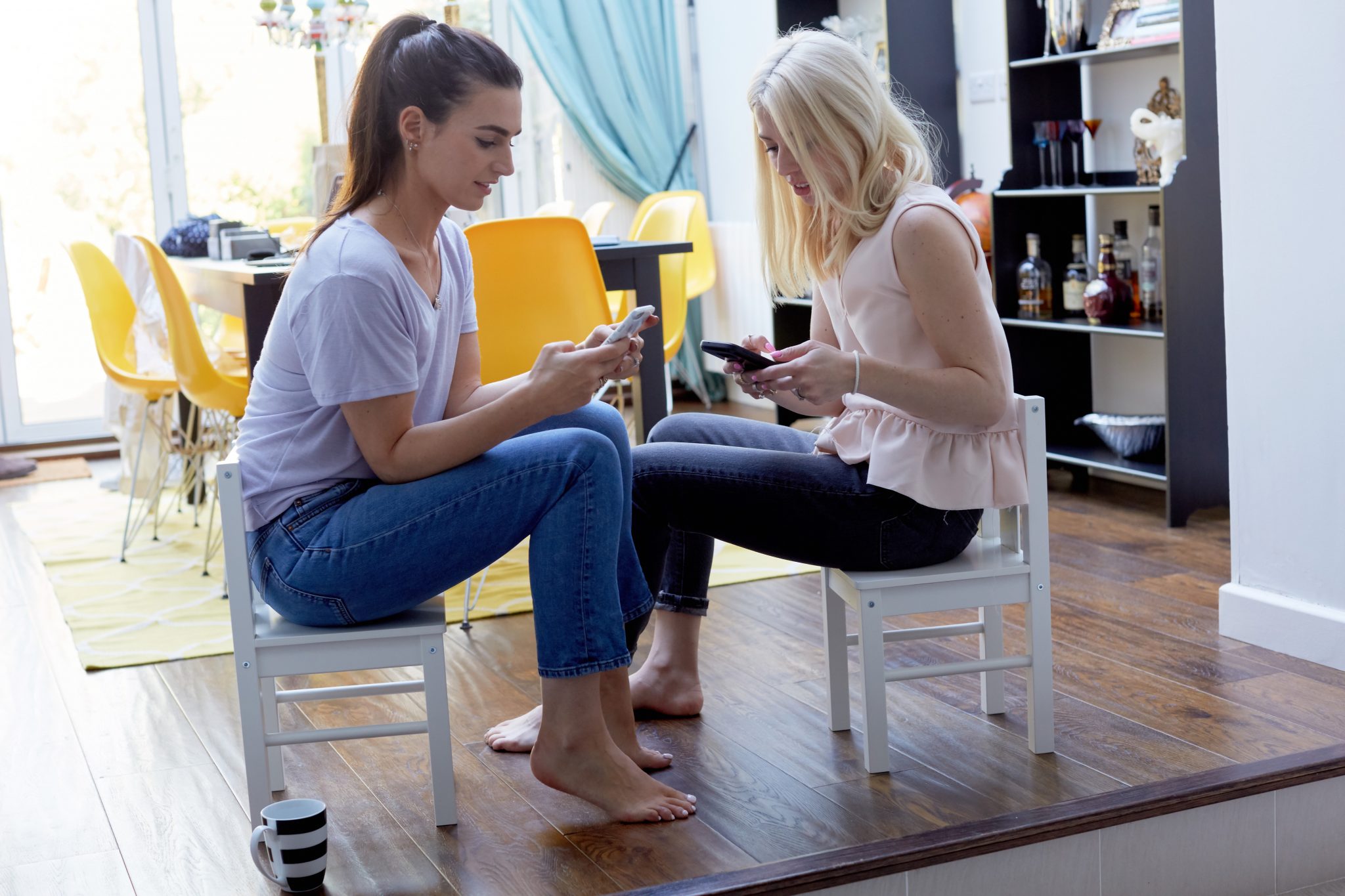 I first discovered Priv a few years ago when I was in NYC for work. It was snowing, I was jetlagged, exhausted (poor me, if only I knew what real exhaustion was) and couldn't be bothered to go and find a nail bar close to my hotel so I ordered one in. This was my first experience of using a mobile beauty app and I became obsessed. It was like ordering a take-away only an amazing therapist arrived and gave me a spa-worthy pedi while I watched the Kardashians in my PJ's. The thing that makes Priv amazing though is that it's not just hairstylists and manicurists, you could order a personal trainer during naptime (if you're on a post-baby fitness kick), a yoga teacher, a masseuse – and you can check out the reviews before you tap to 'order.' You don't need to have any change on you either as your card details are stored on the app. Tip is included. Even better.
How much? Free to download
Available: currently London but plan on expanding elsewhere. Also available in NYC and LA, just in case you're off on a fancy holiday.
This one is perfect for when you have a wedding or a big night out and literally no time to get ready – sound familiar? You can book a blowdry + make-up application for £50 and you'll feel like a million dollars. They also offer lots of multi-buy packages so a great one for a hen do or a baby shower. Group mani's at home?! Yes please! The fact that they operate from 7am 'til late is perfect for us. 9pm emergency pre-holiday bikini wax anyone? We're not joking. This was Gemma last year. She obv was whatsapping me the whole way through it!
How much? Free to download
Available: Currently in London Zones 1-6, Hertfordshire, Essex, Kent, Surrey, Berkshire and Middlesex.
Unlike the two above, Treatwell isn't about mobile beauty but it's a directory of independant salons across the country with customer reviews (it's basically like TripAdvisor but for beauty) where you can find a last minute appointment for whatever you fancy, close by. Book anything from blowdries to botox, manicures tomud wraps. There's a really handy 'near you' button on the app so if you suddenly find yourself with a spare 20 minutes and in desperate need of your brows doing, you can find last minute appointments without the faff.
How much? Free to download
Available: Nationwide
How many times have you liked a celebrities lipstick , blusher or eyeshadow and wish you knew what it was. Or you loved a friends nail polish but they couldn't remember the name? It happens to us all the time. If it happens to you too then this app will be life changing. All you have to do is upload a photo from your phone, select the part of the photo you want to scan (eg: lips) and then it gives you options of the product it could be. Better yet, when you tap on one of the suggested shades, your phone uses the front facing camera on your phone to help you virtually "try it on." Now they just need to invent one for clothes.
How much? Free
Available: Everywhere
This is a bit of a lol one. In this age where we love having our name or initials emblazoned on everything that we own, why not have your kids faces on your nails?! Upload the photo of your choice from your phone or Instagram then it gets shipped off to LA and turned into nail wraps that you can easily apply at home. The app lets you arrange the photo to either create a continuous image across the nails, or zoom-in on one part of your photo and have it repeat on each fingernail. A gift for the mum who has everything?!
How much? Free to download
Available: Everywhere