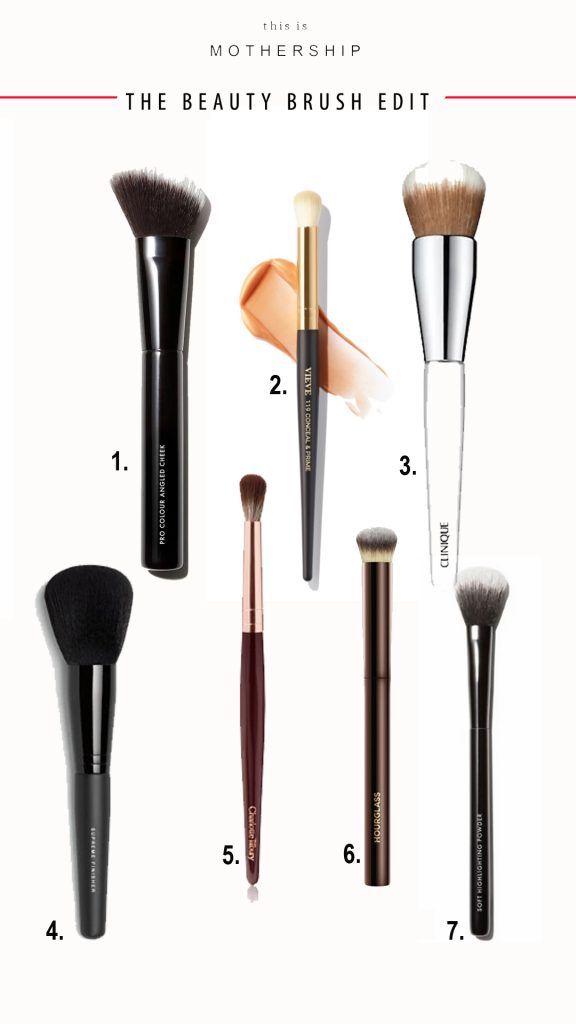 1: CREAM BLUSH: BEAUTY PIE PRO ANGLED CONTOUR CHEEK BRUSH
This expertly angled, densely bristled brush hugs the cheek bone, perfectly contouring and sculpting as it swipes and buffs blush into the correct position.
Members £12 / Non-members £35
2: CONCEALER: VIEVE MUSE #119 CONCEAL AND PRIME BRUSH
This is what I use to blend in my concealer. The flat side allows you to seamlessly buff concealer under the eyes or blend cream shadow over the lids in seconds.
£24
3: FOUNDATION: CLINIQUE BUFF BRUSH
Ideal for even the most make-up beginners, the perfectly spaced bristles expertly blend liquid, powder, cream or stick foundation into an air-brushed looking finish. The bristles are treated with an anti-microbial technology too, so you can get away with less brush cleaning.
£30
4: BRONZER: BARE MINERALS SUPREME FINISHING BRUSH
Super-soft and extra-large, it delivers fast coverage for speedy mornings. The convex center and synthetic fibres deposit more product with less effort = no orange streaks, just even coverage.
£24.90
5: EYESHADOW: CHARLOTTE TILBURY EYE BLENDER BRUSH
There's definitely some sort of make-up sorcery within this brush because, I kid you not, it creates the most perfect smokey eye, no matter how bad at blending the person in charge is.
£25
6: CORRECTOR: HOURGLASS VANISH SEAMLESS FINISH CONCEALER BRUSH
Long-term followers will know that I've used this brush for years; it's designed to mimic a thumb making it the perfect shape for really getting into the darkest nooks. Genuinely one of the best brushes you'll ever buy.
£35
7: POWDER OR HIGHLIGHTER: BEAUTY PIE SOFT HIGHLIGHTING POWDER BRUSH
The dreamiest brush for those finishing touches; super-light, it expertly buffs and swirls translucent powder or liquid highlighter into a barely perceptible sheen. My make-up game has stepped up a notch since using this.
Members £10 / Non-members £35
[affiliate links used]