It's the strangest thing. We all know we must wear it. We all do wear it. Yet every single summer, as soon as the sun comes out, we all panic. What factor should we wear? How often should we apply it? What should I use on my kids?!
A few weeks ago we asked you to tell us your suncare questions and now, I've answered them all in one place. Bookmark this page and you'll never panic again.
CAN I USE THE ONCE A DAY FORMULAS ON MY KIDS?
Recent stats show that 20% of kids return from school with sunburn. Now, I'm not saying that these formulas are awful but if you think about it, your kid will sweat, roll on the floor, have a nap, clothing will rub on their skin, and a whole load more besides while at nursery. The chances are that these formulas will begin to rub off at some point so it's best not to put all of your faith in them (plus we've found that they stain clothes too and who wants that) By all means, send you kid to nursery in these, but include a bottle of sunscreen in their rucksack so that they can be topped up throughout the day. We recently discovered
these roll on formulas
and they are genius. So easy to apply to a wriggly child. In fact, they found it fun! If you have boys with short hair, remember the back of their necks and their ears. Oh yeah, and we never use anything less than an SPF50 on the kids. It's not worth it.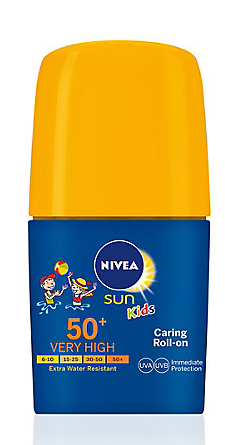 MY KID HAS REALLY SENSITIVE SKIN, WHAT CAN I USE?
The best thing really is trial and error. Everyones skin is different and you'll soon work out what makes your kids skin react. What we suggest though is looking for a hypoallergenic formula that doesn't contain any extra fragrances or colouring. Check the back of the ingredients list and keep it as simple as possible.
This Ultra Sun formula
protects from prickly heat,
this Garnier kids formula
is free from any fragrances, colourings and is currently 40% off and I also like
this hypo-allergenic Green People Organics
formula. If you have sensitive skin then
this Eucerin formula
would be good to try, it's great for those with sun sensitivity or who are prone to heat rash.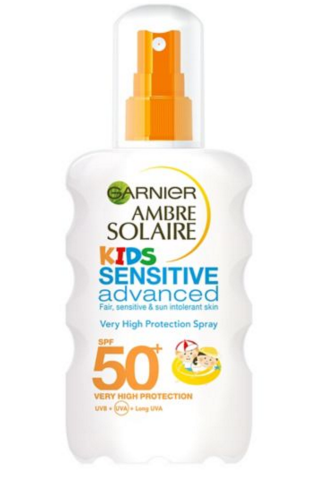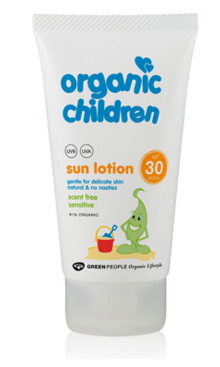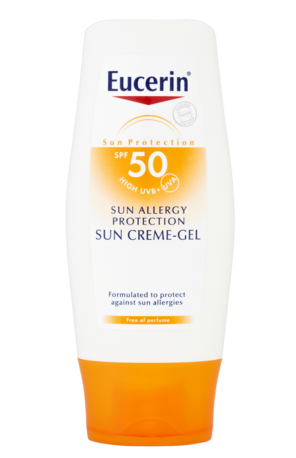 WHAT'S THE DIFFERENCE BETWEEN UVA AND UVB?
UVA rays cause ageing and UVB rays caused burning. That's the easiest way to remember. But UVB rays account for just 5% of the suns rays, it's the DNA damage from UVA rays that result in skin cancer and break down collagen (hence the ageing) Ensure your sunscreen says 'broad spectrum' or says that it protects from both UVA and UVB to be super safe.
WHAT LEVEL OF SPF DO I GO FOR?
The Sun Protection Factor (SPF) indicates the level of UVB protection (which is why you need to look for the UVA logo on your sunscreen too) No product can block 100% of rays but an SPF30 will shield against 96.6% of UVB. Not all day though. It's vital that you re-apply every couple of hours. For the kids, Factor 50 always and reapply every two hours.
I HAVE SUNCREAM LEFT OVER FROM LAST SUMMER, CAN I USE IT?
The time period in the open jar symbol shows you how long you should keep a product after you've opened it. Extreme heat degrades ingredients so it's best to throw away tubes of sunscreen at the end of the summer/your holiday. The exception is if you have aerosol cans. The ingredients are protected inside the airtight packaging so you can re-use that can from last summer, if there's any left.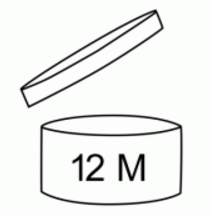 HOW MUCH DO I USE?
The truth is, none of us are using enough. As a general rule, an adult should be using a shot-glass amount per full body application. Broken down that's a blob the size of a £2 coin for your face, the same for your neck and then again for your arms. When it comes to your back, your front and your legs use a blob the size of a plum for each part of the body. And if you're using an aerosol, best to give yourself two coatings to ensure you haven't missed a patch. We are huge fans of the
Clinique Virtu-Oil Body Mist
which cools skin down as you spritz. Essential last weekend!

PS: Read more about our favourite kids sunscreens
here
.