This post is waaaay over due. But whenever we story from the boys bedrooms we get asked where certain things are – and then it's a complete mess because we've been playing in there so I can't take any good pics. So while they're at nursery, I thought I'd quickly take some pics and then put all of the info in one place.
LEOS BEDROOM
Leo moved from what is the nursery room (aka the smallest bedroom in the house) to our spare room when I was pregnant with Alfie. We didn't want him to feel like we'd turfed him out of his room, so we set about making it as exciting and as appealing as possible for him.
At the same time as we moved him room, we also moved him into a 'big boy bed.' Our cot is a cot bed but with Alfie on the way, it seemed silly to start faffing with taking the side down.
Instead we made a big fuss about getting his new room all ready with his help. We chose this bed from Next for a few reasons. Firstly, we didn't want to mess around with a toddler bed to then have to upgrade him again. This had three sides so it felt more 'cot' like. It has a trundle bed underneath it so we though that would come in handy for sleepovers in a few years. It's a larger size than most singles (EU standard size) so it's bigger for when we snuggle in bed and read stories. A few friends who've bought the same bed after seeing Leo's have asked if it makes a difference with bedding. No. You do need to buy a EU single mattress but we bought the usual single bedding and it's fine (just use a fitted sheet.) Pillow wise, Leo has the Clever Mama pillow which was recommended to us as a great first pillow.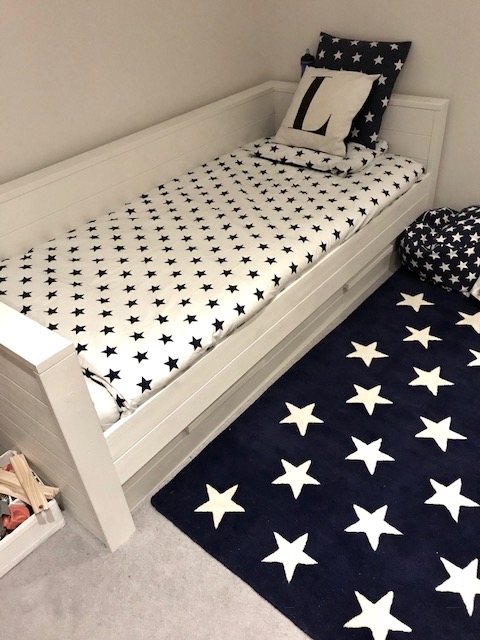 Links to shop – Bed: Next; Bedding: Great Little Trading Co; Duvet: John Lewis; Pillow: Clever Mama.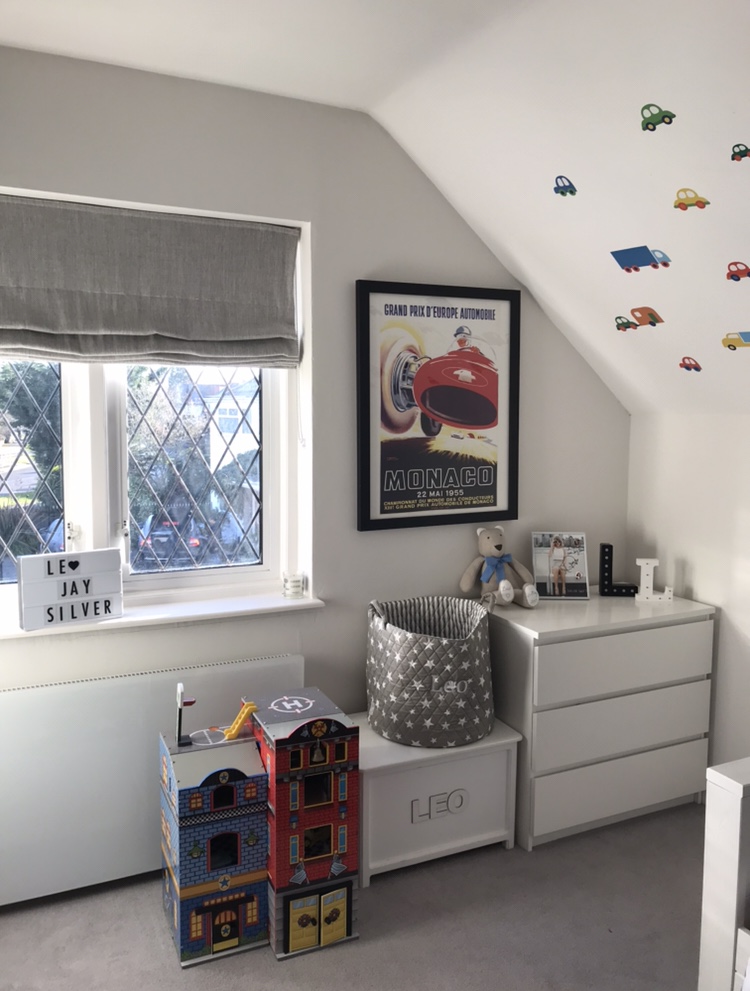 Storage wise, we kept the same furniture in here from when it was a spare bedroom. He has an Ikea single wardrobe (I added in this hanging rail that Gemma suggested which is genius) and an Ikea Malm chest of drawers (that stores mostly my Summer clothes, along with his PJ's, sports kits and underwear) The toy chest was the most gorgeous gift from Nicks sister when he was born and we keep all of his puzzles and games in here and the storage bag is from My First Years. I buy these storage bags for all of my friends when they have babies because no one needs an extra babygro but everyone needs more toy storage.
Links to shop – Storage: My First Years; Lightbox: ASOS; Light Up Letters: Amazon; Fire Station: KidKraft.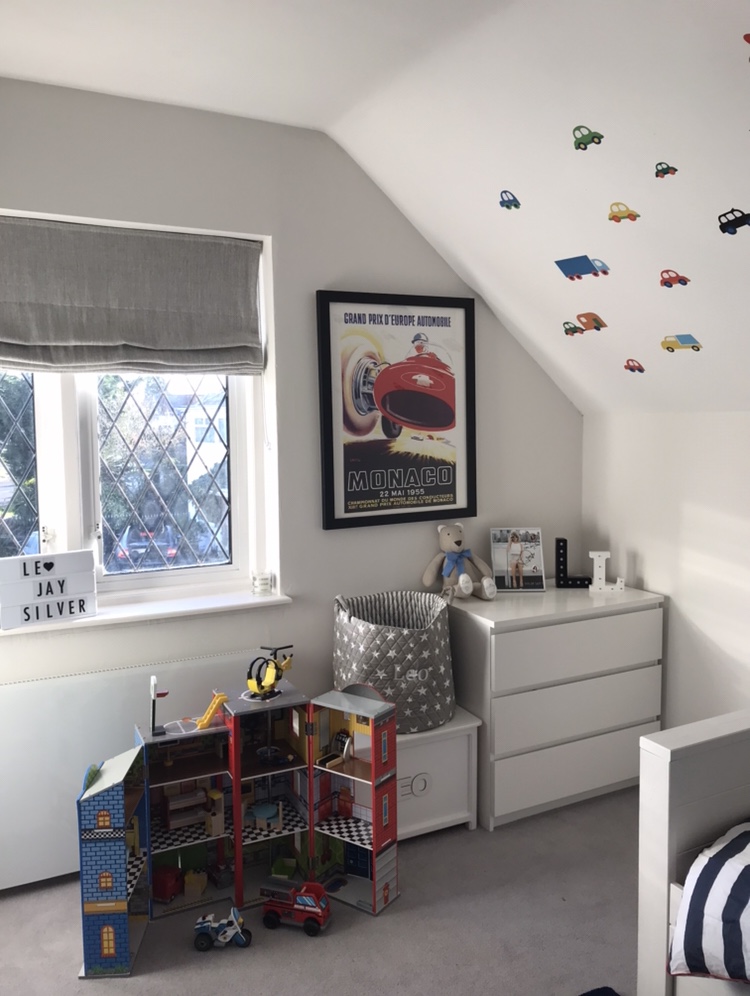 When Leo moved rooms, we moved some of his bigger toys up here like his Fire Station and his fire engines. This meant that while I was changing or feeding Alfie, he would happily play.
We used the Ikea picture rails like we did in the nursery as a book shelf. These make it so much easier to see the books rather than only being able to see the spines on a book shelf. Because the room is second biggest bedroom in the house, it felt quite empty so we decided to pop a little table and chairs in the corner to fill up some space where he currently plays shops but in the future I'm imagining that he'll do his homework or builds a Lego monstrosity.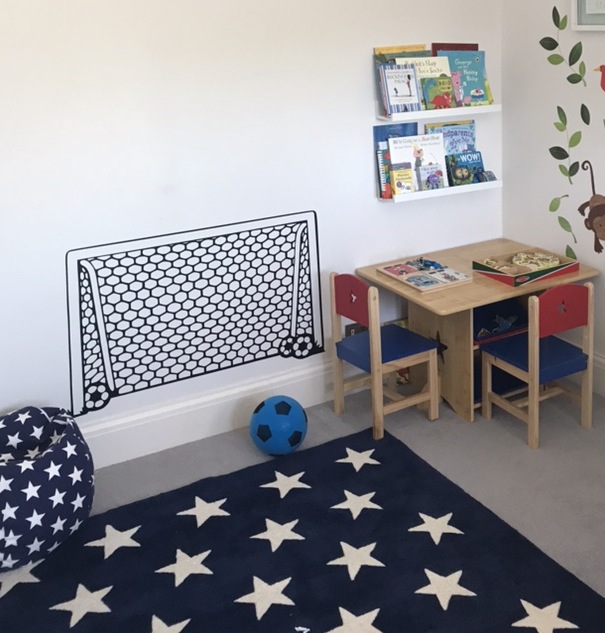 Links to shop – Beanbag: Great Little Trading Co; Rug: Great Little Trading Co; Desk: Kidcraft; Pizza Set: Melissa and Doug; Picture Rails: Ikea.
NB: Nick went a bit cray cray with the wall stickers one day!
ALFIES BEDROOM
Little Alfie inherited probably the worlds plainest nursery. We never did anything to the walls while Leo was in there, he didn't even have a mobile over the cot (we moved when Leo was 9 weeks old so there was none of that nesting mode for me) so when Alfie was moving in there, we decided to jazz it up a bit. The thing is, that now we know babies aren't babies forever so there was no point in going mad with the decor, as by the time he's two we'd want to change it all. This room is also teeny – with a cot, wardrobe, changing unit and feeding chair there's barely any room so we couldn't do too much. We bought these navy star wall stickers and used them to make the room look a bit more effortful on the back wall.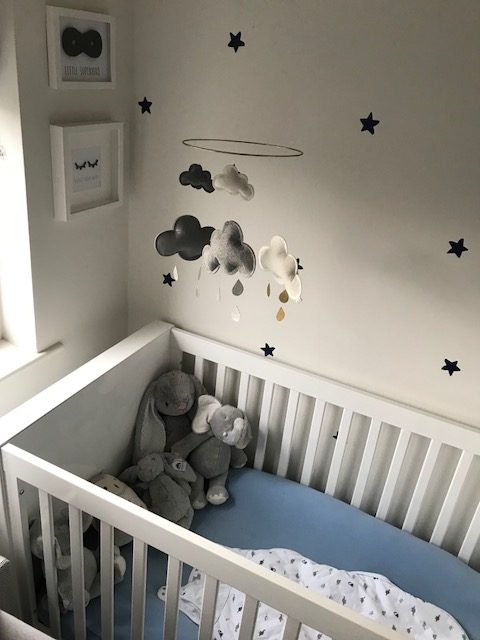 Links to shop: Dinosaur 2.5tog Grow Bag: The Little White Company; Mobile: Scandiborn; Wooden pictures: Myla and Oscar.
We love our baby furniture. It's lived through 2.5 years of Leo and 1 year of Alfie so far and looks as pristine as when we bought it. I really wanted white gloss furniture in here as I thought it looked more modern than most of the baby furniture I'd seen so we went for the Kidsmill Somero Cot Bed, Changing Unit and Wardrobe. They delivered, built it and took all of the packaging away. I also liked it because it didn't seem too babyish. Once the sides are off the cot it looks like a white gloss single bed, once the changing mat is off the changer it looks like a large chest of drawers and the wardrobe is so spacious.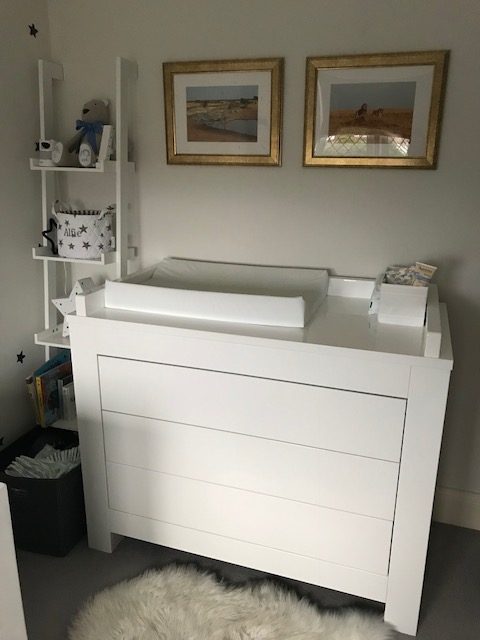 Storage wise, the room is tiny I utilise the space above the wardrobe to store nappies, wipes, gifts he hasn't grown into yet, nappy bags etc. He has the same Ikea picture rails as bookshelves, a toy chest from Great Little Trading Co which is cushioned so doubles up as a seat and this ladder shelving unit which I think really adds something to what is otherwise quite a plain room.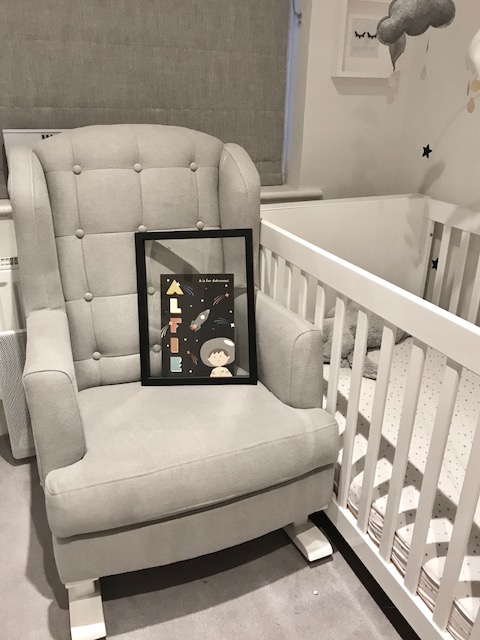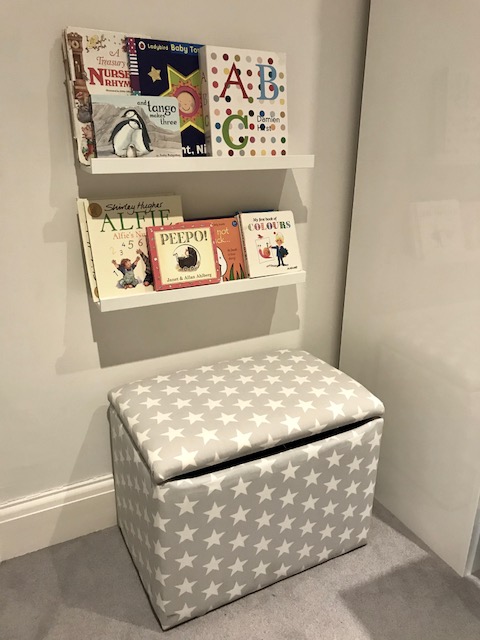 Links to shop – Feeding Chair: Babygrey; Toybox: GLTC (old); Picture Rails: Ikea; Alfie print: Three Penny.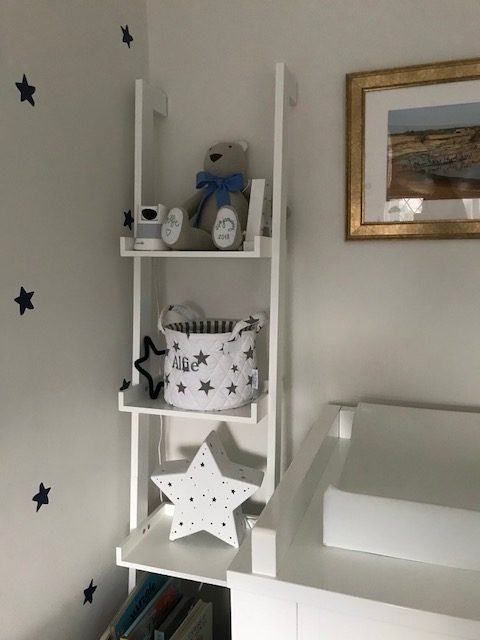 Links to shop – Ladder Shelving: Tesco (old); Star Night Light; Storage basket: My First Years.