Denim will always be our go to item of clothing. It's so easy to pick it up from 'The Chair' (you know, that piece of furniture in the corner of your room where you end up throwing your entire wardrobe because you can't be bothered putting it away correctly?!) and chuck it on. So I thought I'd give you some denim pointers, and simple tips that you should consider when shopping for some new jeans.
1. If you get into them easily then you should go down a size. There should always be a bit of a struggle to get them on as the denim will loosen slightly to a perfect fit after a couple of wears.
2. Wash them in a cold wash (30 degrees or less) as this preserves the denim, helps them last longer, stops them from fading, and it's better for the environment. Even better, give them a spritz of fabric refresher (like THIS) instead of washing them.
3. Don't forget that it's easy (and cheap) to alter the length. So if the jeans fit well everywhere else then take them in to be hemmed.
4. When you find a pair that you love, buy 2 of them – they will most likely be the most worn item in your wardrobe.
5. The reason straight leg jeans are everywhere now is because it's the shape that suits most body shapes – so if in doubt, go straight.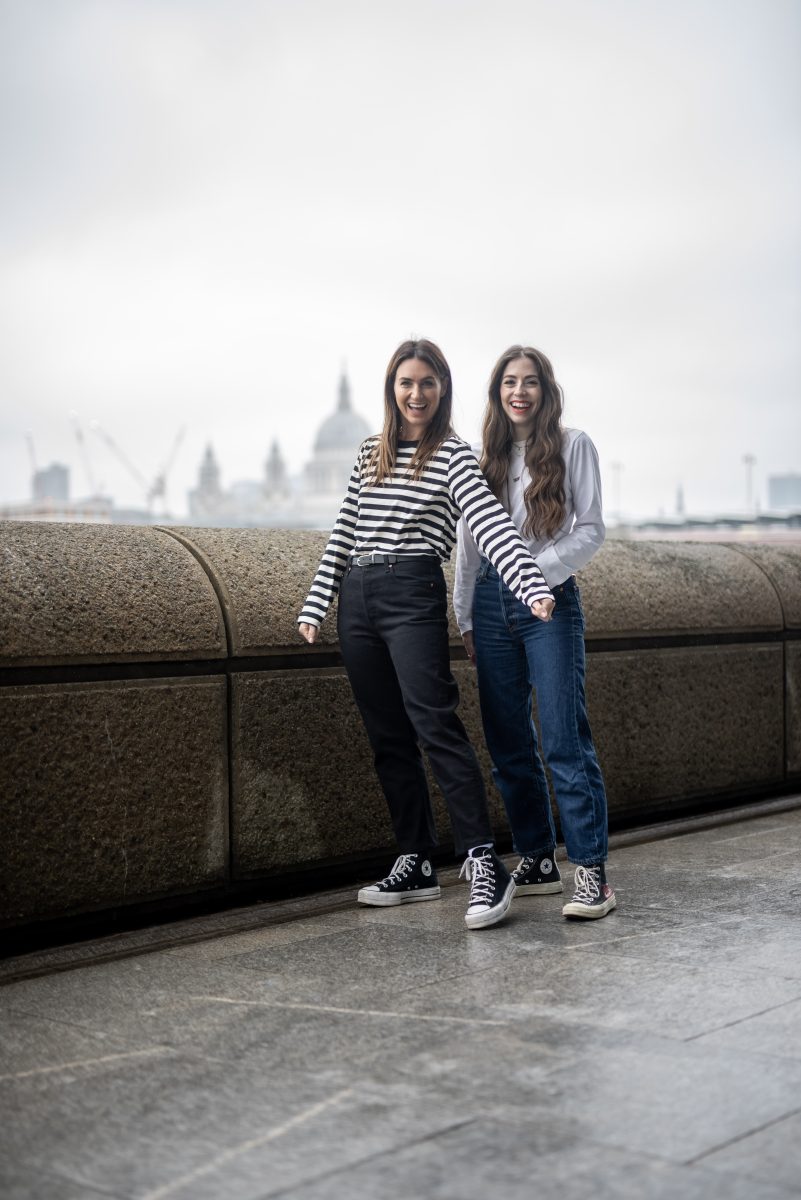 Length must come into consideration when looking for the most flattering pair. Most brands do this by 'inseam' which is the measurement from crotch to ankle. Always worth bearing in mind that you'd be looking for a different inseam for an ankle grazing straight leg (which would sit above your ankle,) as you would for a flare (which should fully cover the shoe, and ideally be worn with heels unless you are tall.) If you are under 5″3 then it's worth looking at 'Petite' sections, and over 5″9 then go for the 'Tall' options.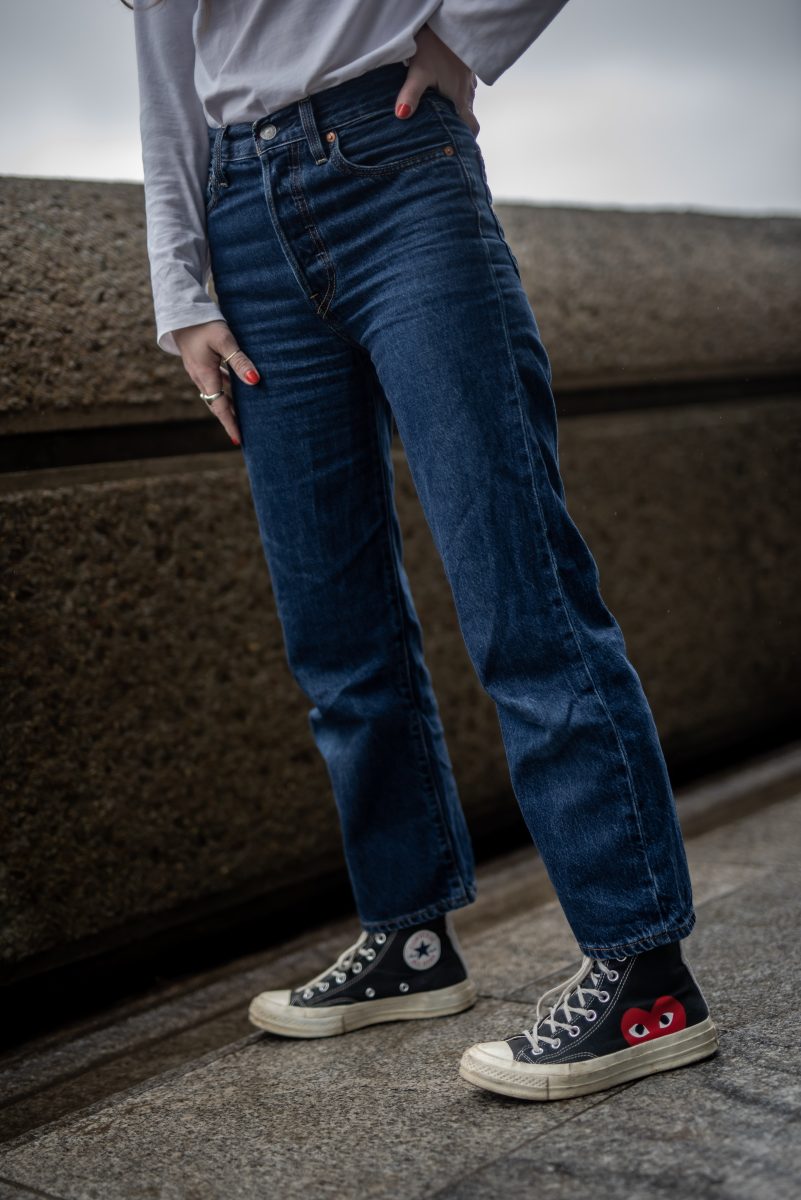 As with everything, wear what you love, and wear what makes you feel good – you don't need to be comparing your body shape to a fruit if you don't want to or need to. BUT, if you aren't confident with your wardrobe choices then identifying your body shape is a good place to start and can help narrow down the denim choices.
BODY SHAPES
IF YOUR SHAPE IS ATHLETIC: Your silhouette is fairly straight up and down.
THEN YOUR JEANS SHOULD BE: Boyfriend or skinny or flare
You can get away with most shapes but the best is something with details like zips to create the illusion of shape, or a flare. If you go for skinny then wear with an oversized top to balance out the body.
***************************
IF YOUR SHAPE IS APPLE : You have thin, shapely legs, and carry weight around your stomach.
THEN YOUR JEANS SHOULD BE: Straight leg.
Go for a pair with lots of stretch so they hug the right places. Mid rise will cover areas you are most conscious of. Dark wash is most flattering. Detail on the back pockets will give your bum more shape.
***************************
IF YOUR SHAPE IS TRIANGLE (also known as pear shaped): You have a thinner upper body, and carry more weight around your hips and thighs.
THEN YOUR JEANS SHOULD BE: High- waisted flare or bootcut
The high waist will draw the eye towards your small waist. The bootcut or wide leg style balance out your body proportions.
***************************
IF YOUR SHAPE IS HOURGLASS: You have a small waist, curvier thighs, and a full bust.
THEN YOUR JEANS SHOULD BE: Skinny & High waisted.
These will show off your curves and elongate your body. A solid tone is best, rather than faded as that can widen your legs. Rips are ok, but as long as they are on the knee or below so that they draw attention away from the area you don't want to focus on. Turn up the bottoms to add width to the hem and to balance out your hips.
***************************
A SELECTION OF THE BEST DENIM FOR SPRING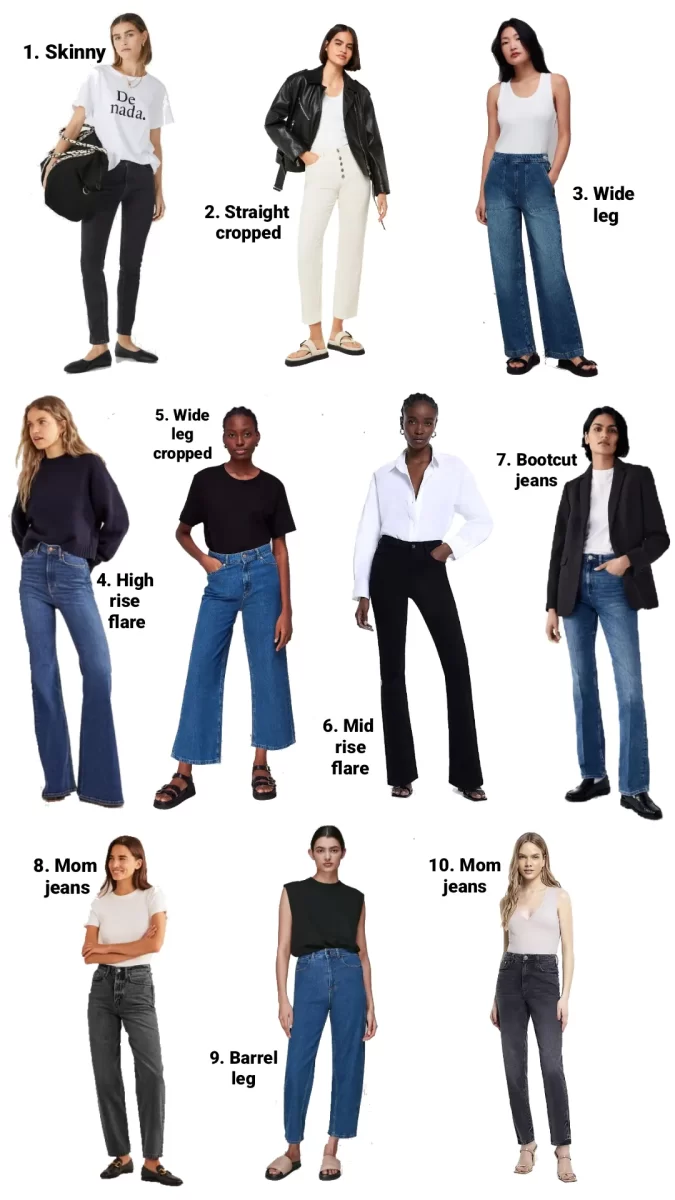 1.Hush skinny £79 // 2. Whistles straigh cropped £99 // 3. Whistles wide leg £109 // 4. Boden high rise flare £85 // 5. Whistles wide leg cropped £99 // 6. River Island flare £45 // 7. Marks & Spencer bootcut £35 // 8. Boden mom £80 // 9, Whistles barrel £95 // 10. River Island mom £35.
(Affiliate links used)