Recently, I've become obsessed with fake tan. It's like Lockdown Part 3 has sent me spinning back to 2010. Back in the olden days, BC (Before Covid and Before Children) I'd get a twice-monthly spray tan on my lunch break and catch up in between with a dab of fake tan here or there. Over Christmas, in a quest to find anything that would perk me up, make me feel a bit more polished or give me a spring in step, I dusted off my fake-tan box. And let me tell you, seeing a flash of a tanned ankle between my lounge wear and my Uggs really does it for me. So here's a quick run down of our favourite fake tans, from £5…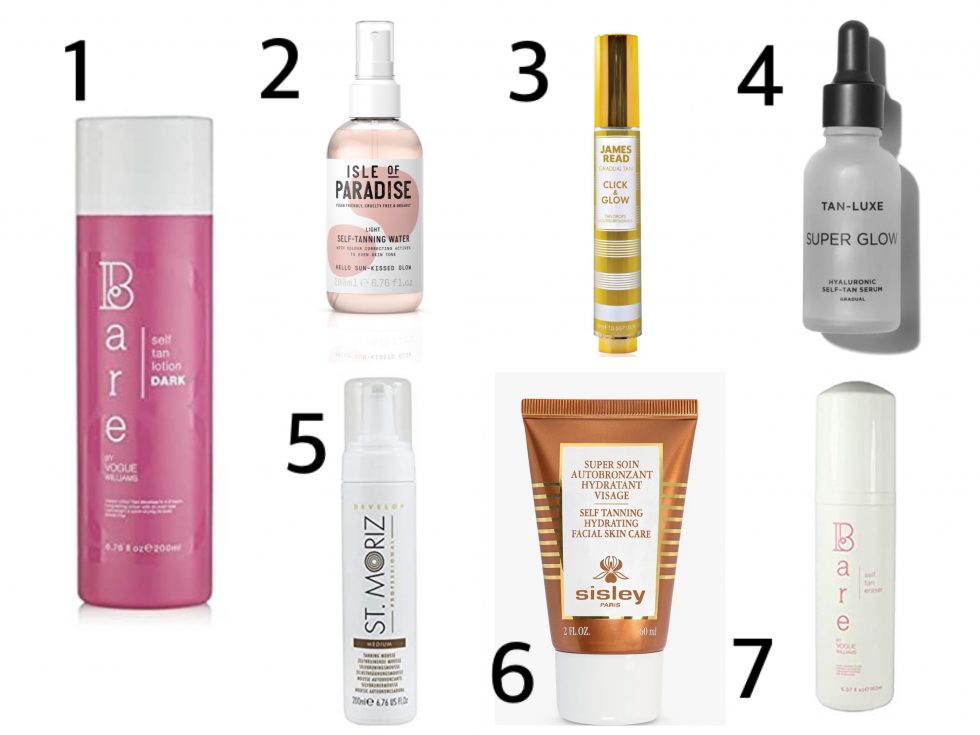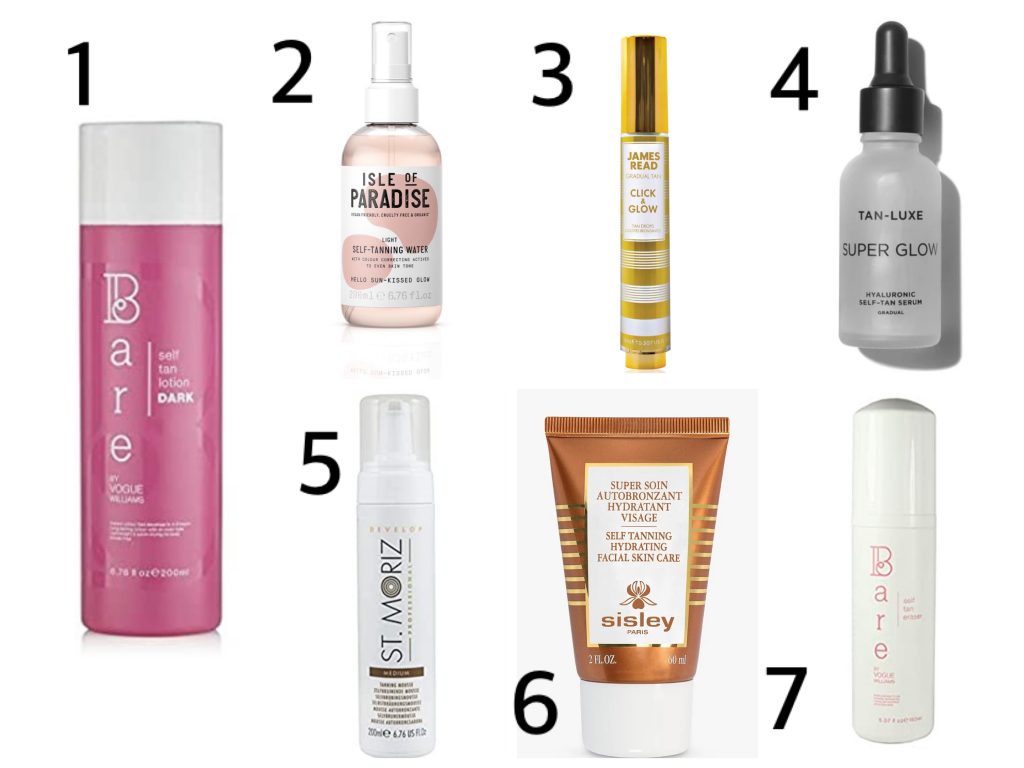 1: THE NEWBIE // BARE BY VOGUE SELF TANNING LOTION IN DARK
This is the one that I've been using for the past few weeks and I have to say, I'm hooked. It's super easy to apply with a mitt, I don't find that I miss any patches, smells great (not like biscuits) and I'm also find that using a lotion over a foam in winter is more hydrating, so the tan doesn't fade or go patchy quickly. The colour is natural looking and believable.
2: THE ONE FOR FAIR SKINS // ISLE OF PARADISE LIGHT SELF TANNING WATER
If you've never used fake tan before, you could still just about manage to put this on with your eyes closed and emerge with a lovely, even tan. It's that easy to use. Plus, it's a colour corrector, so makes skin look a lot more even. The formula is vegan and they're such a conscientious brand that they also offer eco-friendly re-fill pouches.
3: SAM'S FAVE FOR FACE // JAMES READ CLICK AND GLOW DROPS
James Read is the brainiest in the business when it comes to thinking up the quirkiest tanning offerings that you didn't know you needed until they existed. I mix a few drops into my night cream using the palm of my hand as a mixing bowl and apply as usual. The number of drops you add depends on the desired depth of your tan; after trial and error I've deduced that three is my magic number.
4: GEMMA'S FAVE FOR FACE // TAN LUXE SUPER GLOW SELF TANNING DROPS
Intensely hydrating with a low level of the tanning ingredient DHA, it saturates skin in moisture whilst gently boosting radiance. A bottle lasts a full year, oh and it doesn't stain your pillow.
5: THE BUDGET ONE // ST MORIZ SELF TANNING MOUSSE
Loved by beauty industry insiders, this budget buy develops into an entirely believable tan in only a few hours, rather than waiting overnight. It also comes in a gradual lotion and a mist but I find a mousse formula easiest to apply.
6: THE LUXE ONE // SISLEY SELF-TANNING HYDRATING FACIAL
It's pricy but O.M.G its just A-MAZING. I kid you not, it's the best face tanner I have ever used. It doesn't just leave skin looking tanned but it makes it look flawless, healthy, young! You just need a tiny bit of the gel-cream to do your whole face, so it will last your ages.
7: THE TAN REMOVER // BARE BY VOGUE TAN REMOVER
Made a mistake? Apply liberally, leave on for 5-10 minutes and rinse off in a warm shower.