It's time! It's boot season ladies! (Well, apparently there is going to be a heatwave in October but we'll cross that bridge when we come to it…)
I get just as excited about this time of year as I do when I first hear Mariah singing in December. And while I'm sure most of you can wear the boots from last winter, or the winter before, there will be some of you out there who have boots with ruined soles beyond repair, or boots that aren't real leather with plastic peeling off, or some of you might want to try a different style. So here goes – 10 of the best boots on the high street. From leather over the knee boots (that aren't as scary as they sound!) to classic chunky soled flats. I've shared a mix of real leather and faux leather – ultimately real leather will last much longer, but if budget doesn't allow, or you don't like to wear leather then here are the best of the best of the faux options.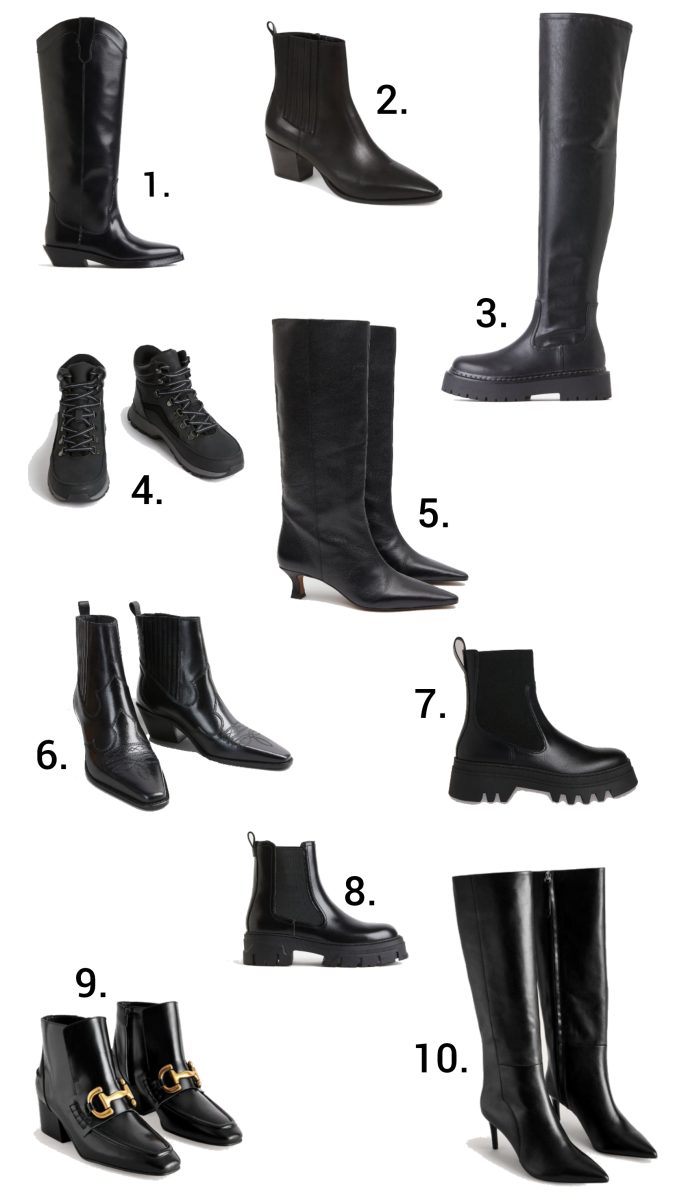 1.Faux leather cowboy boots: H&M £64.99. Wear with jeans tucked in, tights & dresses or skirts.
2. Block heel leather boots: Jones Bootmaker £130. A useful every day boot that can be worn with everything and dressed up for the evening also.
3. Faux leather Over the knee boots: H&M £64.99. These boots aren't as hard to style as you may think – wear them under midi dresses with tights, or tuck in your skinny jeans. Don't go for real leather in this style as the leather will loosen and you'll forever be pulling them up.
4. Walking boots: Marks & Spencer £75. Wear with just jeans, or leggings & slouch socks for the ultimate comfy look.
5. Knee high kitten heel: Hush £239. These are Sam's go-to boots of the season. Wear with jeans & dresses. A looser style denim tucked in is very on trend at the moment.
6. Leather cowboy boot: Hush £199. This is Gemma's MWB (most worn boots.) A sleek take on the cowboy trend, but subtle enough to not be too trend focused. The block heel distributes your weight evenly so they are extremely comfy and can be worn with almost everything.
7. Real leather chunky sole boot: Whistles £195. For a classic, long lasting boot that can be worn daily throughout winter then these are a winner. The chunky sole modernises the boot, whilst the elastic around the ankle makes them quick to yank on when you are in a rush.
8. Faux leather chunky sole boot: H&M £39.99. If budget doesn't allow for real leather, or you don't like wearing it, then these are a brilliant pair of boots for winter. Tuck in your jeans, wear with slouchy socks and leggings, or with tights and skirts.
9. Snaffle trim leather boots: Boden £150. I love these. If you are looking for a more fashion focused piece that is still wearable then go for these. Would look just as good with a printed dress as they would with black leggings and an oversized jumper. I've added them to my bag.
10. Pointed toe leather heeled boots: Boden £230. The ultimate classic boot that would last a lifetime. This shape will make you feel pulled together, no matter what you team it with. And don't just save them for best – wear them in the day with leggings & a sweatshirt with an oversized coat, or with your loose fit jeans tucked in.
(Affiliate links used throughout)