Have you ever checked through your past orders on Amazon and realised how totally random it is? Ours made us laugh the other day so we thought we'd share it with you. Every single one of these we now can't live without! And they're all under £25*. You're welcome!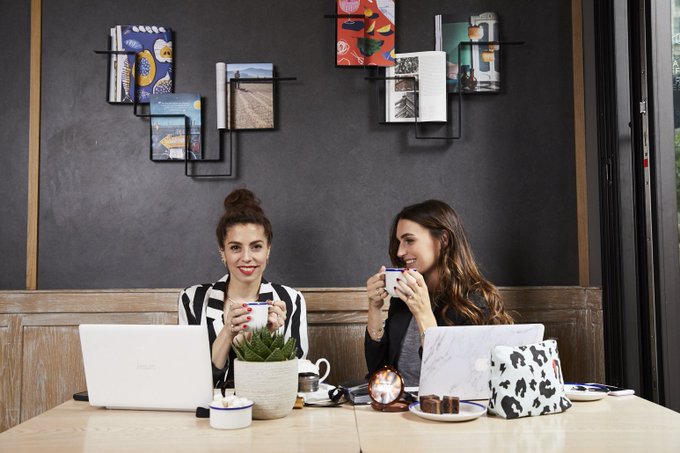 [Click the title in bold to shop]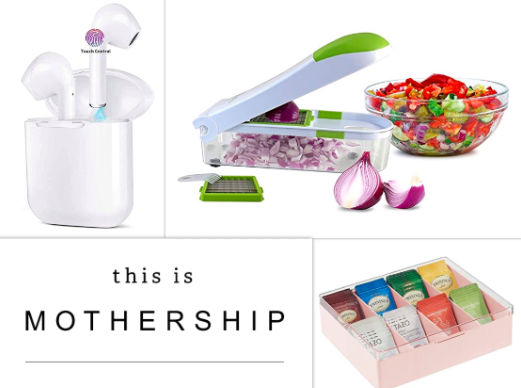 OMG where has this been all of my life. Pop your vegetable of choice on, press down and voila! Perfectly chopped veg. I'm cooking just for the hell of it these days, purely so I can use my new fave gadget. [Sam]
I had to emergency buy these when we became keen runners (lol) and I'm so impressed with the quality of them for only £15. Not sure what else would warrant paying hundreds for the real deal. [Sam]
A tea box. The thing I didn't know I needed until I bought it, and now I'm not sure how I got through life without it. I love tea, I have loads of different herbal teas, but hated that they were all in broken cardboard boxes or crumpled up little bags. Introducing the tea box! Now all in perfect order with a clear lid so you can see everything you have in one quick glance. [Gem]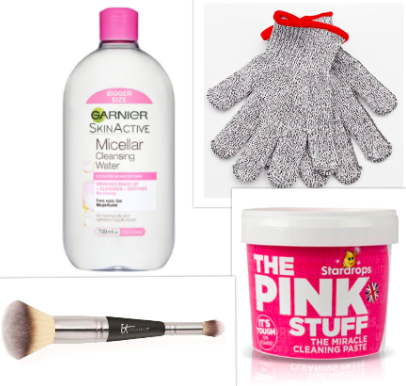 So technically you could teach your kids to chop with a blunt knife like Gemma, but a friend recommended these to me and they actively make Leo want to get involved with preparing meals, and take away all the worry of any accidents. [Sam]
Extra Large Garnier Micellar Water
We go through bottles of this stuff, and now we can't get out to our local shops we've bought these extra large bottles online. One swipe on our re-usable cotton pads (also from Amazon) takes everything off. [Sam]
It Cosmetics Heavenly Luxe Complexion Perfection Brush
We get asked all the time about the make-up brushes that we use in our IG Lives. For foundation; always a flat bristle brush. It buffs the product in perfectly for a smooth, even finish. And this double-ended one also applies concealer like a dream. This is the one I use every single day. [Sam]
How I have gotten through life for 35 years without this is beyond me. It literally gets rid of all mess. Random wall splodges, dirty barbecues, grimey tiles, the lot. And somehow it's made of 99% natural ingredients. [Gem]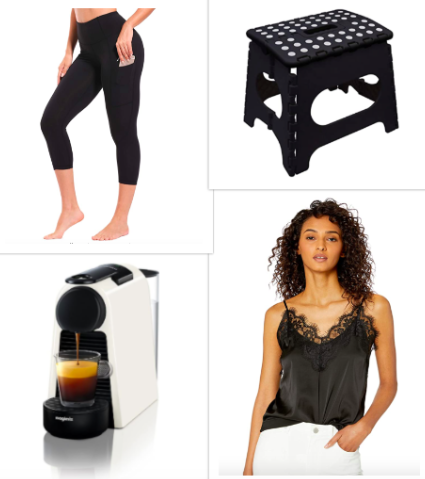 I actually have two of these in my house because the kids used to fight over who got to stand on it, so I cut my losses and made my life easier by buying another. It's a 'chic' looking step that doesn't stand out like a sore thumb in my kitchen so the kids can reach things/ help out in the kitchen. It folds totally flat so slots behind the kitchen door, and is wipe clean. Simple. [Gem]
Black gym leggings with pocket
We took up running a few weeks ago when lockdown was in full swing and we needed to get some headspace, and all of a sudden we now run 3 times a week. Who even are we?! But we run listening to podcasts so need to bring our phone. Introducing these non see through, simple, black running leggings, but wait for it… they have a pocket for your phone. [Gem]
Amazon Drop V Neck Lace Camisole
A totally timeless wardrobe essential. Wear it on its own with jeans and heels for simple dressed up look (with a red lip obviously,) or dress is down by throwing on an open denim shirt over it and some trainers. [Gem]
I mean, do I even need to mention why. This is my daily life line, my third child and I wouldn't survive without it. It's a great little machine, isn't too pricey, doesn't take up too much space on my kitchen side and has never, ever let me down. [Sam]
*This one isn't £25 but as far as coffee machines go, it's well priced!