Well, this one was a great challenge – but one we really enjoyed. Men are the notoriously difficult ones to buy for when it comes to Christmas, often being left with a pair of socks and a bottle of whisky. But we've really thought outside of the box this year and put together a brilliant hit list of gifts that the man in your life will truly be thankful to receive. As with all of our gift guides this year, we've searched our some brilliant small brands to add to the bigger brands that we already know and love. Thank us later…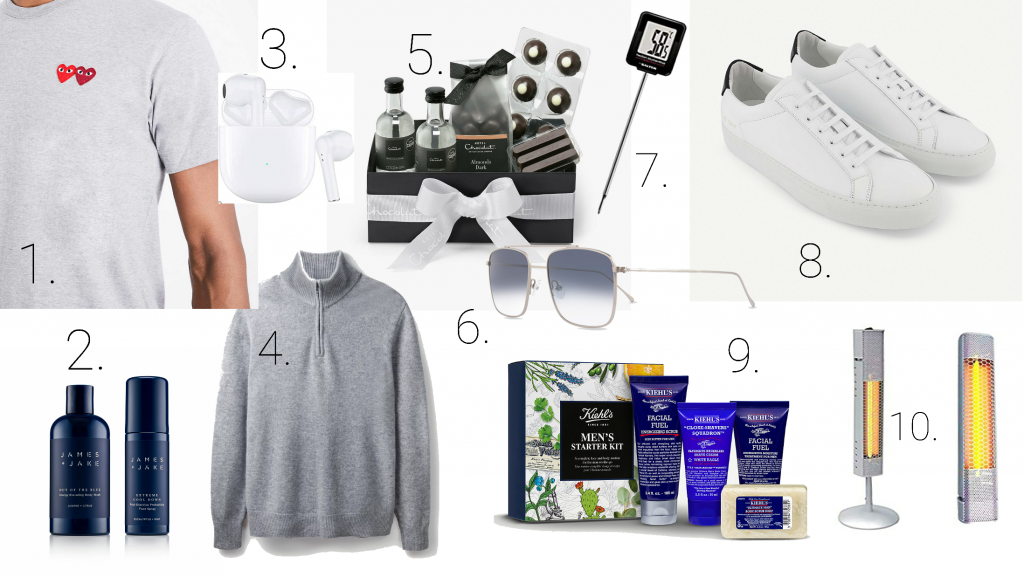 A stylish update to a simple t- shirt that will have the men in yourl life looking great without feeling out of their comfort zone.
2 // JAMES AND JAKE SPORTS SET
If your man is a serious sports player, he'll seriously appreciate this set. A new small brand discovery, the anti-bacterial menthol foot spray zaps bacteria while the body wash soothes aching muscles.
3 // WIRELESS HEADPHONES
Not the real Apple deal, but for less than £40 this pair does everything the others do for a tenth of the price.
Pure grey lambswool makes this the ideal jumper to wear every day, any day. Simple & classic.
5 // HOTEL CHOCOLAT GIN COLLECTION
Gin + chocolate all for £20. What's not to love.
6 // FINLAY AND CO
We love this small brand selection of sunglasses and spectacles that you can have engraved on the arm for a super special touch.
7 // HESTON BLUMENTHAL DIGITAL MEAT THERMOMETER
For the meat lover in your life, he'll love the gift of a perfect steak – and pretty sure it'll become his favourite thing to show off at BBQ's next summer.
Give your man a wardrobe upgrade with a pair of our favourite low-profile, high-quality leather trainers.
9 // KIEHLS MEN'S SKINCARE STARTER KIT
We're often asked for tips when it comes to your man's skin. Our husbands (and Sam's brother) are all firm fans of Kiehls skincare. This starter set comes with everything you need to get them into a great skincare regime, at a brilliant price.
10 // OUTDOOR HEATER
An essential for every garden these days, this heater ticks all the boxes – looks sleek, emits heat and doesn't cost an arm and a leg.