Finding the right SPF has always felt like trying to find a perfect partner. It shouldn't just do one thing for you; it should be multiple things all wrapped up in one. Daily SPF is a must, but it shouldn't come at the expense of other skincare benefits. That's why we like Dermalogica's wardrobe of SPF; they protect, hydrate, prime, firm, smoothe and illuminate all in one tube.
SPF is the same as relationships; perfection doesn't exist, but compatibility and consistency does. It's all about finding the one that works for you. We've found ours, now it's time for you to find yours…and remember, SPF isn't just a holiday romance; it's 'til death do us part.
*Once you've found 'the one' below get 20% off the edit and use code MOTHERSHIP to receive a free Gua Sha roller.
Offer ends on 31st May or until stock lasts.
*20% off the SPF's listed below, plus selected items online.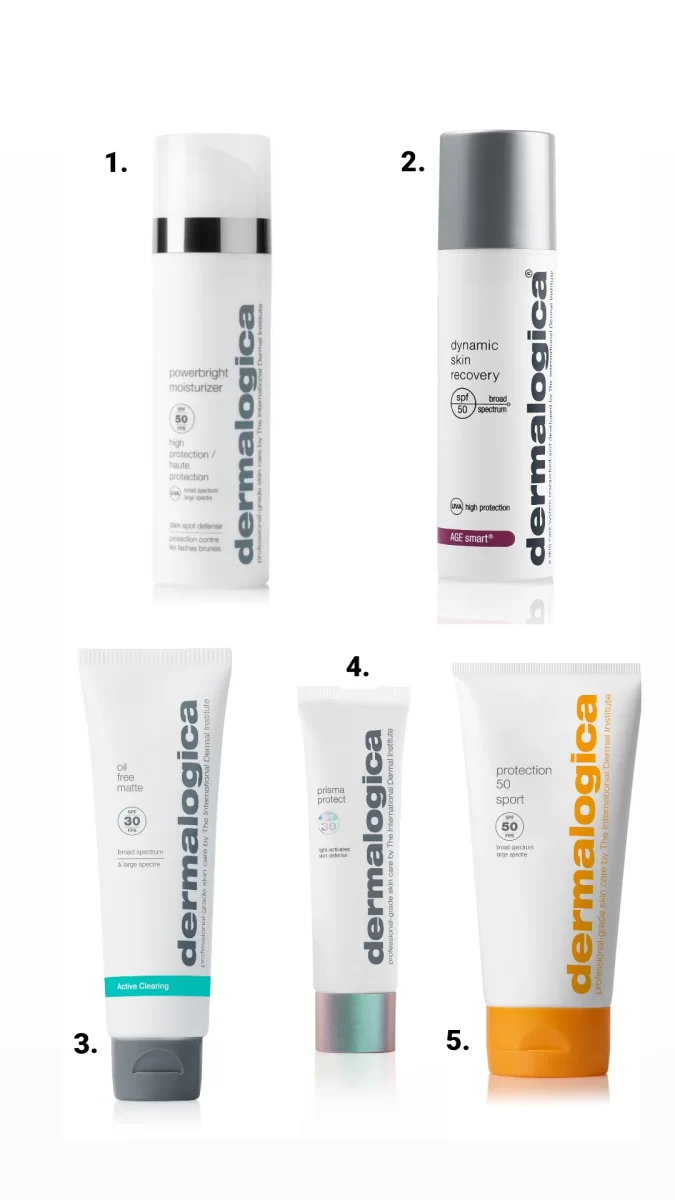 Formulated without artificial fragrances and colours. Certified cruelty-free by Leaping Bunny and PETA.
1: Dermalogica Power Bright Moisturiser SPF50, £75
Ideal if you are prone to pigmentation, like Sam. Niacinamide reduces pigmentation and evens out skins tone while added hyaluronic acid keeps skin hydrated, no matter how high the temperature rises. Added bonus for city dwellers: it combats oxidative stress caused by pollution, which leads to fine lines and wrinkles.
2: Dermalogica Dynamic Skin Recovery SPF50 Moisturiser. £75
Gemma's skin is super dry; usually she would need to layer a moisturiser underneath her SPF, until she found this one. Super-hydrating, this is enough to keep her skin feeling comfortable all day long. It absorbs quickly, ideal if you need to get ready in a flash.
3: Dermalogica Oil Free Matte Moisturiser SPF30, £55
Oily skins; this one is for you. A light-weight, oil-free formula is ideal for breakout-prone skin. The ultra-sheer formula also contains oil absorbers for an all-day matte finish, making it an ideal option for the men in your life.
4: Dermalogica Prisma Protect SPF30, £65
If products backed with high-tech formulas and super-science are your thing, look no further. Using Intelligent Drone Technology, this works on two levels; amping up your skin's own defence mode to help defend skin against UV light, free radical damage and pollution whilst regulating skin's own water balance. Best in class.
5: Dermalogica Protection 50 Sport, £39
Designed as a double-duty face and body formula, the sheer finish to this water-resistant cream melts into skin, locking protection in for 80 minutes – no matter how much you swim, or sweat – without feeling greasy or heavy. No fuss aspect makes it a great one for all suncream refusniks.
(This is an sponsored post with affiliate links)