Bedruthan was the second stop on our Cornish road trip and I was so excited to visit. It had been 25 years since I was last there. It's crazy to think that a privately owned family hotel has stood such a test of time.
When we arrived, I have to be honest, Nick and I really unfairly judged Bedruthan. We'd just arrived from two nights at Carbis Bay which is a luxury interiors Instagram dream, Bedruthan by contrast is filled with retro seventies style furniture and has a distinct waft of incense. However, within four hours of being there we both turned to each other and said how bad we felt judging it because Bedruthan is by far and away the best UK hotel for families we have ever been to and I would jump at another chance to return.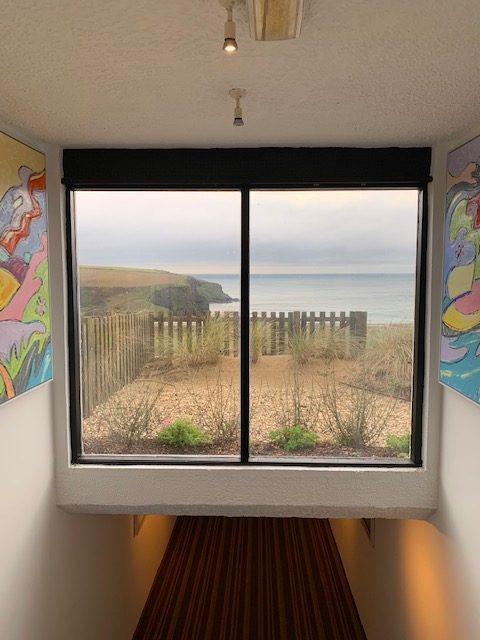 Bedruthan has long been an eco-hotel, since way before it was cool and they're totally committed to sustainability. They monitor their energy usage and reduce their carbon footprint year on year, there are recycling bins dotted all over the place, they encourage reusable bottles and have put water fountains around the hotel amongst others.
SLEEPING
We stayed in a Sea View Villa. This was technically a room on the lower floor, close to the indoor pool and the other family rooms with a private garden area. What was really nice about this room was that though it was one large room, you could easily partition it into two to create two separate sleeping areas: one with the King size bed (I kid you not, the comfiest hotel bed I have ever slept in) and two lounge chairs looking out to sea, and one with bunk beds and a cot, with direct access to the bathroom. There's also a separate entrance area to leave the pram (you could maybe squeeze the cot in there too if you needed a baby to be completely separate.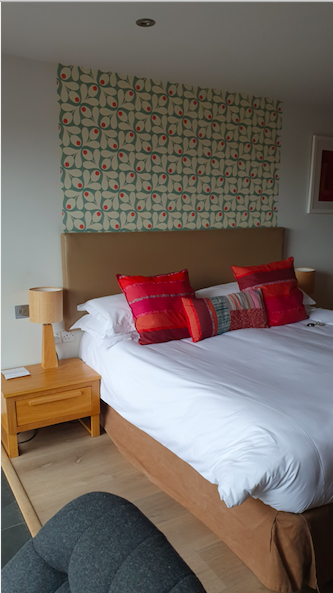 The bathroom was small and basic but clean and there was plenty of wardrobe space for a family of four.
EATING
I have to give Bedruthan 5 stars when it comes to food. By  far and away they served the best variety of food anywhere that we visited in Cornwall.  From the cookies and treats served in the coffee bar to the breakfast (the options changed daily) to the fantastic dinner menu in the Wild Café,  we were completely won over by the food.
Not only that, they offer a complimentary kids dinner buffet between 4-6pm as well as an a la carte menu, "because we've learnt that over the years sometimes kids just need to eat without waiting" our waiter told us. The buffet with super healthy, home cooked options that kids would love sat alongside sugar-free desserts, fresh fruit and Ikea kids plates, cups and cutlery. Not only that, there were colouring sheets hanging on the wall with crayons that kids could help themselves to while parents ate,  as well as baby bouncers and a choice of high chairs. Saying that, it didn't ever feel too kiddy anywhere.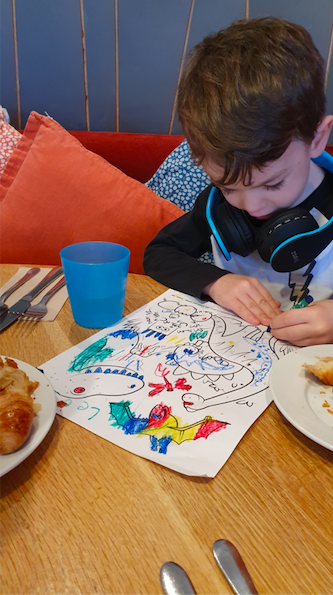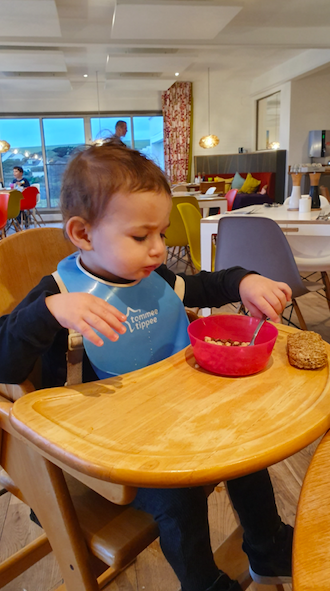 I have to mention the restaurant staff too because they are total gems. I was flabbergasted when I walked into breaking holding Alfies bottle one morning and a member of staff asked if I needed it washing and filling up with warm milk – then gave me a choice of milks! I usually find that the morning milk request is met with a moody face in most places.
THE KIDS
Ok, so here is where it really comes into it's own.  You get two free hours of childcare for every night that you stay. I know!  Leo and Alfie headed to kids club without so much as a backwards glance.  Not only that,  from 3pm there is a whole schedule of complimentary activities for kids – from drama classes to football tournaments.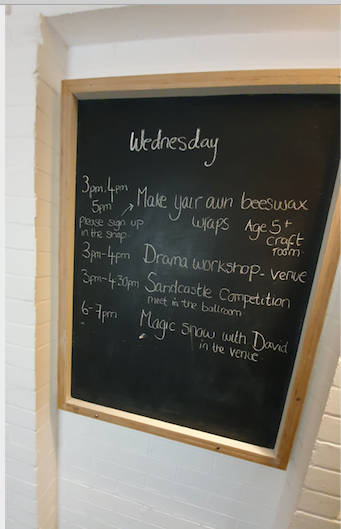 I haven't even mentioned the giant indoor soft play, the heated indoor swimming pool and the 6pm post-kids dinner entertainment (one night we watched a man singing world traveller themed songs, another night there was a magic show that Leo loved) while the parents sit at the back sipping wine.
Kids are welcome in every area of the hotel except in the quiet room and the bar. Everywhere else is a kids haven and you see them dotted all over the place, colouring in the lounge, playing in the playing room at the end of the café or chatting with the staff. It's a really low-key, chilled and warm atmosphere.
We were there over two days of intense rain so sadly we didn't get to explore the gardens or the beach but to say that we were stuck inside for two days and didn't get bored really is a testament to the hotel.
AND THE REST
While the kids were in kids club 9.30-11.30am, Nick and I booked the Sensory Spa Garden experience. We actually didn't even look at what this entailed and we were pleasantly shocked and surprised. It's a private outdoors cycle of homemade scrubs, warm sauna's, ice buckets and hot tubs. After we grasped the fact that we would be in swimwear outdoors in fog, drizzle and a temp of around 5 degrees, we loved it.  It was a really fun and exhilarating experience, we were brought cold drinks in the hot tub and warm tea and hot water bottles to end the experience.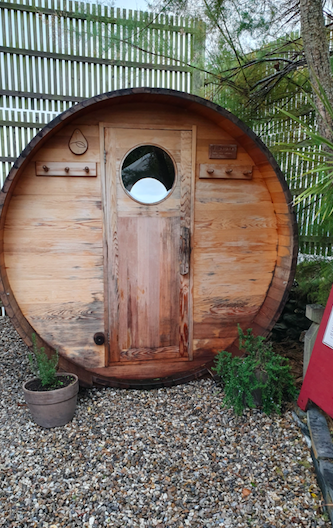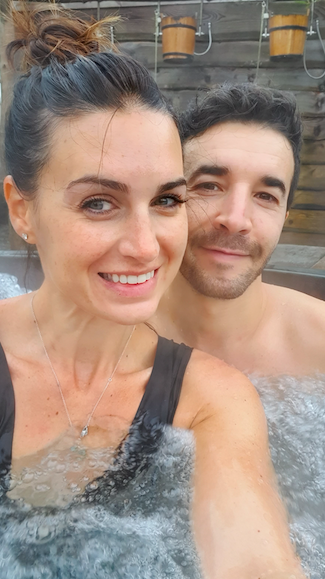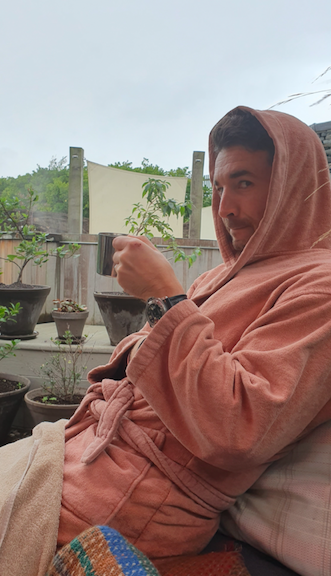 Had the weather been better we would have ventured to Padstow which is only around 15 minutes drive. The Eden Project is about a thirty minute drive. So lots to do in the area.
***SPECIAL OFFER*** if you book a hotel stay at Bedruthan between now and 29th February 2020 (including half term) you'll get a free Sensory Garden Experience for two people. To redeem, call the reservations team on 01637 860860 and quote the code MOTHERSHIP.
{This stay was gifted, but as with everything on This Is Mothership, we only feature things we love}