Just under two hours outside of London lies a little slice of coastal heaven that was the perfect retreat to recover from wisdom tooth surgery whilst keeping my two boys entertained. Comprised of a dozen different sized wooden cabins nestled amongst the wildflowers on the edge of the Kent coast, Cabu opened earlier this summer and is the chicest thing to happen along the English Channel.
Cabu is cleverly done – there's chic interiors, speedy wifi and fresh Gails pastries to satisfy city dwellers but you still feel remote and removed from the hectic pace of daily life. It's like Soho Farmhouse – before it became too boujis and far removed from the real countryside – but with a £180 a night price tag.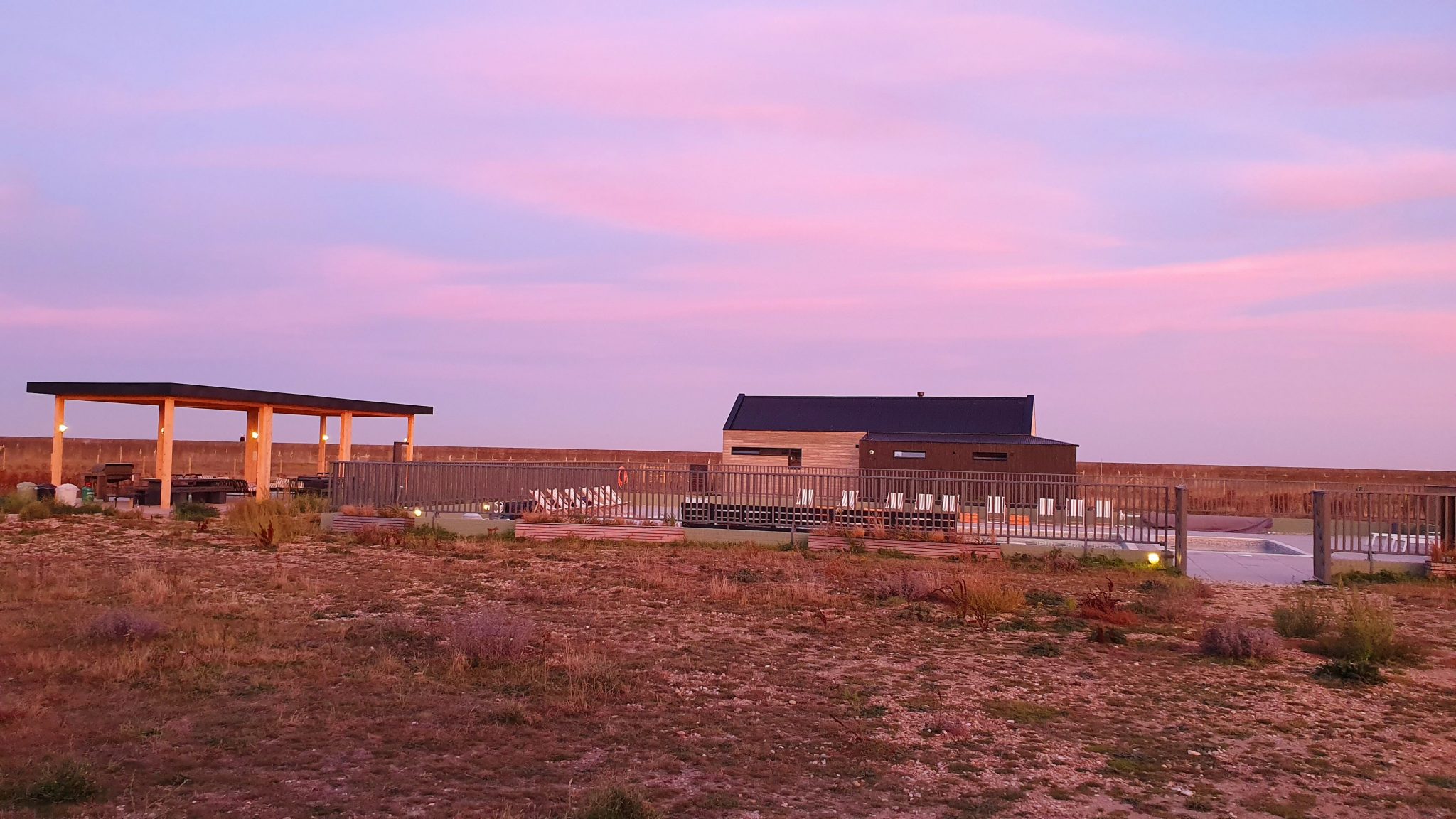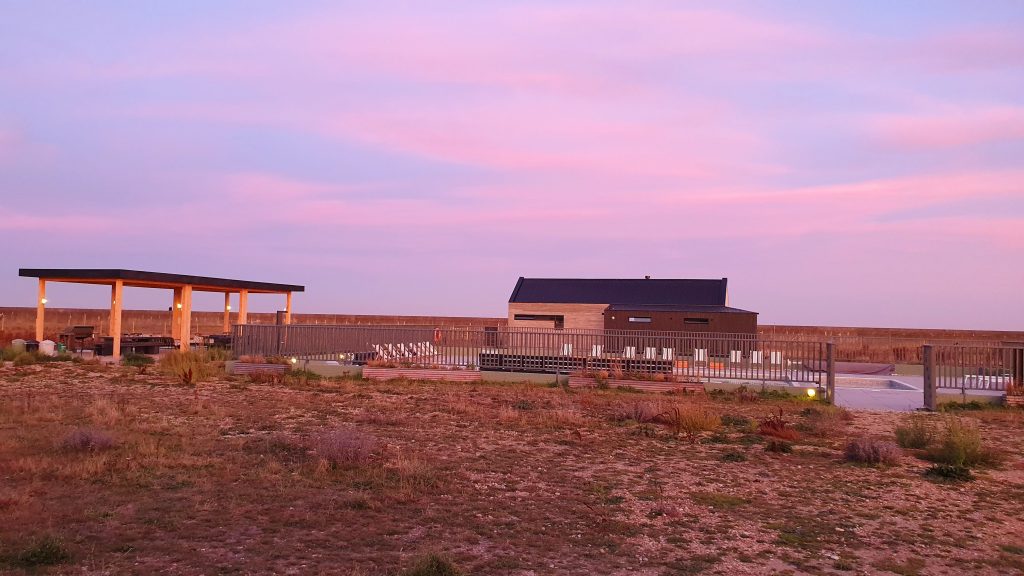 Currently there are mostly one and two bed cabins with only one three-bed cabin but I've been told they're adding more for Summer 2020.
SLEEPING
We stayed in a two bed cabin which was perfect for our family of four. It comprised of a master bedroom for Nick and I with the comfiest, coziest bed and floor to ceiling windows looking out onto the bay (but with brilliant black out curtains) and a second bedroom with bunkbeds in for the boys (all of Leo's dreams came true when we said he could sleep on the top bunk) but with enough space for a wooden cot to be added in for Alfie.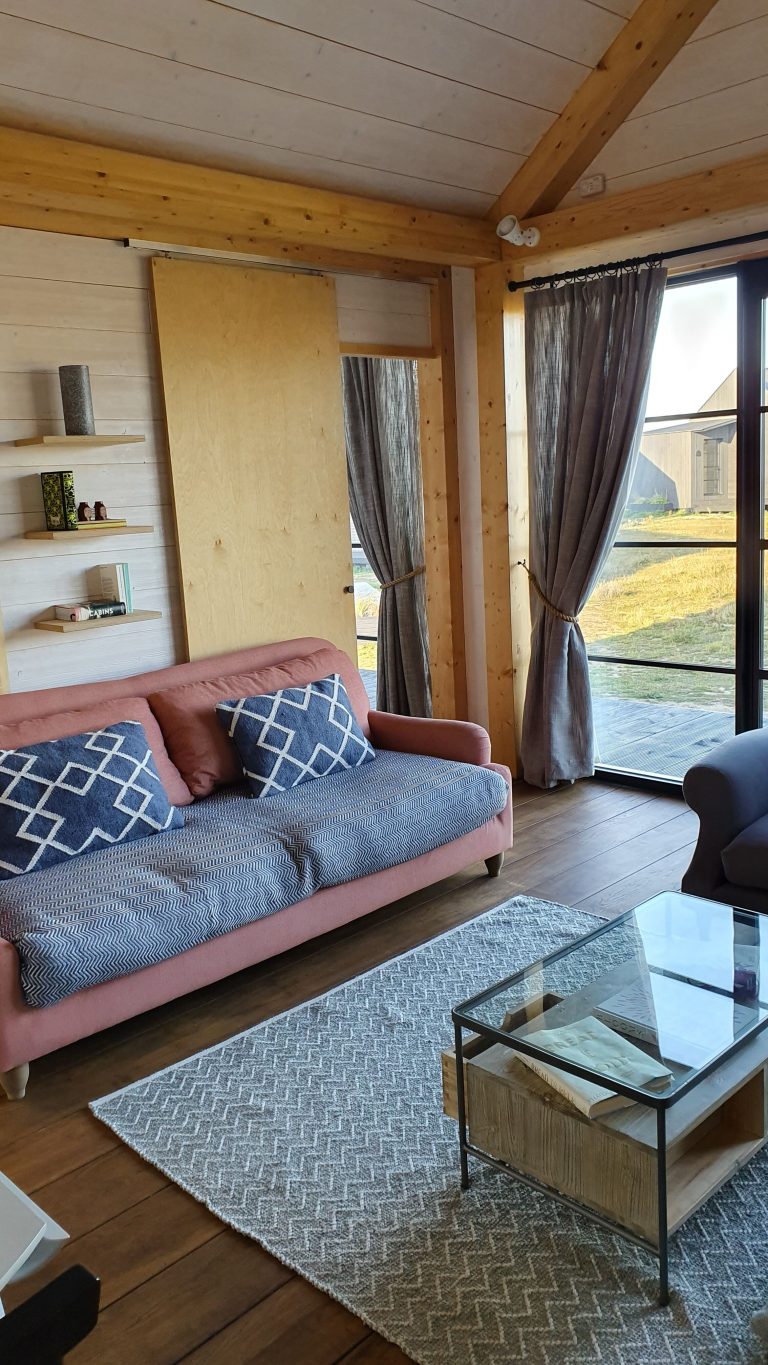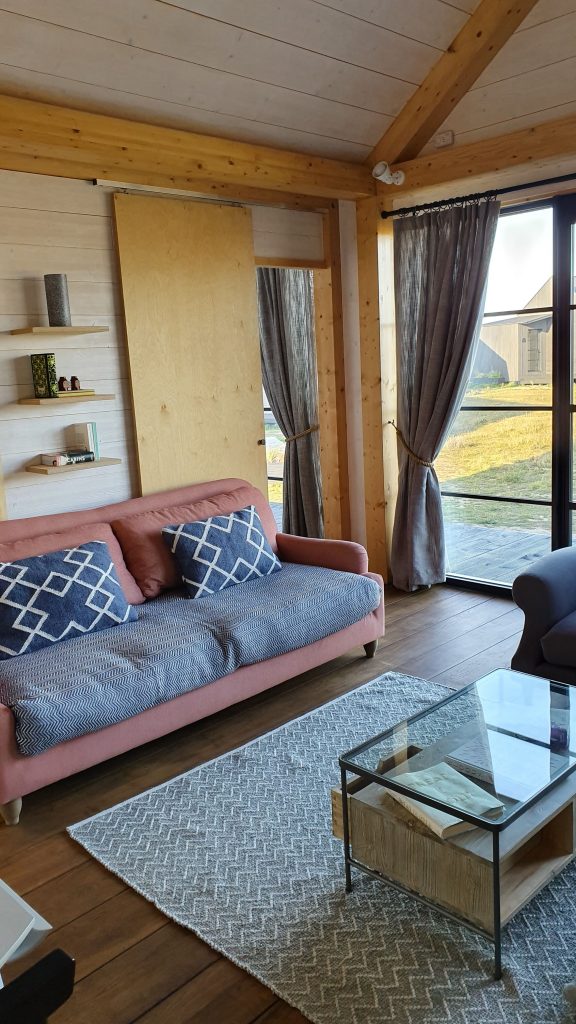 The lounge was roomy and the sofa's were ridiculousy comfy. When the kids were in bed we lay and watched the sun set through the crittal windows with the log fire on (it wasn't even cold but we wanted to light it) and ate dinner. All of the furniture was from Loaf Home and John Lewis with Soak and Sleep pillows, striped robes and Dr Bronners eco toiletries.
There wasn't a bath in our cabin but my kids are an age where we can quickly shower them off so it didn't matter all that much. The little kitchen was small but mighty and fully stocked with every kitchen essential you may need. Food wise, there were a few tea bags and salt and pepper provided but everything else we brought with us, which was easy enough. There's also a shop on site as mentioned.
The best bit was the gorgeous wraparound terrace where we sat and had a cup of tea in the morning before the rest of the world was up.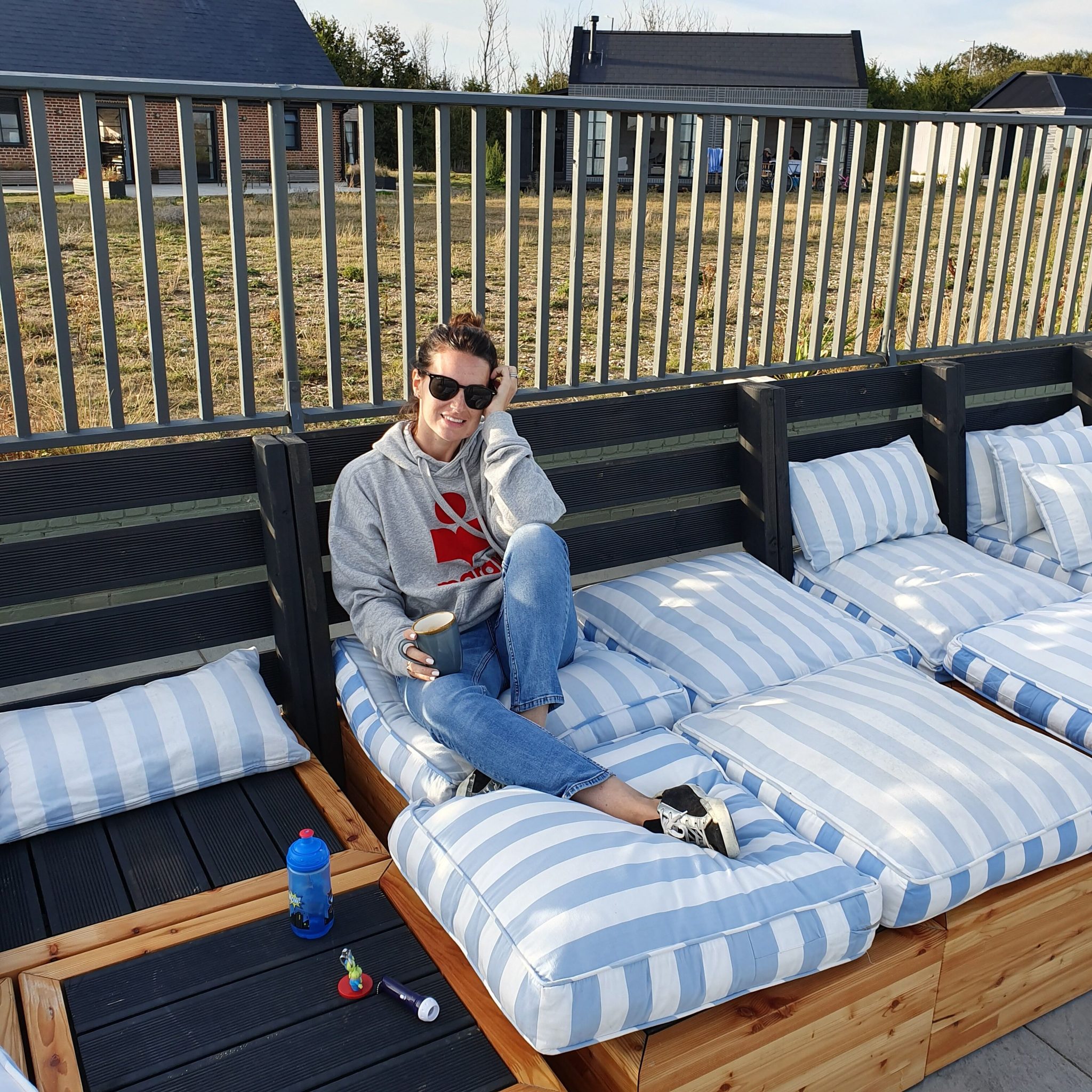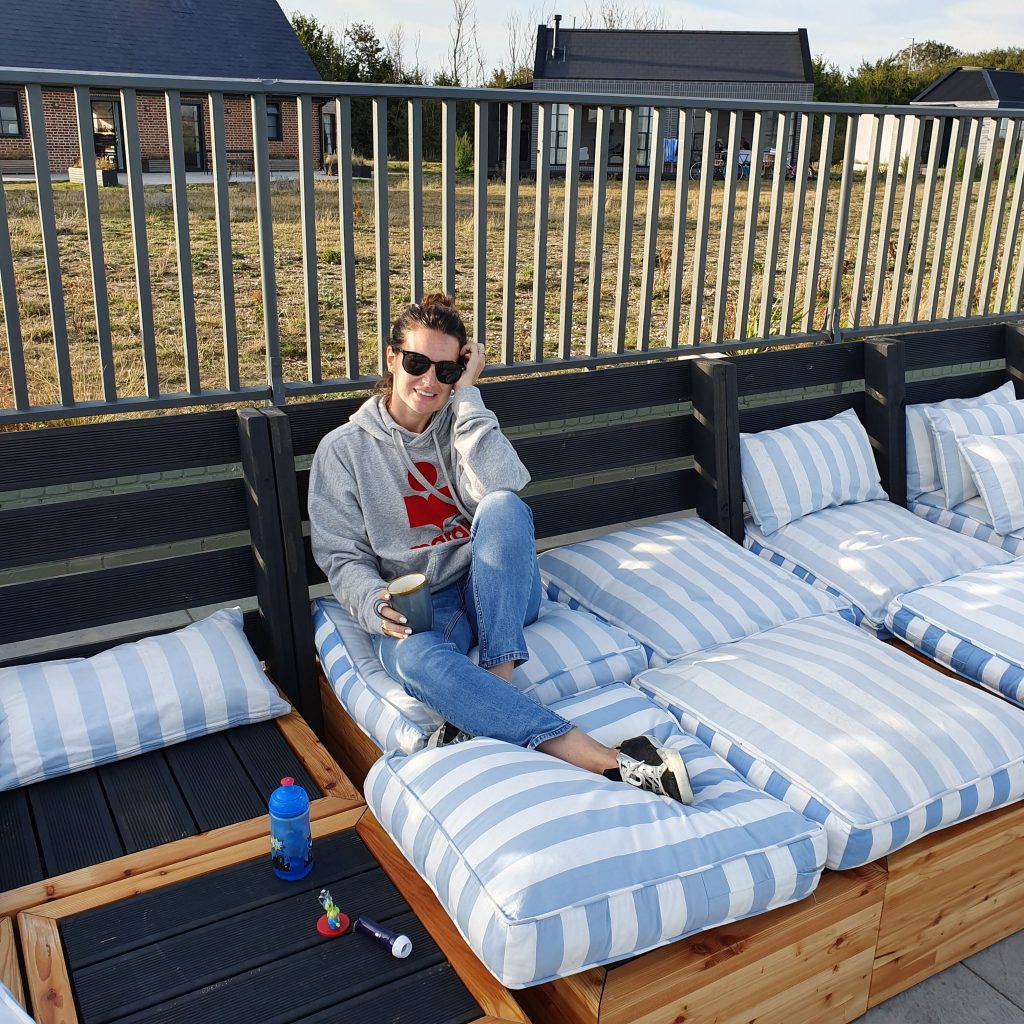 EATING
Cabu is self catering. I cleared out our fridge and packed what I knew I would need for the kids for two nights which was super simple. There's a little shop on site where you can stock up on everything from ice cream to burgers, hummus and oat milk, fresh pasta, sauces and organic pies. We got our breakfast bits from there – pain au chocolates, small boxes of cereal and milk (the shop doesn't open until 8.30am and if your kids are up by 6.42am you may want to purchase these the night before (it closes at 9pm)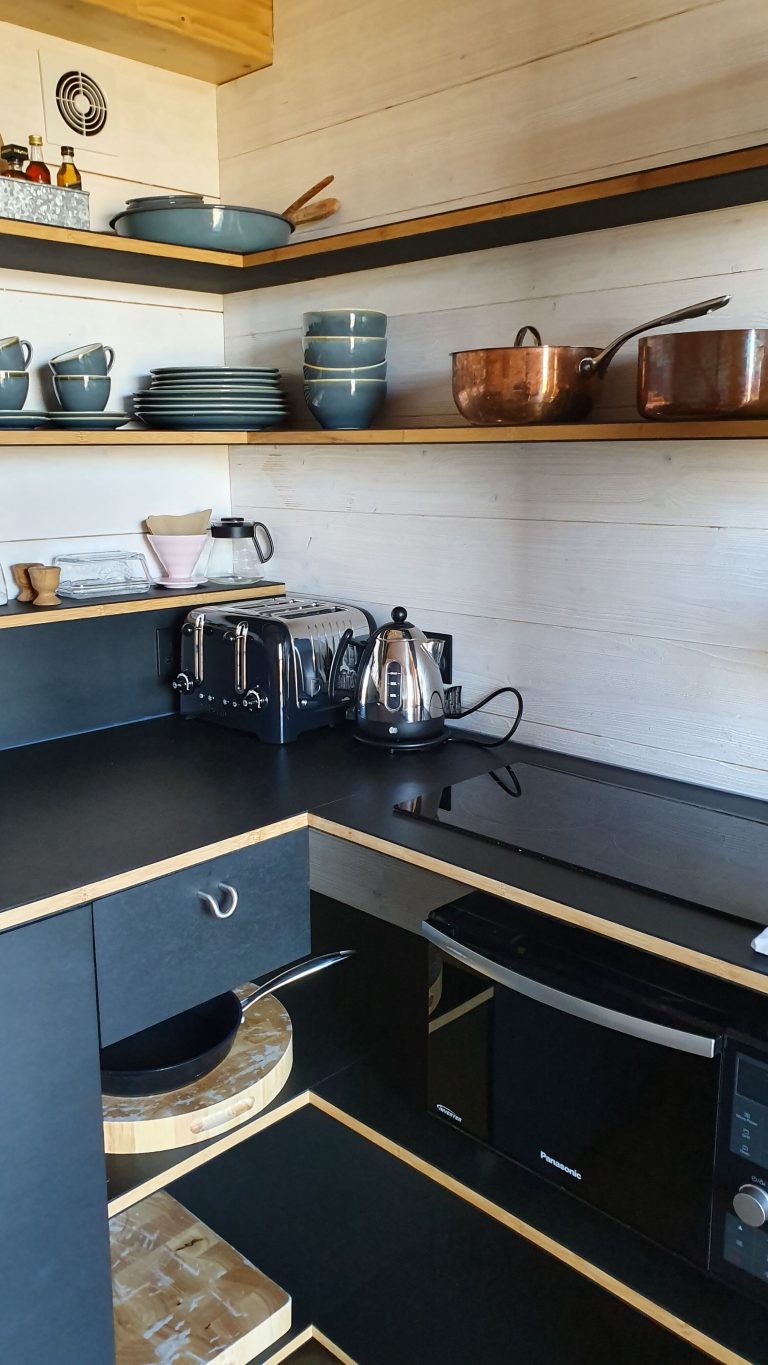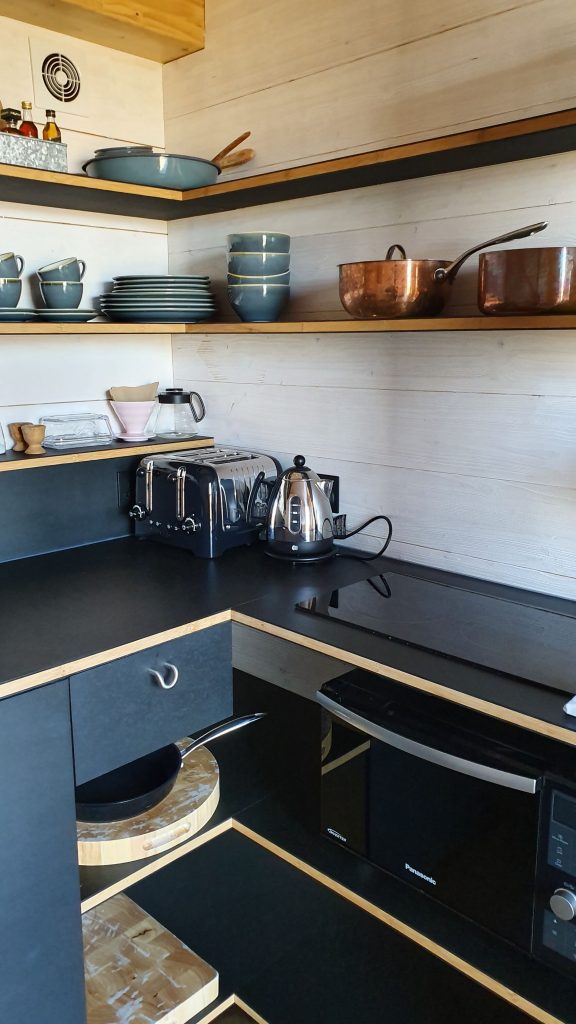 There is a communal bbq area at Cabu – Nick said the BBQ was top of range and he enjoyed cooking burgers for us at lunch time. The kids thought it was so much fun eating outside and they had so much space to roam around and run about while he was cooking.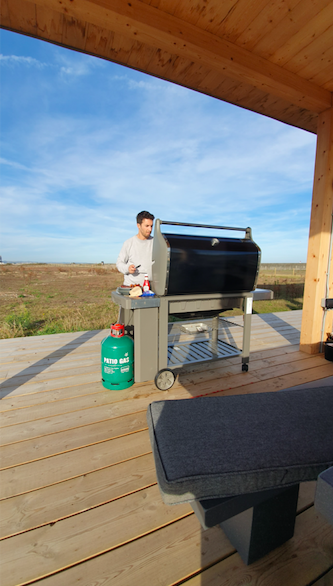 There aren't really any restaurants as such around, but I did see some fish and chip places which would be a lovely thing to sit and eat on the beach. Rye is a 20 minute drive away and there are lots of lovely places to eat there. We stopped off for brunch on the way home (which wasn't really on the way home but we thought it was worth a visit while we we're over that way!)
THE KIDS
While Cabu mightn't be designed to be kid friendly, it is SO kid friendly. The easy relaxed vibe just makes you instantly at ease with the fact that you have kids and they may make noise. There was no problem popping a cot and a high chair into our cabin (in fact, both were beautiful, clean and wooden) but you may want to bring a baby bath with if you have tiny ones. There wasn't a nappy bin but I'd thought ahead and packed a couple of Munchkin BagIt's – they look like tiny discs but they expand into a full size disposable nappy bin which keeps all of the smells locked inside, so are perfect to keep in your car or pack for a trip like this.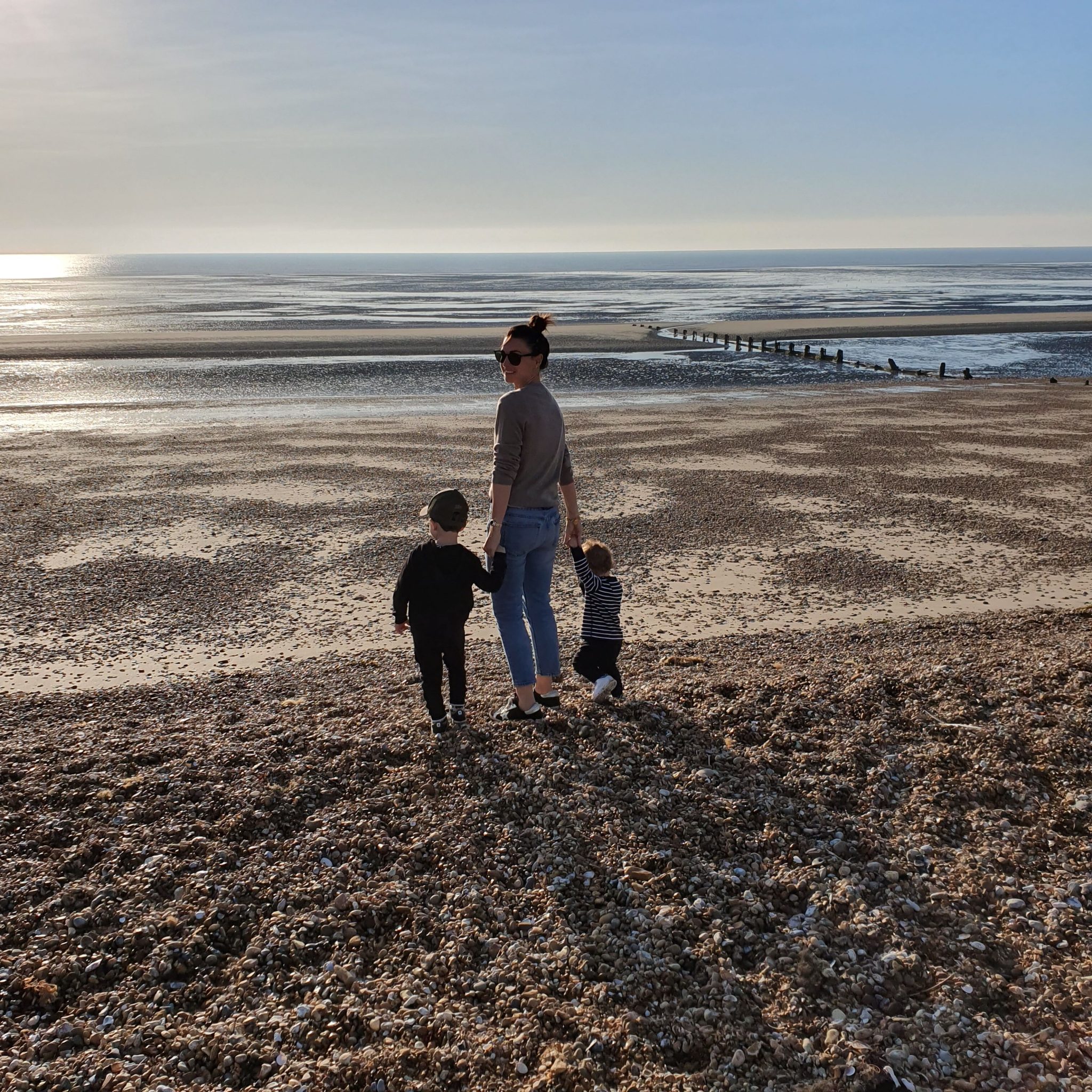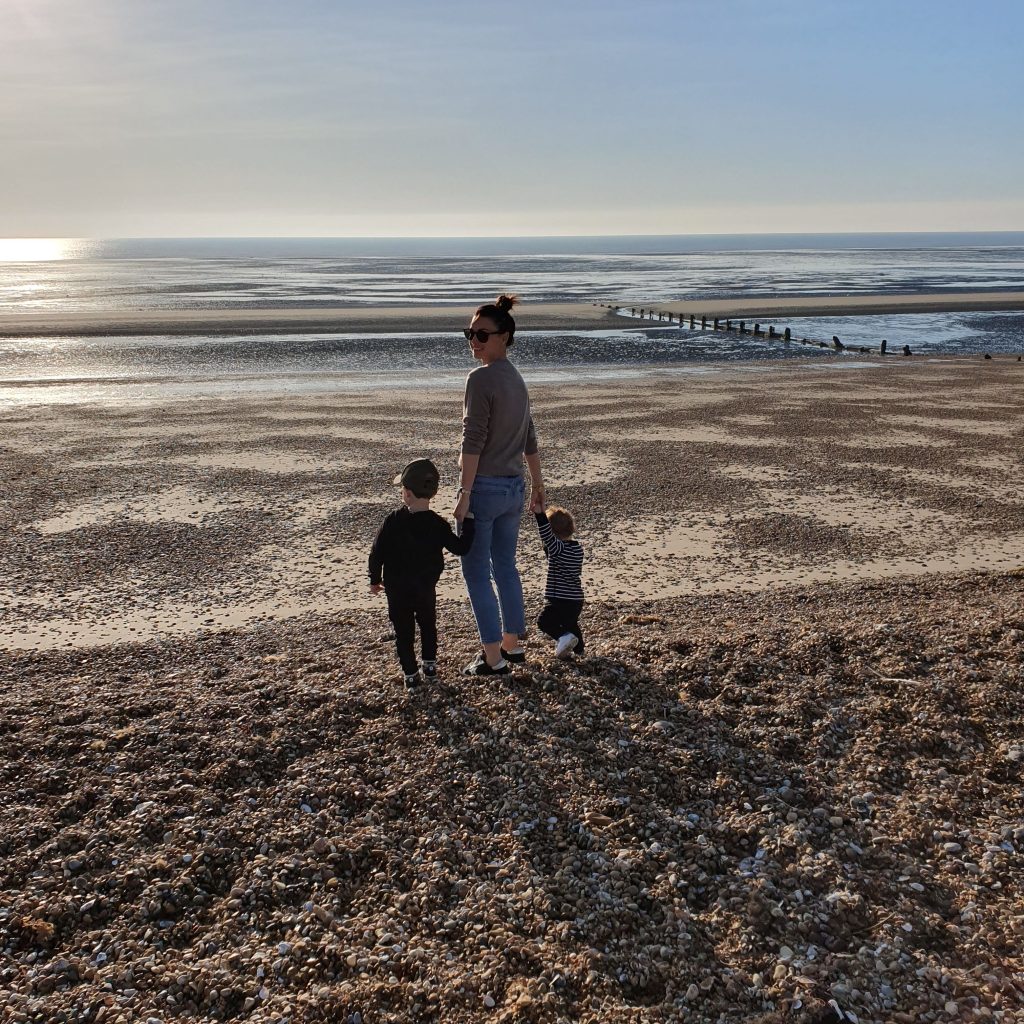 Space wise, it's just incredible. It was so lovely to have such an outdoorsy trip away. The fact that you can walk straight onto the beach, or go for a swim in the heated pool, or explore the grounds – it's just so special. Bring wellies so that you can make the most of it.
Cabin 8 was next door to the shop, which while some may prefer to be slightly further away, for us it was so nice as we could send Leo off to the shop for a packet of Rice Krispies and watch him walk there and back. He loved it and thought it was the most grown up thing ever. We also bought a kite for £6 in the shop and Leo learnt to fly it. These are memories that will stay with all of us. Twenty minutes away from Cabu is Port Lympe Safari park which was fabulous for the kids and for us – and in the other direction 10 minutes away is Camber Sands if you fancy a little old school beach entertainment action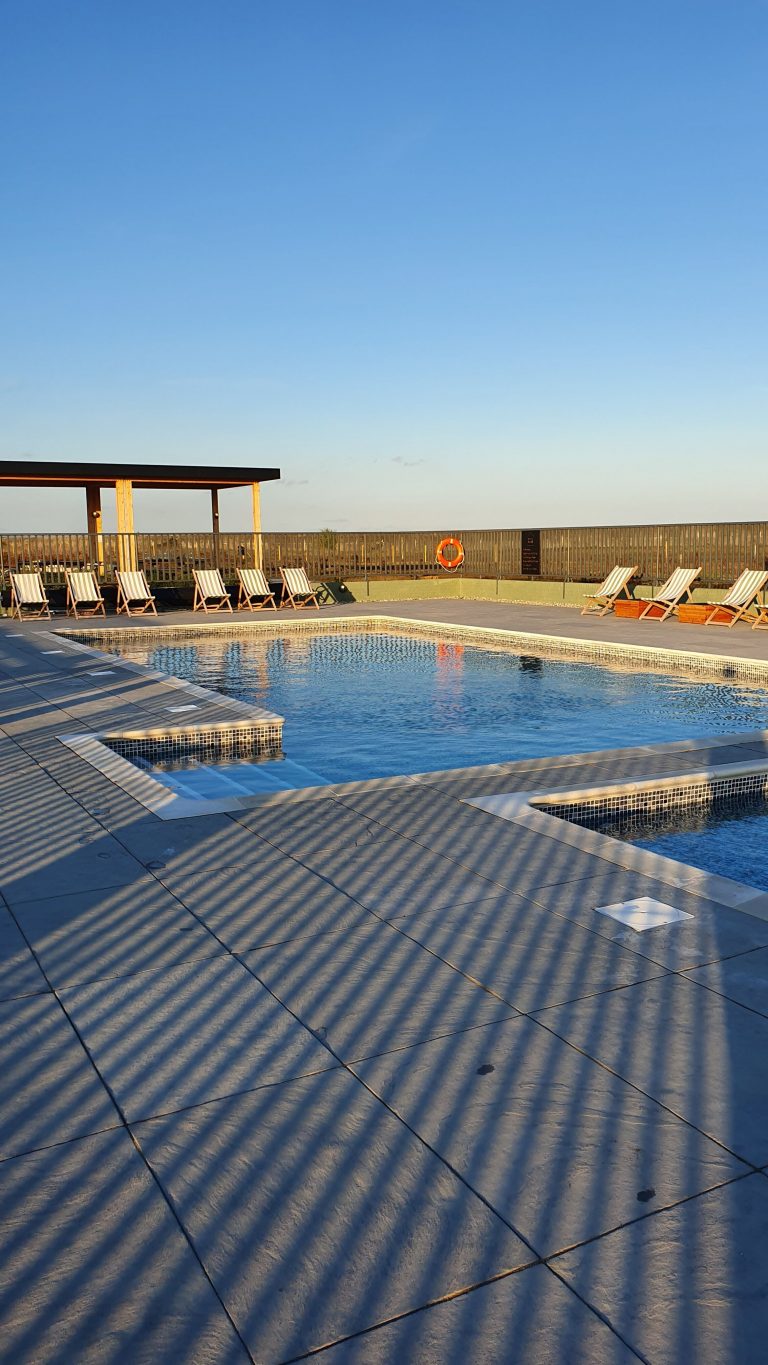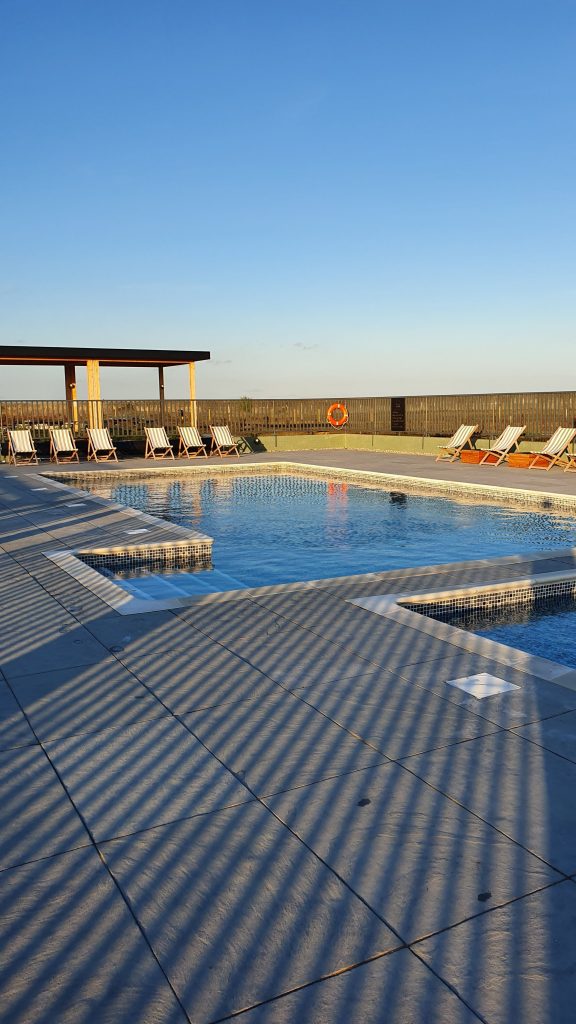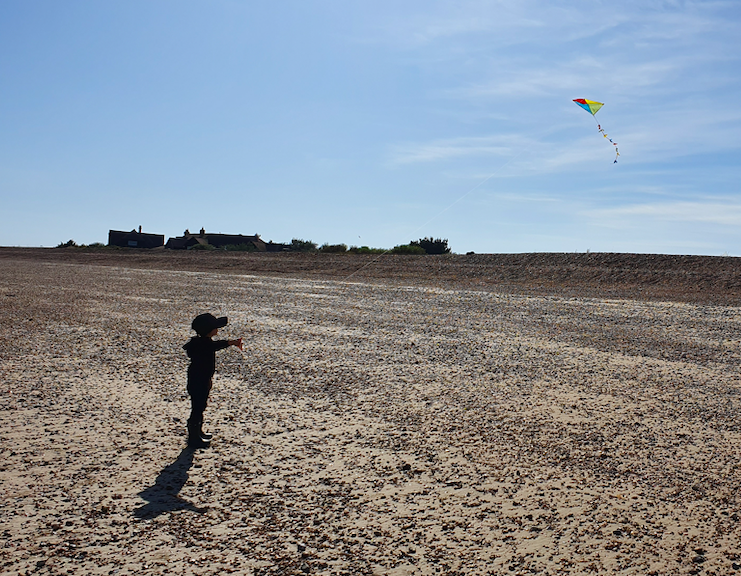 To find out more visit: www.cabu.co.uk/holidays
{This stay was gifted, but as with everything on This Is Mothership, we only feature things we love}