I had never been to Amsterdam before. People seem shocked when I say that, I'm still not entirely sure why. But when Nick and I were looking for a November mini-break with some friends of ours that was a 45 minute flight from Heathrow, had no time difference and lots to do that isn't weather dependent, it seemed like a no-brainer.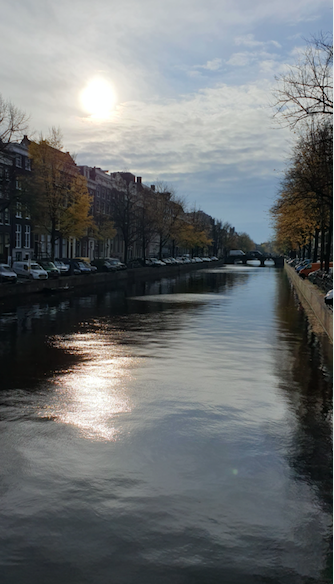 I have to say, I was blown away by Amsterdam and I couldn't recommend it more.  We dropped the kids at school and we were at The Pulitzer, checked in and having lunch by 2pm. As a city, it's beautiful. There's so much to see museum wise – we pre-booked the Anne Frank museum the week before (advisable) which was so emotional and booked tickets to the Banksy exhibit at the MoCo gallery in the Uber on the way there (10% off) – but then there's also the more wild side too.  The Pulitzer Amsterdam was situated perfectly to walk everywhere. It's a five minute walk to Anne Frank's house and a twenty five minute walk to town.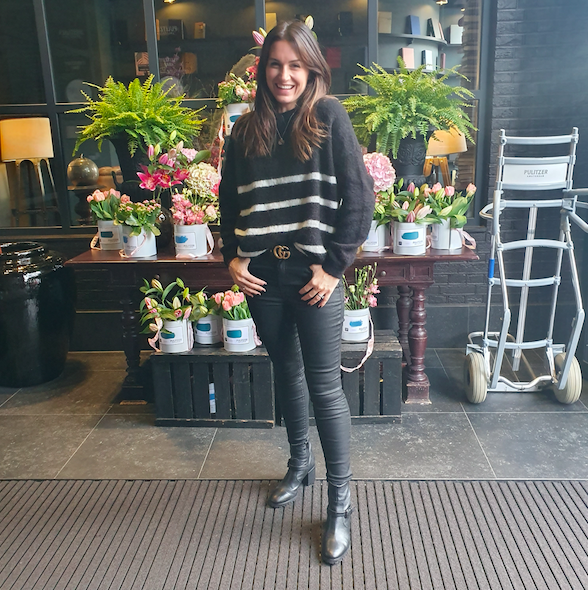 SLEEPING
I can't rave about The Pulitzer Amsterdam enough.  From the outside, it looks like a single townhouse but it's actually comprised of 25 restored 17th century townhouses on adjacent streets, connected by a trio of glass houses and tranquil gardens. In short, it's beautiful.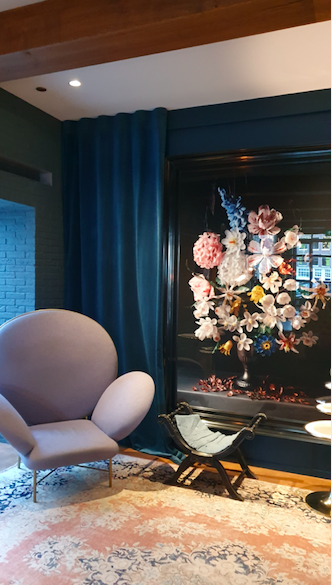 Interiors wise, it's an Instagrammers dream. Parent-travelling-without-child wise, the bed is beyond comfy, the black-out curtains are faultless, the bathroom is decorated in floor to ceiling marble complete with super-luxe Le Labo products and the in-room coffee offering is strong. Check out is 12 – so you can really make the most of your last day.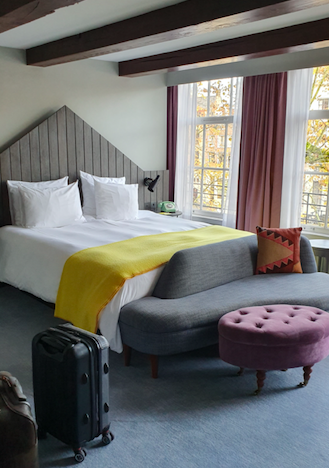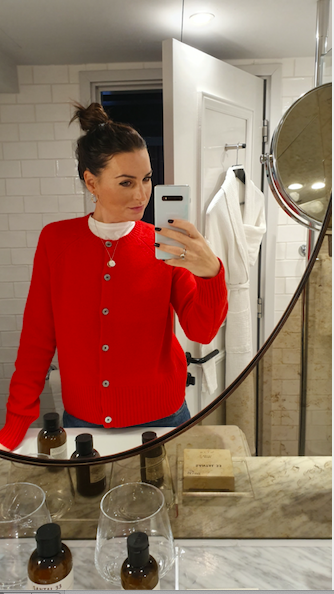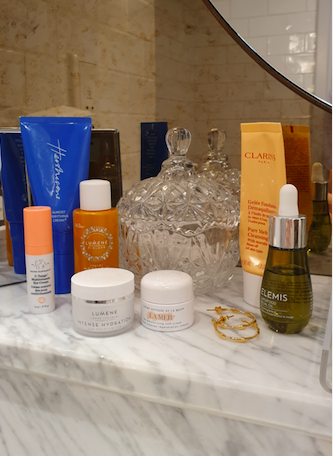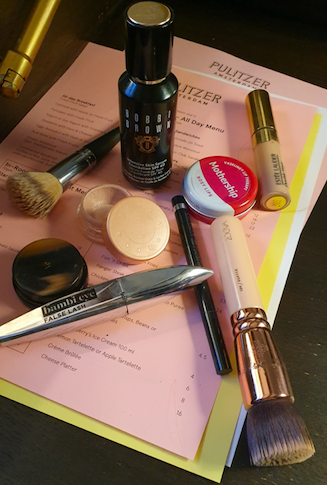 EATING
I had no idea how amazing Amsterdam was when it came to food. For a start, the main restaurant at The Pulitzer Amsterdam – Jansz – was recommended to us by a lot of people, before we even realized it was in our hotel. Breakfast (ahhh, breakfast without kids!) was super-chilled with a mega buffet and a hot food menu. The Pulitzer Bar was voted Best Hotel Bar in Amsterdam in 2019.  The atmosphere was amazing,  as were the drinks (and bar snacks.)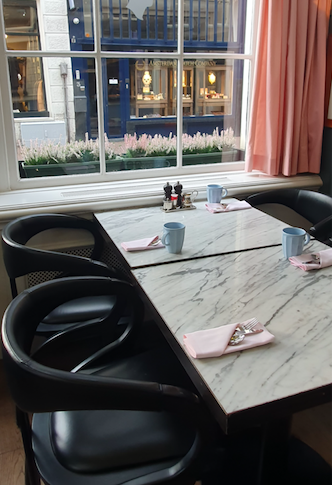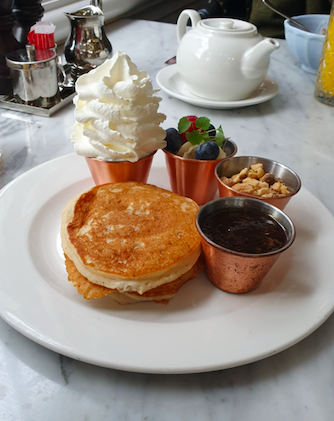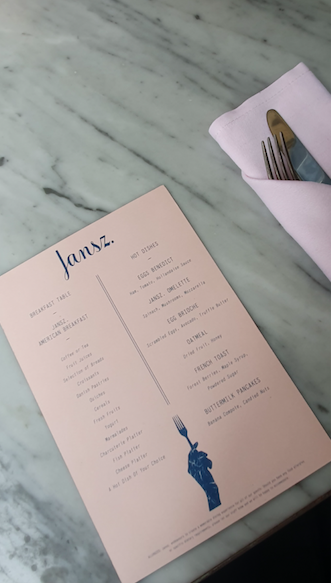 On day one, we stayed out all afternoon and evening so we wanted somewhere casual to head to eat. Gemma recommended Food Hallen which was so much fun. It's an in-door food market (dim sum, tapas, Thai, Mexican, Israeli, burgers – it had it all) and gin bar, brilliant for people watching.
Another recommendation that I took on board was from lots of you. When I asked what we should do when we we're in Amsterdam, so many of you said we just HAD TO go and taste the apple pie at Winkel 43. So off we went on our pilgrimage (after realizing it was a 10 minute walk from The Pulitzer Amsterdam) and OMG – it was epic. I am still thinking about it a week later.  Winkel 43 – the tiniest apple pie and coffee shop – is open until 3am at weekends. WILD.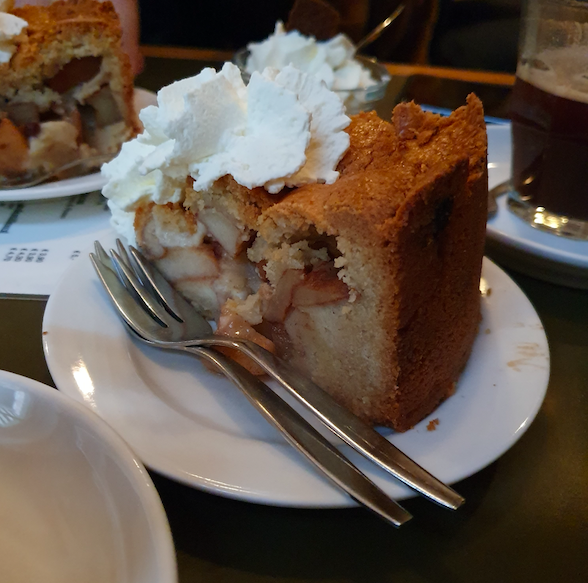 One our second evening, we got all dressed up and after a few cocktails at The Pulitzer Bar, we headed to Izakaya on the recommendation of my sister-in-law.  I honestly don't think I've eaten sushi that good in London – and I've eaten a lot of sushi. It's pricy but it's really fun and buzzy.
THE KIDS
Ha! We we're kid-free. However, if you did want to go to Amsterdam on a family holiday, The Pulitzer Amsterdam can completely accommodate.  There is a whole section on their website dedicated to their Very Important Kids Programme, which as a parent immediately makes you feel comfortable that kids will be welcome. They offer kids menu's, kids itineraries for discovering the city and family-friendly rooms.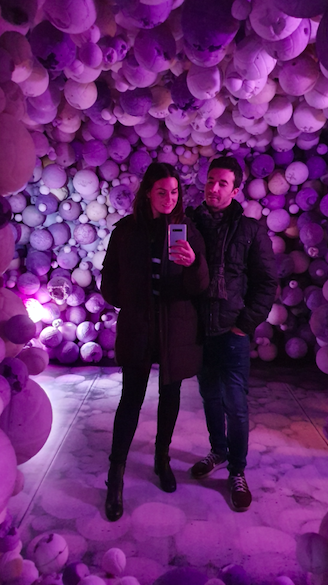 You can also check out Hannah Gayle's fab blog here, as she stayed earlier this year with her little boy Atti, who is the same age as Alfie.
AND THE REST
I cannot recommend Amsterdam enough as a short min-break destination and The Pulitzer Amsterdam is the most beautiful, warm and perfectly situated hotel. Prices start around £300 a room. But when your flights can be as cheap as £50, it makes it seem far more affordable.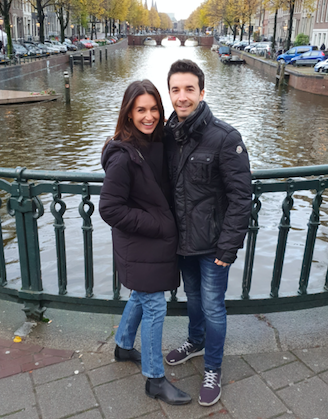 {I received a press discount, but as with everything on This Is Mothership, we only feature things we love}