MULTI-TASKING SKINCARE FOR MULTI-TASKING LIVES….Sound good? Read on!
Not sure about you guys but we're feeling a little bit, wiped, for want of a better word. Juggling two energetic toddlers, two babies on the move, a job that revolves around consistent posting on social media, meetings and events plus the husbands, houses, cooking, life admin and piles of washing that never seem to get done, we're a little bit tired. And a little bit feeling like we're not on top of anything.
We're sure that this will sound familiar to lots of you. And usually people's advice is to be kind to yourself, to rest during nap times, to try a little 'self-care'. But when you're a mum, it's not easy to carve out any me-time into the day. There's always something that needs to be done.
That's why we have both spent the last couple of months streamlining and simplifying our beauty regimes. I mean, it's not that hard to do less when you don't have the time. But what we've really concentrated on is using products that give you MORE.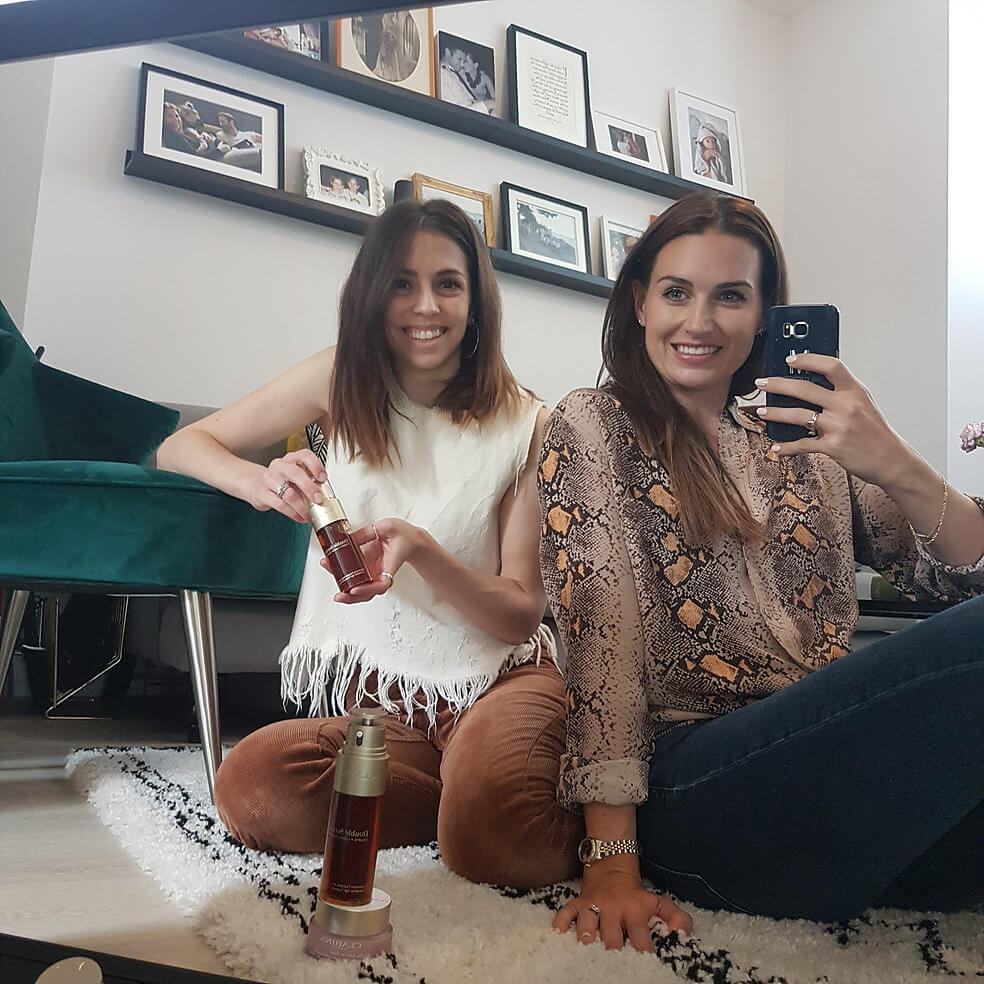 Clarins Double Serum has been around for years. In fact, Sam was one of the first beauty journalists in the country to have been privy to the launch, and her very last work trip before she left Stylist, was to Paris with Clarins for the re-vamp of Double Serum. She has written about it for years, used it for years, but as is often the case, had replaced it with something newer with lots of shiny promises. Really though, so often the best products are the ones that have stood the test of time, and so she started using it again, and also recommended it to Gemma. Because as great as it was when she was a 20-something beauty editor, it's even better now as a tired, dehydrated, line ridden mum.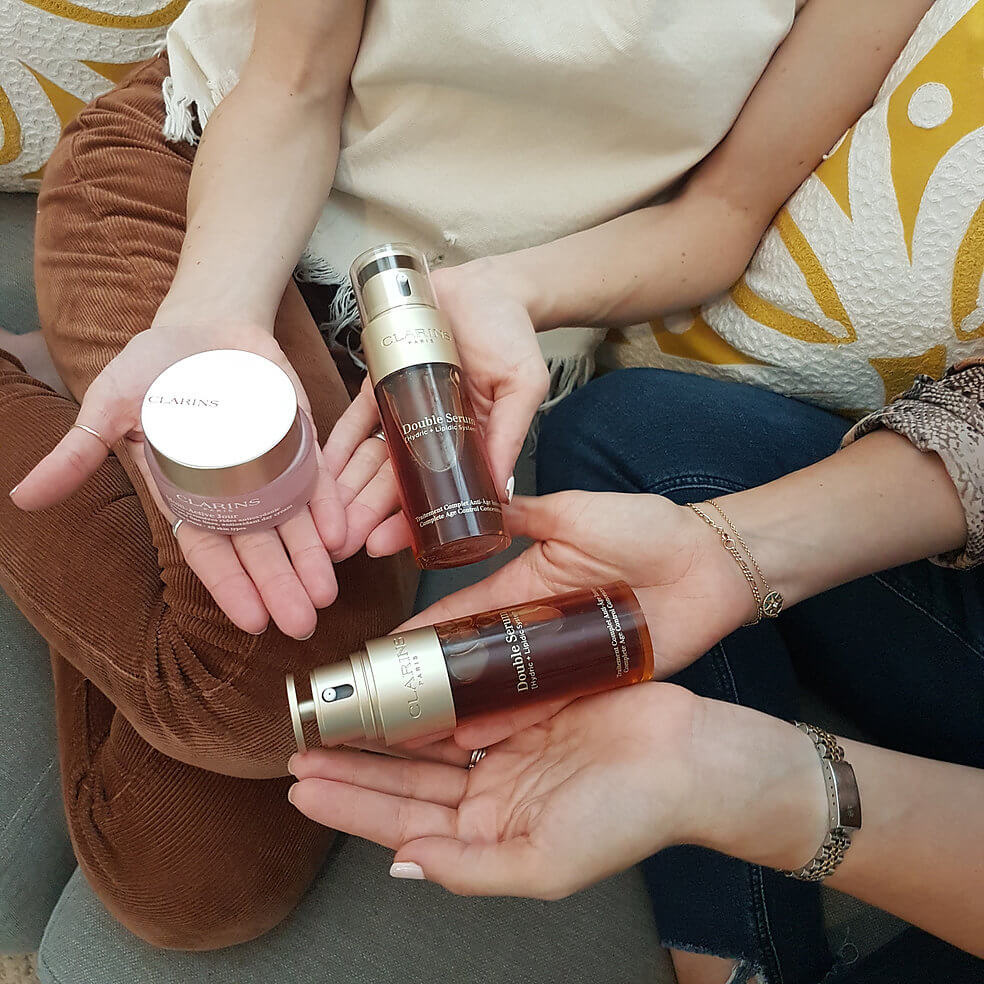 Without a shadow of a doubt, this is worth its weight in gold. We promise you. Gemma has been leaving the house WITHOUT foundation for the last week, her skin looks so good – her pores have disappeared, wrinkles have smoothed out, the GLOW is BACK. We kid you not. We are being sponsored to write this post and to tell you about Double Serum, we but we aren't being sponsored to tell you that. That's all us.
The innovative bottle consists of two chambers. Press the button down and it releases an equal dose of both an oil based serum and a water based serum. The clever bit here is that by keeping them separate until they are in the palm of your hand, you get the most potent formula possible. Remember what we were saying about using fewer products that do more? Well as well as super-hydrator hyaluronic acid, there are also 21 plant extracts here. 21! If you think about it, most products contain around six or seven, then this is pretty major. Including the new ingredient here that Sam was shown in Paris 18 months ago is turmeric (you've probably heard of it as it's the trendiest tea in town right now) – it basically gives your skin everything that it needs, in one dose. It's a bloody powerhouse of a serum so if you've been wondering what to invest in when it comes to serums (or are feeling as clueless as Gemma was about the whole serum thing) then we would say to go for this.
As well as the serum, which quite frankly Gemma would like a life times supply please, we've also been using the Clarins Multi-Activ Day as our skin has become much more dehydrated post-summer and needs an extra bit of cushioning. As far as daytime moisturisers go, this has everything. The genius ingredient here is Myrothamnus extract which minimizes the impact of daily stress on skin. HELLO!! This is everything that we need. The formula feels so luxe and creamy you want to put it on, it's not sticky, absorbs easily and we swear helps our make-up stay put better.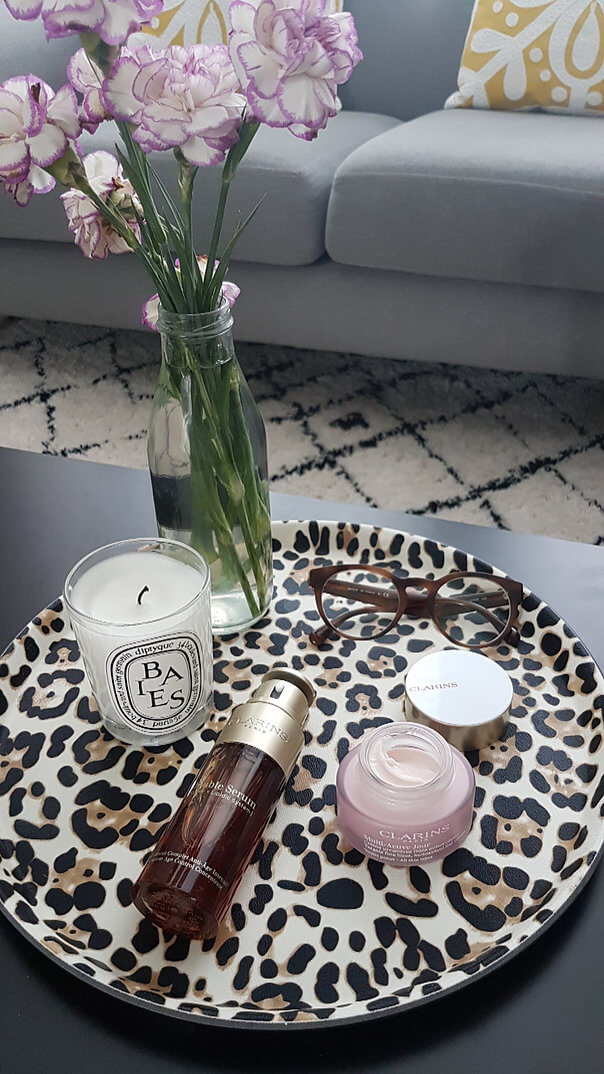 We've banged on about this so much, that we asked Clarins if there was anything that we could do to give you guys the chance to try it. Our luck was in! As is yours.
We have been given a very generous amount of complimentary Clarins sets to give away – see the pic below!!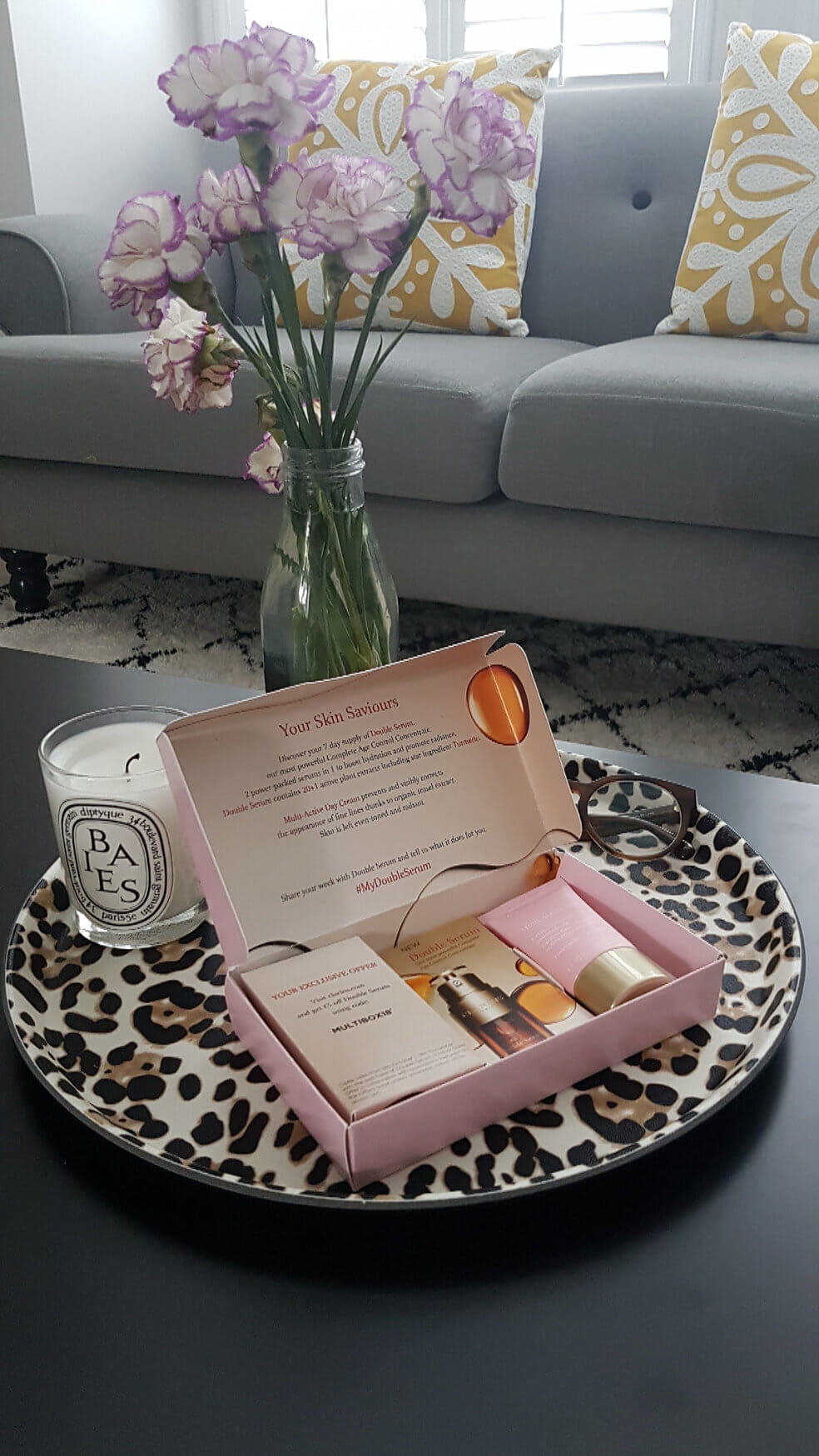 To get your hands on one of these, all you need to do is click here to claim your complimentary Double Serum sample box, containing a 7-day sample of Double Serum and our fave moisturiser, Multi-Active Day Cream – it's THAT simple.
LET US KNOW WHAT YOU THINK!!
We have been sponsored to tell you about Clarins Double Serum but all of the words are ours – they haven't asked to see this post before it went live or told us what to say. We promise you that this review is 100% true and honest. #MyDoubleSerum