Skincare can be a really confusing world but once you have grasped the science bit, it all begins to make sense.
Acids – though the name might sound terrifying – are one of the easiest, fastest and most sure fire way to revitalise your skin and have you glowing in no time.
I'm going to break it down simply so by the end of this blog post you should feel completely knowledgable and know what to use where and when. I've covered plenty of price points, so whatever your budget you'll find something that works for you. And within a few weeks, you'll have the dramatically transformed skin of your dreams…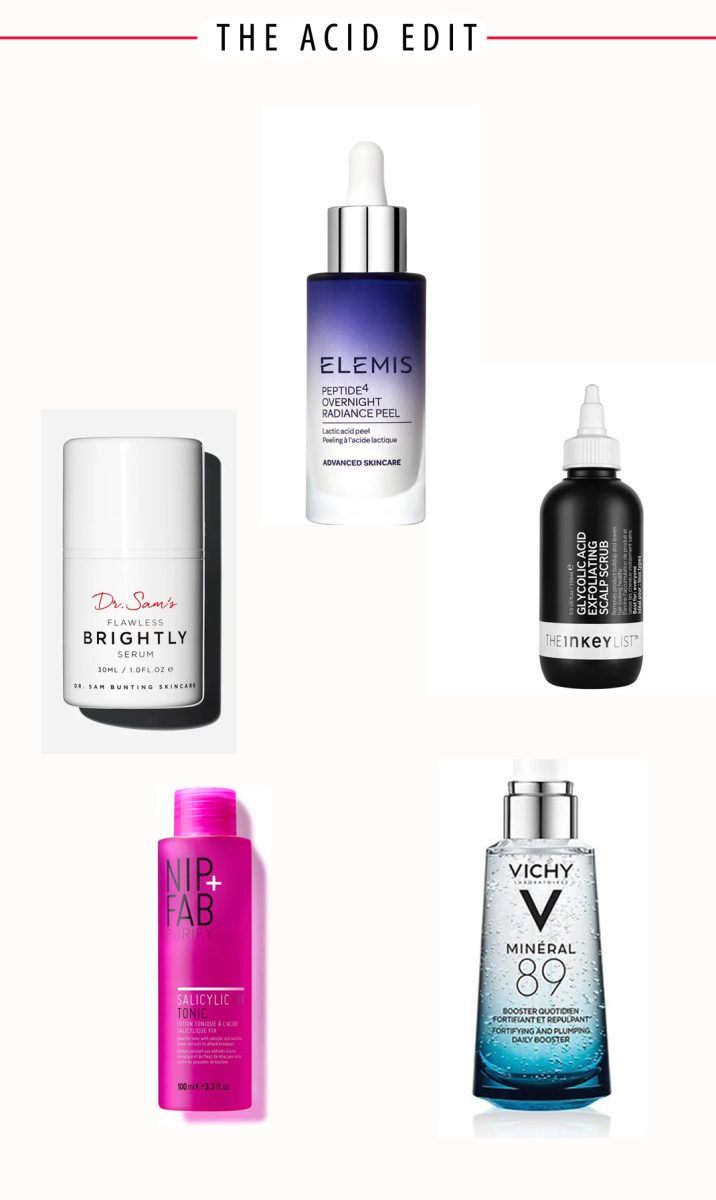 SO, WHAT ARE THEY?
Put simply, acids work on the superficial, top layers of the skin, dissolving and breaking down the bonds between skin, sloughing away the dull, bumpy, older skin cells and revealing a fresher, more even surface layer. So which should you be using for your specific skin type?
SALICYLIC ACID: FOR BLEMISH PRONE SKIN
The one for blemishes. Whether hormonal or you just can't shake the odd spot even though your teen days are long behind you (me!) this is the one. It's a BHA (best for normal-oily skins) that works by loosening the attachments of skin cells, diving down to deeply cleanse, exfoliate and unclog pores. Introduce it into your regime by using every 2-3 days to begin with.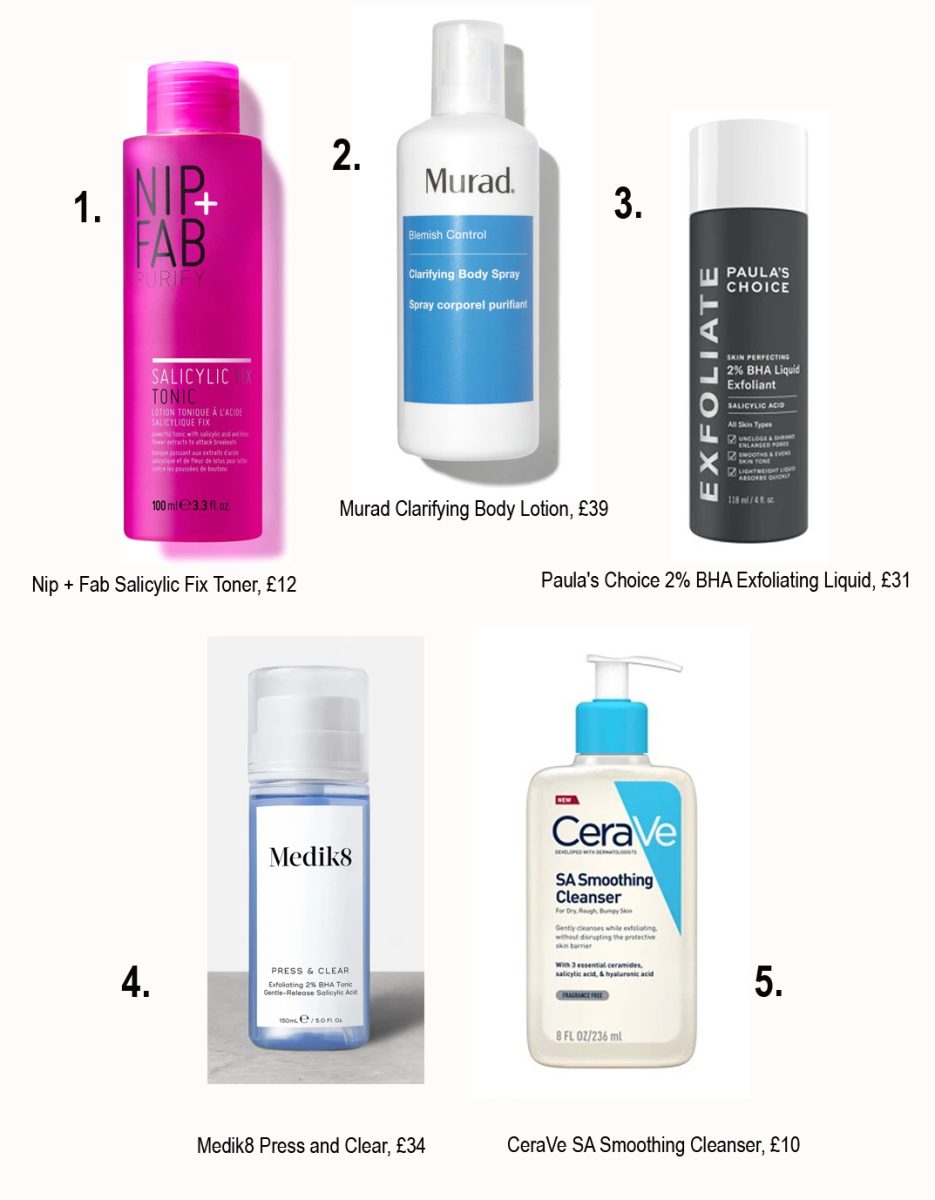 SHOP THE EDIT:
1: Nip + Fab Salicylic Fix Toner, £12 // 2: Murad Clarifying Body Lotion, £39 // 3: Paula's Choice 2% BHA Exfoliating Liquid, £31 // 4: Medik8 Press and Clear, £34 // 5: CeraVe SA Smoothing Cleanser, £10
GLYCOLIC ACID: FOR BUMPY SKIN
Treats bumpy skin, age spots and acne scars. It penetrates deeply into the skin and 'un-glues' dead skin cells from the skin surface making it brighter and smoother. It can also help other skincare ingredients absorb better, like Vitamin C. Use in the evening.
Anything higher than 20% is considered a peel so start on the lower end of the scale. It can increase sun sensitivity so use an SPF in the mornings and skin may feel a little dry at first so ensure you moisturise well.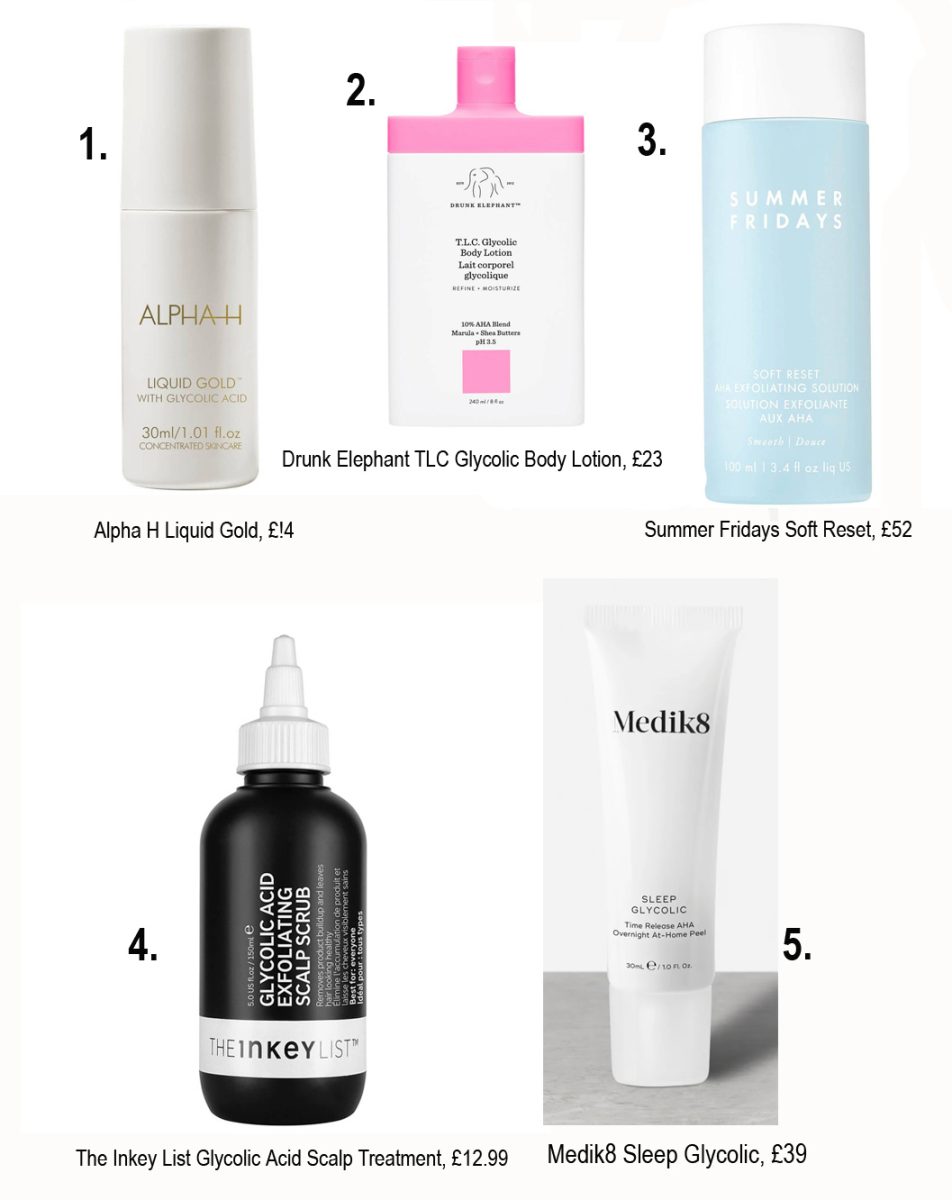 SHOP THE EDIT:
1: Alpha H Liquid Gold, £14 // 2: Drunk Elephant TLC Glycolic Body Lotion, £23 // 3:
Summer Fridays Soft Reset, £52 // 4: The Inkey List Glycolic Acid Scalp Treatment, £12.99 // 5: Medik8 Sleep Glycolic, £39
LACTIC ACID: FOR FIRST TIMERS
Ideal for first timers, it's a milder AHA than Glycolic is and so better suited to more sensitive skins or those trying an exfoliating acid for the first time. Works a treat on pigmentation. Great for dryer skins as it helps to hydrate too.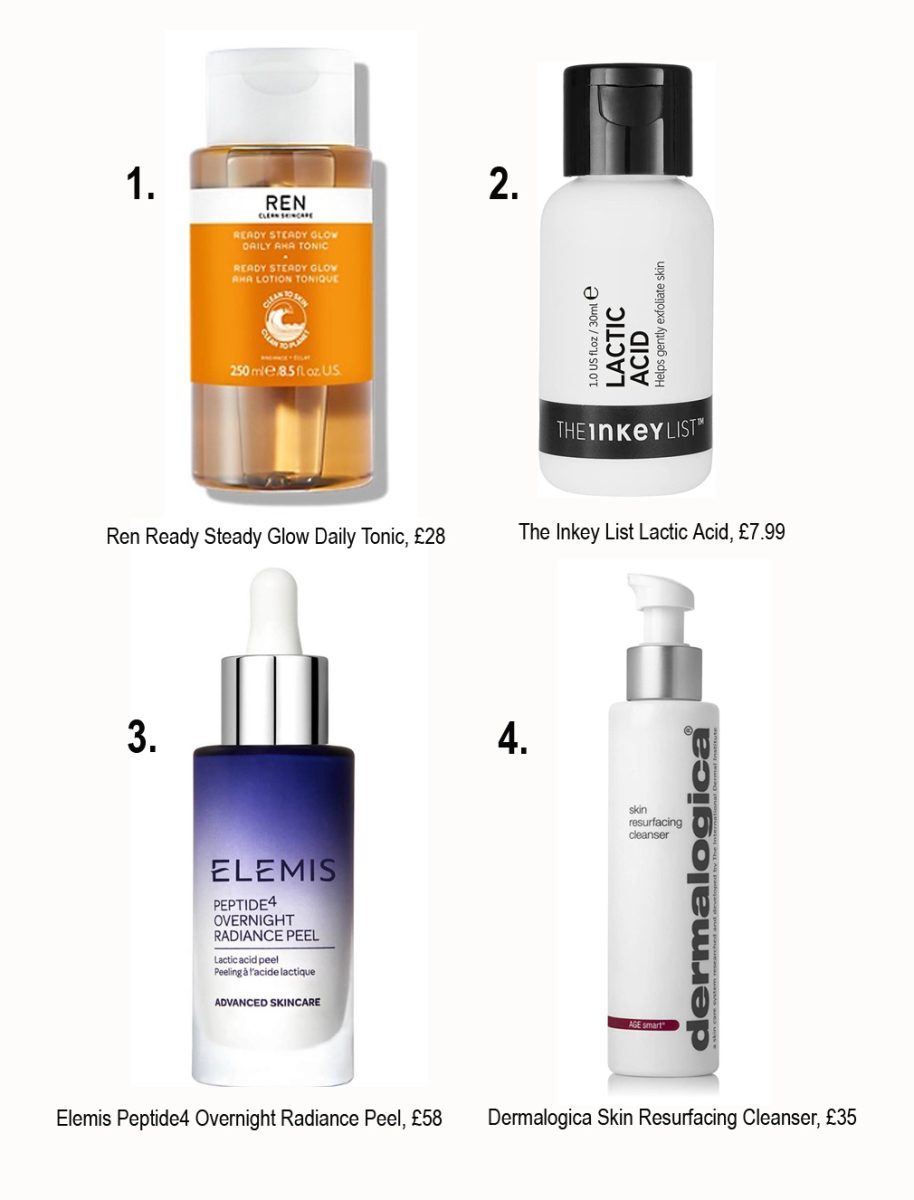 SHOP THE EDIT:
1: Ren Ready Steady Glow Daily Tonic, £28 // The Inkey List Lactic Acid, £7.99 // 3: Elemis Peptide4 Overnight Radiance Peel, £58 // 4: Dermalogica Skin Resurfacing Cleanser, £35
AZELAIC ACID: TO TACKLE PIGMENTATION
This helps to reduce hyperpigmentation by inhibiting an enzyme called tyrosinase, involved in melanin production. It's also an antioxidant (good anti-ager) and anti-inflammatory (can help calm redness)
Use once a day on clean skin. It's a mild exfoliant so you may see a little bit of peeling but follow with moisturiser and you should be ok. On the whole it's quite gentle so results should show in a few weeks.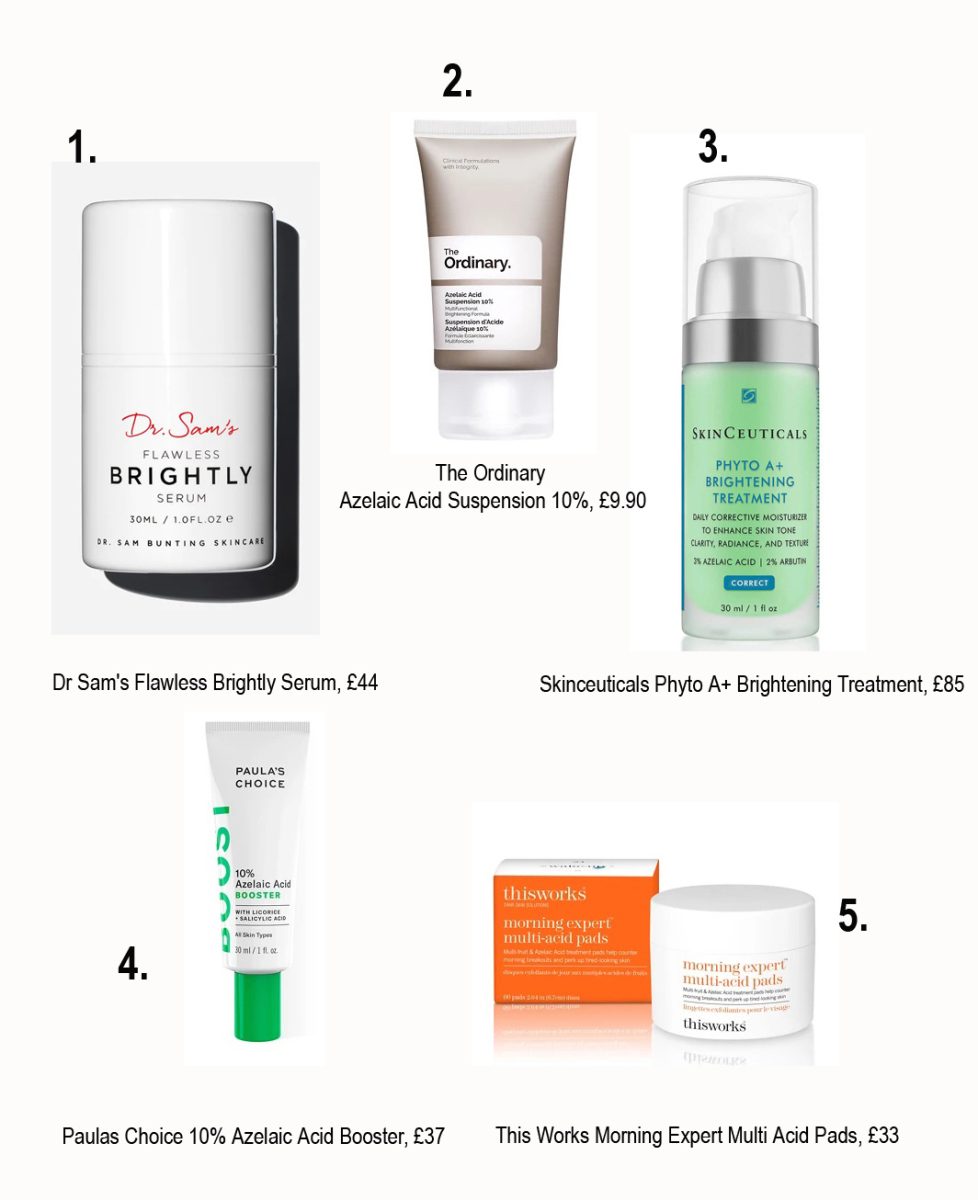 SHOP THE EDIT:
1: Dr Sam's Flawless Brightly Serum, £44 // 2: The Ordinary Azelaic Acid Suspension 10%, £9.90 // 3: Skinceuticals Phyto A+ Brightening Treatment, £85 // 4: Paula's Choice 10% Azelaic Acid Booster, £37 // 5: This Works Morning Expert Multi Acid Pads, £33
HYALURONIC ACID: THE SUPER HYDRATOR
A saviour in skincare form, its primary function is to restore and retain moisture within the skin. It won't clog pores and it doesn't cause breakouts. Hero.
Always apply to damp skin, this way it can draw that hydration into the skin, and layer your hyaluronic serum under moisturiser to help seal it in, forming a barrier.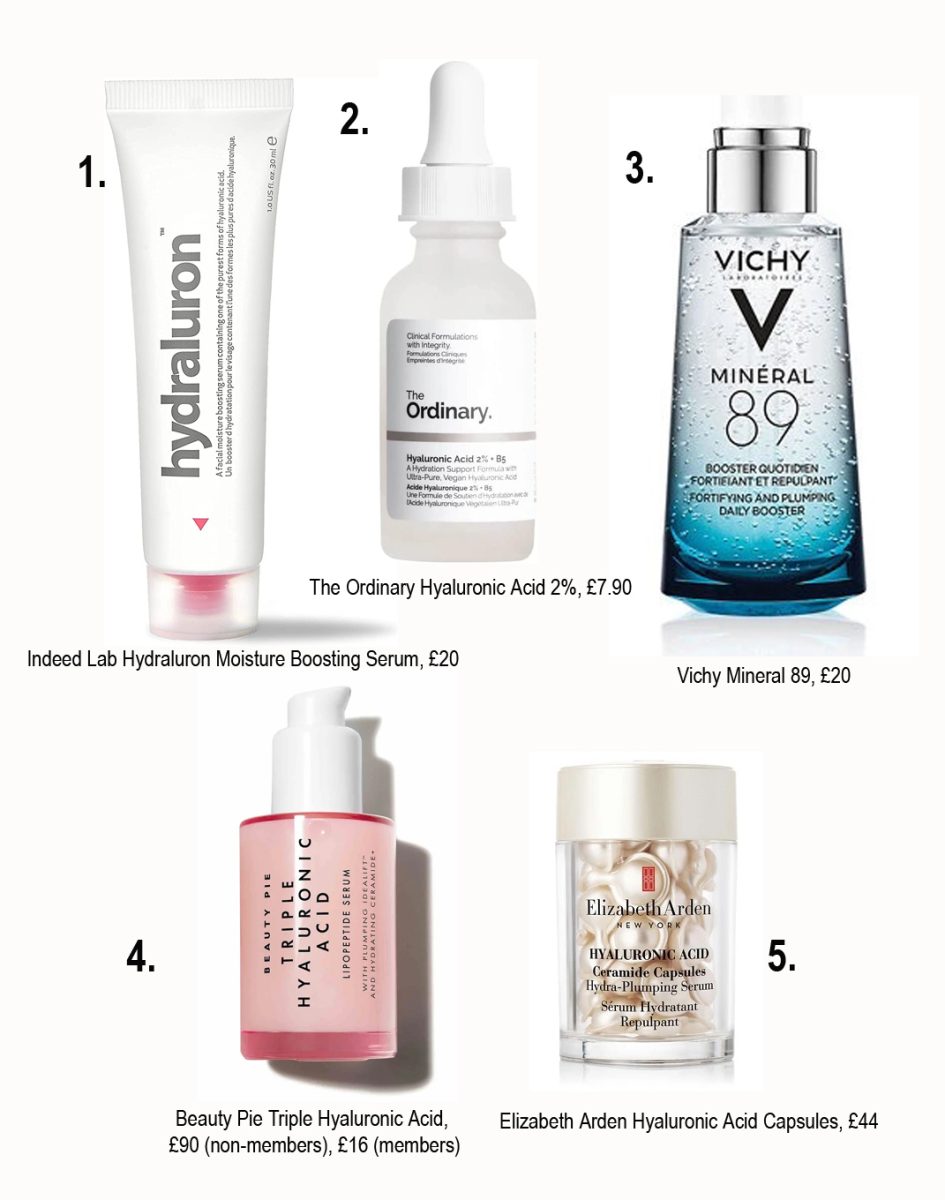 SHOP THE EDIT:
1: Indeed Lab Hydraluron Moisture Boosting Serum, £20 // 2: The Ordinary Hyaluronic Acid 2%, £7.90 // 3: Vichy Mineral 89, £20 // 4: Beauty Pie Triple Hyaluronic Acid, £90 (non-members), £16 (members) // 5: Elizabeth Arden Hyaluronic Acid Capsules, £44
L-ASCORBIC ACID (AKA VITAMIN C): TO GET THAT GLOW
This is an antioxidant that protects skin from environmental damage. It has a natural effect of reducing pigmentation which means brighter, glowier skin.
Use it in the morning on cleansed skin. Also (techy bit coming), check the ingredients list. It's water soluble so if there's 'aqua' in the ingredients list, it'll dissolve fast, affecting potency. It also oxidises when exposed to air or light so packaging that isn't clear and that remains tightly closed is a must.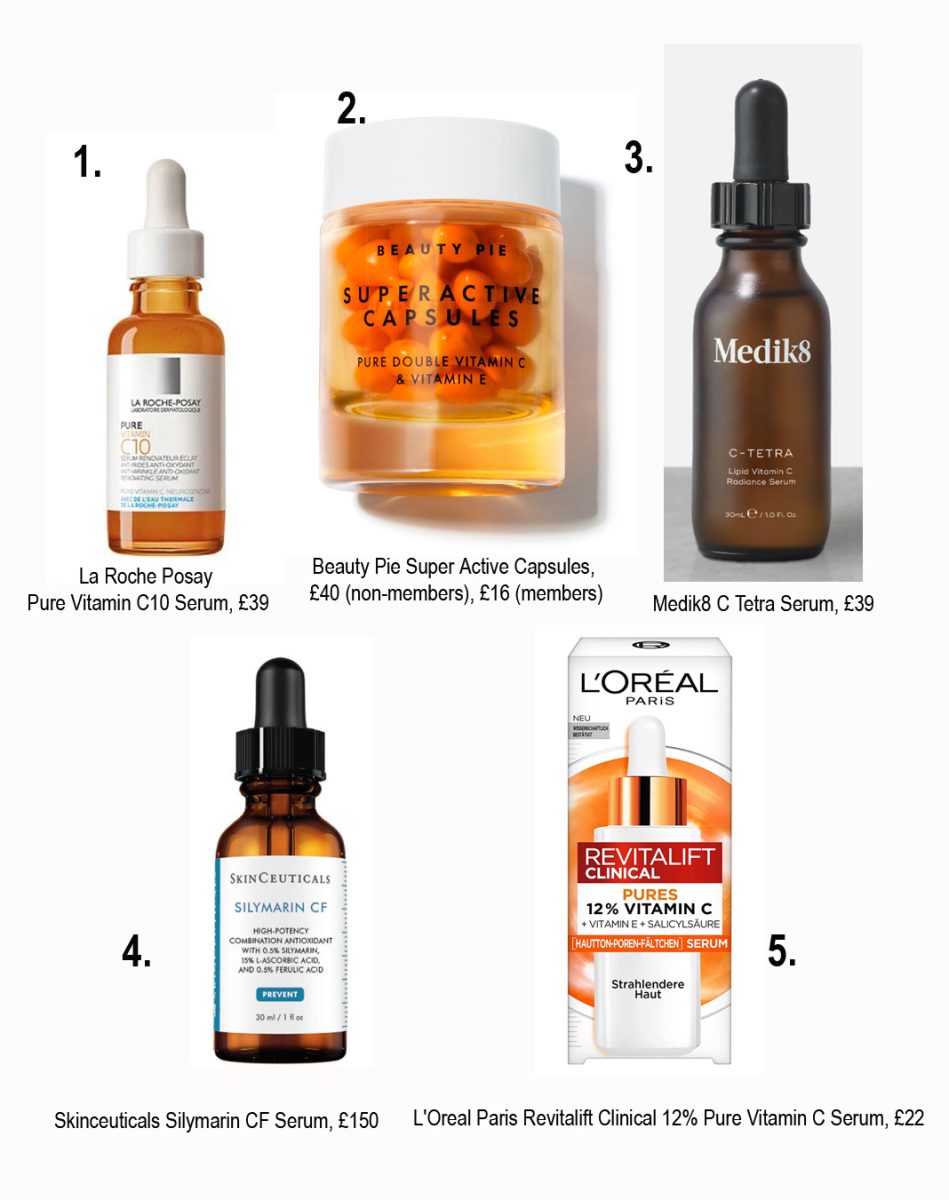 SHOP THE EDIT:
1: La Roche Posay Pure Vitamin C10 Serum, £39 // 2: Beauty Pie Super Active Capsules, £40 (non-members), £16 (members) // 3: Medik8 C Tetra Serum, £39 // 4: Skinceuticals Silymarin CF Serum, £150 // 5: L'Oreal Paris Revitalift Clinical 12% Pure Vitamin C Serum, £22