We get asked this question a lot so we though that the most helpful way of answering it would be to write it all down in a post so that it will always be here to refer to.
When we first found out that we were pregnant, we were scared/excited/happy/petrified/worried all at the same time. A million things were running through our heads at once. There are so many things we thought about when we become pregnant, and shallow though it may be, the ingredients in skincare products and how to avoid stretch marks was one of them. Now, we need to point out that there is absolutely nothing wrong with stretchmarks. We have them, and we wear them proudly as a symbol of how incredible our bodies are. But there's no harm in keeping your skin as supple as possible, because your body has a lot of stretching to do. It's going to be doing a lot of hard work for you over the next nine months, so you may as well treat it right.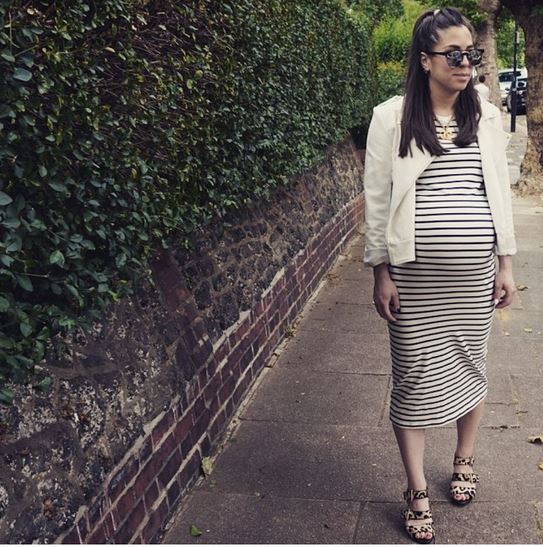 Ever the minimalist, Gemma swore by
Bio Oil
every evening. But when it comes to beauty, obviously I like to leave no stone unturned so I gave everything a try, often slathering on a double dose of products when it came to my bump. But I was careful with ingredients. It was like a wave of maternal responsibility had washed over me and it seemed as if the simplest act like washing my face could bathe my unborn child in harmful chemicals. Here's what I liked…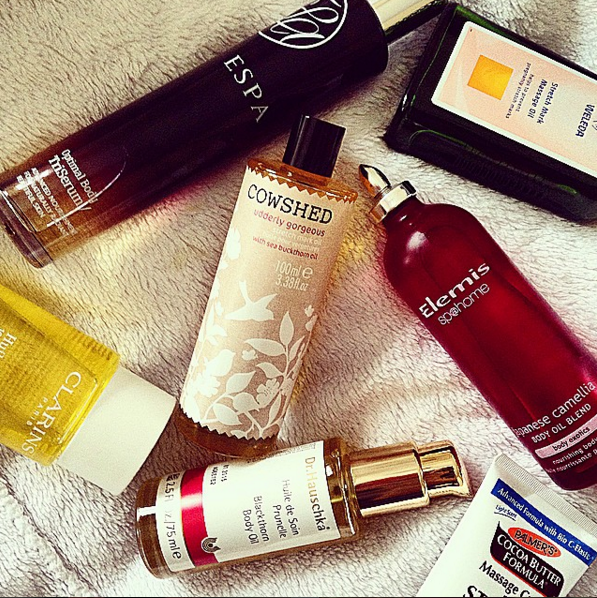 BODY:
I loved the ritual of applying products to my growing bump, it felt like a little bit of bonding time at the end of a hectic day, just me and my baba. Again, we just want to point out that no stretch mark cream is the miracle that it's touted to be, as what is effectively happening is that the middle layer of skin (called the dermis) becomes stretched beyond its elastic limit. But, by keeping the skin hydrated using oil-based products, you can keep skin strong and supple, minimising the chances of over-stretching.
I went through bottles of this
Weleda Stretch Mark Oil
, it felt really luxurious and hydrating but it was quite unctuous (Gemma had to google this word, so for the non beauty experts out there, it means oily) and took a while to absorb so on night that I was exhausted and needed to get to bed quickly, I used this
Elemis Japanese Camelia Oil
– and not just because it's what Victoria Beckham used – (also available to buy
here
+ a free gift) and I often topped up with some of this
Palmers Stretch Mark Lotion
.
I'm not pregnant but I have a lot of friends who are and over the last year or so, I've discovered lots of gorgeous new brands that I like to gift them when they announce their happy news. Bloom & Blossom is one of them – in particular this
Pregnancy Heroes Kit
which is such great value. Or for the same price, go for the
Anti Stretch Mark Cream
– pregnant skin gets increasingly dry, so if you can't bear the thought of oiling up every night, try this cream.
BATH TIME:
I loved a bath when pregnant, it was the only time I ever felt 'light' and I became obsessed with these pregnancy safe bath salts from
Cowshed
. It was my little luxury at the end of the day and the ingredients are nice and safe to wallow in. With himalayan crystals and seabuckthorn oil, my skin always felt silky soft and hydrated afterwards. On nights I used this, I skipped the oils completely. Although for all of your bath lovers, you do need to dial down the temperature on baths while pregnant.
Your Print Out + Keep List of Ingredients to Avoid Whilst Pregnant
Retinol, Retin-A and Retinyl Palmitate: while studies show the amount of retinoids absorbed more than skin deep is very low, some reports have found an association between birth defects and topical retinoid use – avoid to be safe.
Benzoyl Peroxide: Often found in spot treatment products. Although typically only small amounts of the ingredients in topical acne treatments are absorbed by the skin, the safety of benzoyl peroxide during pregnancy hasn't been established. Best to avoid unless your doctor advises you otherwise.
Salicylic Acid: If you're into exfoliation and skin renewal, your life isn't totally on hold, speak to your doctor and choose another like AHA's, Glycolic, Lactic or Mandelic acid.
Certain essential oils: Certain oils are powerful enough to bring on early labour. Avoid nutmeg. rosemary, basil, clary sage, jasmine. For more info, click
here
.