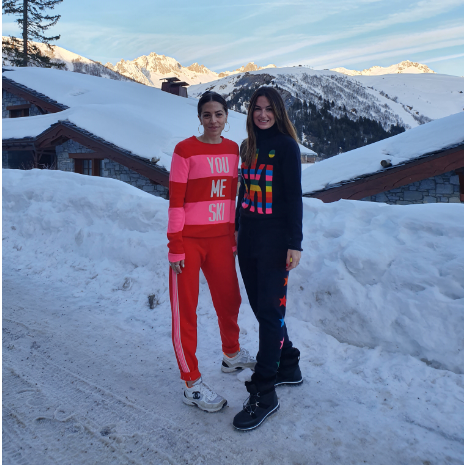 A while ago Club Med approached us and asked if we would like to go skiing with our families. Our initial thoughts? Our husbands (both die hard skiers) would LOVE it, the logistics with the kids would be a nightmare, oh and and Sam has never skied (Gemma last skied 20 years ago) Therefore surely we would both rather lay on a beach than go on holiday, to do a sport, in cold weather (we don't like sports and we don't like cold weather.)
But boy oh boy are we glad that our husbands persuaded our stubborn selves to not be so selfish and to try something new. We had the most brilliant time. The fresh mountain air, doing something daily that got our hearts racing, the kids club, the unlimited food and drink, the sunshine, the hot chocolates overlooking Mont Blanc, the fact that you need to focus on what your feet are doing so you can't think about menial life tasks like laundry and after school club schedules. We could go on and on, but instead we are going to break it down for you in categories so you can read what you want, and skip what you aren't interested in.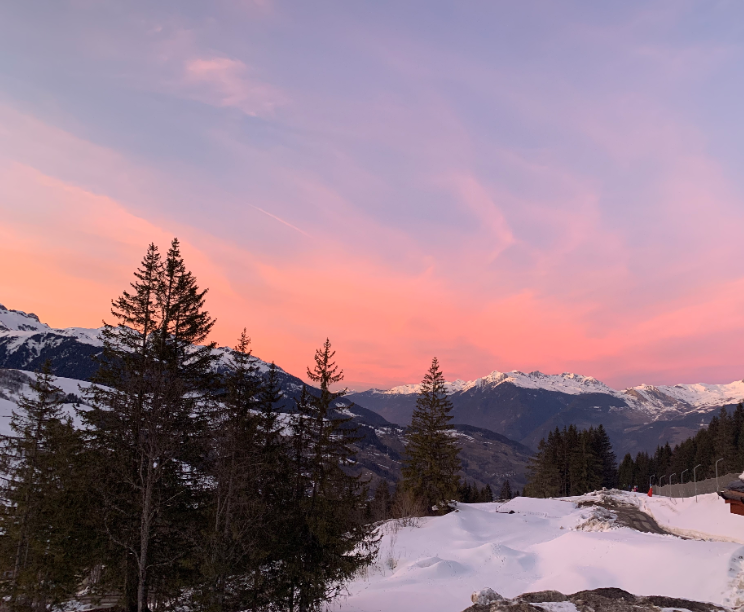 THE LOCATION & THE TRAVEL
We stayed at Club Med Valmorel. We flew with Jet 2 from Stansted to Grenoble. Then it was a 2 hour transfer to Valmorel.
THE ACCOMODATION
Club Med Valmorel has 2 types of accommodation. You can either stay in the hotel, or in chalets. We each stayed in a 2 bed chalet. They have a free shuttle that goes from hotel to chalets whenever you need it. It's a 3 minute drive.
The chalets were great because we had loads of space for the kids to play, balconies with the most exquisite views and amazing giant jacuzzi style baths. They were so cosy, like a little home away from home. Because of the age of our kids, when they were asleep it meant that we could settle down on the sofa and watch a movie with a glass of wine rather than hide in a dark hotel room.
Next to the chalets was a chalet reception, which had a lounge that you could sit in anytime. Each night from around 5pm they brought out drinks and canapes, so you could sit in front of the fire and snack. One evening they had a band playing in there too.
Sam got chatting to her ski school friends who had slightly older kids and they really enjoyed staying in the hotel because their kids were old enough to stay up late and join in all of the evening entertainment.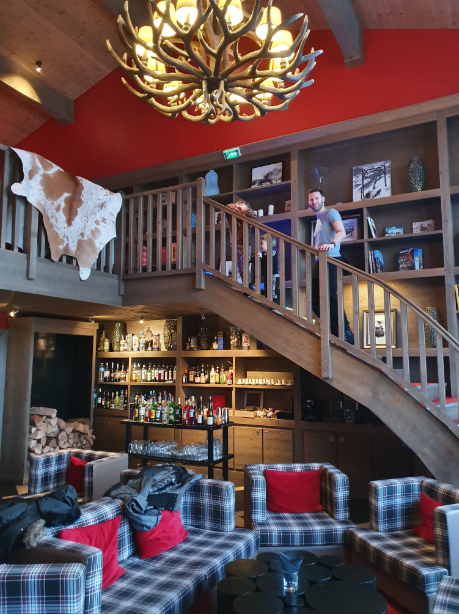 THE FOOD
Each chalet comes with a 'butler' who lays out breakfast in the morning, then tidies up the chalet, and sets out an afternoon tea for when you arrive back later on.
In the main hotel restaurant there is a huge buffet, with loads and loads of options. We ate lunch and dinner there most days and didn't get sick of the food. Sometimes (most days…) we would take down tupperware and take some food to leave in the chalet fridge. Most days we would pop some desserts in them and take them back to the chalet so devour in front of the fire & TV once the kids were in bed!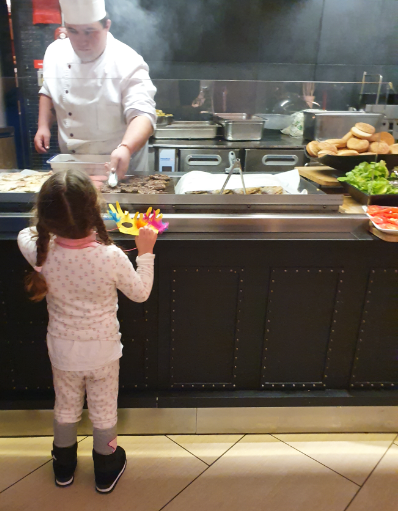 At 6.30 every evening (apart from on Sundays) there is a kids restaurant so on some nights we would take the kids to eat there first, then go back to the chalet and once they were in bed we would order room service for ourselves.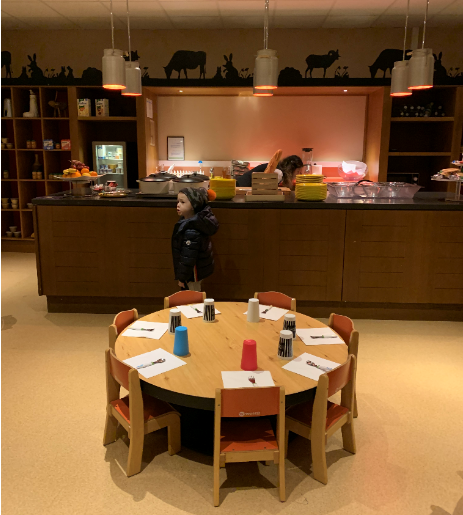 As a side note, the room service menu is pretty limited and no options for kids so we only did this once or twice.
THE SKI
Even though we were all different levels, we all booked ski lessons. The older kids (age 4) were in a lesson together, we both started in beginner lessons, and Breegs & Nick went off on their own adventures. By day 2 it had all come back to Gemma so she went out with the boys, and Sam stayed in the lessons all week to build confidence and learn techniques. By day 3 she skied down a proper mountain herself!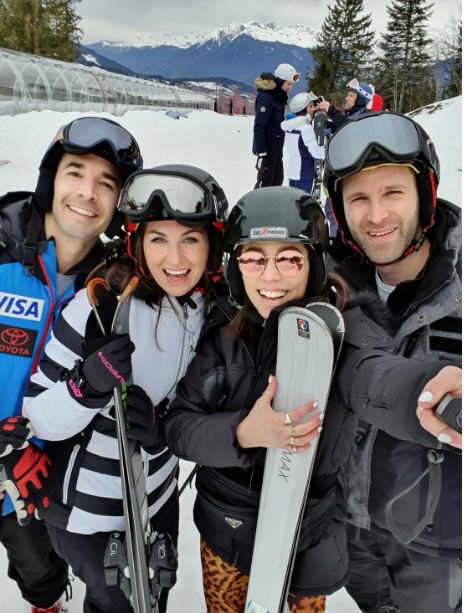 Both of our kids started off with lessons, Belle wasn't keen on the actual skiing so stayed inside in the kids club, but Leo did the lessons everyday. By day 2 he could ski (better than Sam) and as soon as the kids learn to turn and stop, they're taken out onto the big mountain. In terms of age, ski lessons start at 4, you could hire a private ski instructor from age 2, but in all honestly, we'd probably recommend that you wait until your kids are 4 to start so that they can fully understand.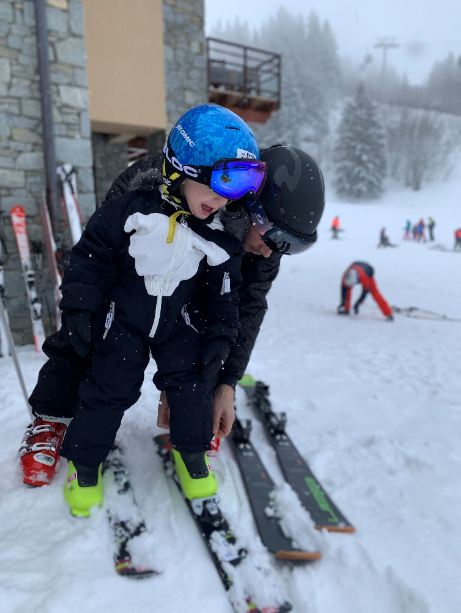 The standard of the ski lessons were excellent. The instructors knew how to teach and push you out of your comfort zone in order to get your skiing to a high standard quickly, whilst being fun too.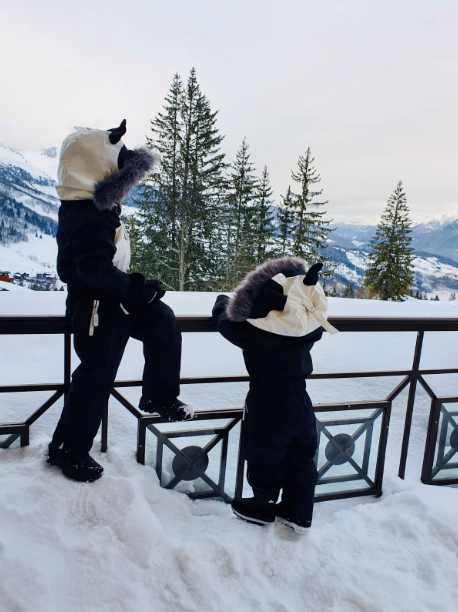 CHILDCARE
The babies were in a brilliant creche which they loved. It was large, clean and we got the same kind of feedback daily as we do at nursery here. Shout out to Coline who ran the kids club who loved the boys. They were so happy and practised and performed the cutest little show at the end of the week.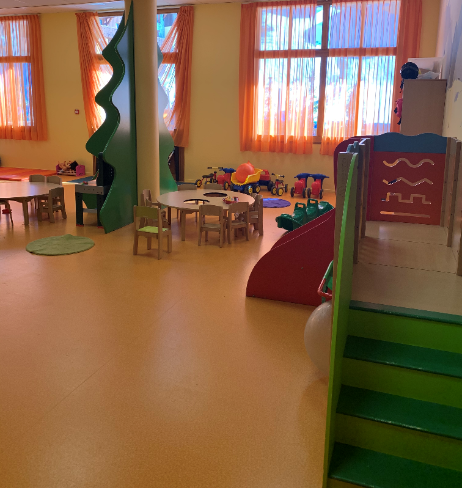 It's worth mentioning though that the kids club (which is for age 4+) isn't your typical 'kids club'. Once you hit age 4 and move into ski school, the focus is on learning to ski. The external ski instructors all speak English, but there isn't so much to do inside the kids club if you don't fancy skiing. Belle spent the mornings happily drawing/playing games in there, and Gemma ended up taking her out each afternoon on the slopes herself.
THE CLOTHING
We overpacked. Hugely overpacked. All you need for each person for the skiing part is an appropriate ski suit, or trousers and jacket. We wore Superdry, Topshop and ASOS. The kids wore Alex and Alexa & DinoSki. A couple of thermal tops, thermal leggings and thermal socks (we found Marks and Spencer thermals the warmest for us and the kids.) A neck warmer, ski goggles (sunglasses won't do because the wind & snow will get in your eyes,) and proper ski gloves.
For l'apres ski we were in leggings & jumpers with snow boots every night. Snow boots are key, we almost didn't bring them but you literally wear them the entire time apart from when you have ski boots on. They need to be warm and have a good grip.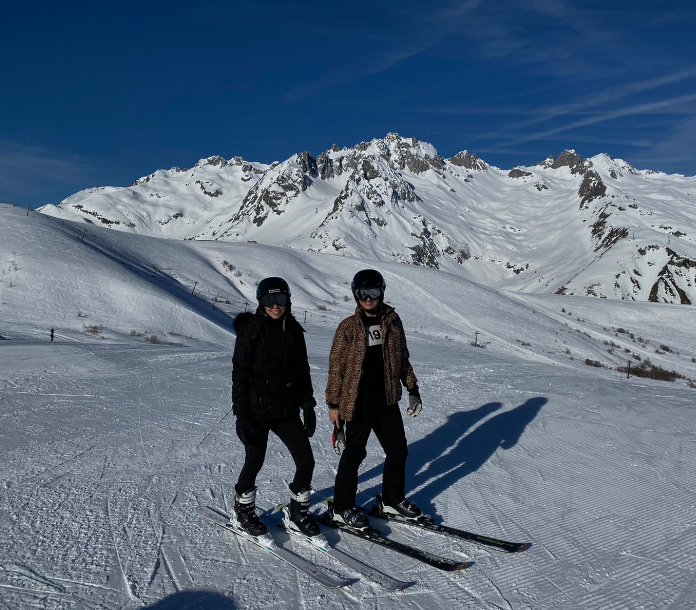 AND THE REST
It's funny getting your head around a holiday where you spend a lot of your time alone. But once we got into the swing of things our day pretty much went like this:
8:15 – big kids collected via shuttle for Ski School
8:30 – babies dropped off at creche
9:15 – adult ski school starts
12pm – everyone arrives back at the hotel to be greeted by a big party/ fondue/ champagne. We collected the big kids (they could eat with the other kids but we liked to get them) and ate with them in the restaurant while the babies had their nap.
2pm – back to ski school or spend the afternoon all together playing in the snow. We bought mini sledges from the village shop for 5E and the kids loved them.
4pm – everyone arrives back at the hotel, collect the babies and all hang out in the bar where there's entertainment and more food!
There was a bit of a language barrier when it came to understanding how a ski holiday works. In all honestly we felt a bit intimidated when we arrived having never been on this kind of holiday before, we didn't understand the lingo, the logistics and the information wasn't offered readily (it took us a few days to find out about the kids restaurant etc) but once we found out anything that we needed to, then Club Med truly does cater for everything that you could want.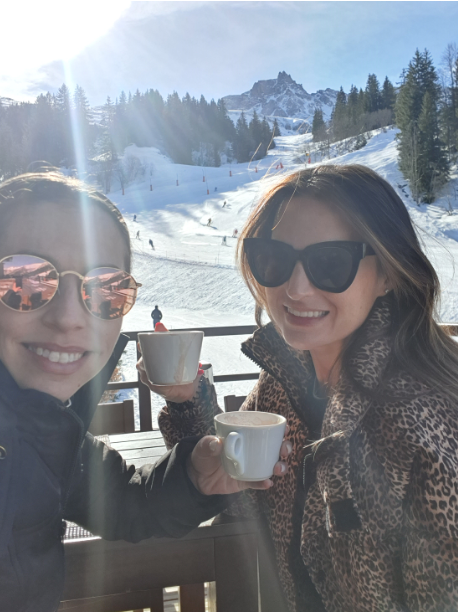 As we are now ski converts (much to our husbands delight!) we've realised that if you are planning a trip like this, staying in a resort like Club Med makes the whole experience less overwhelming and more enjoyable. For us, inclusive childcare and a ski in/ski out resort are imperative to make the holiday as enjoyable and as stress free as possible. As Club Med organise everything for you (tranfers, ski passes, ski gear hire if you want it, childcare and obviously all the food/drink is included) so you don't need to worry about a thing when you get there.
We hope that this was helpful. This trip was gifted in exchange for an honest review. Club Med have given us a 20% discount on trips taken before August 2020. If you would like to book Club Med Valmorel using the code then please ring 0844 326 1777 and quote This Is Mothership.