We all want the post-holiday tell-tale tan to show off when we land back on UK soil, but do you return home with a few unwanted skincare souvenirs too? Dry, flaky skin and pesky break-outs put a dampner on that apres-sun glow. When you combine the high altitude, increased UV exposure, and recirculated air of an airplane, it can be a recipe for complexion disaster.
Your preflight checklist should include more than just your boarding pass and carry-on—how you prep your skin beforehand is just as important. From inside-out hydration to packing layers in your hand luggage, here how to land looking—and feeling!—totally refreshed.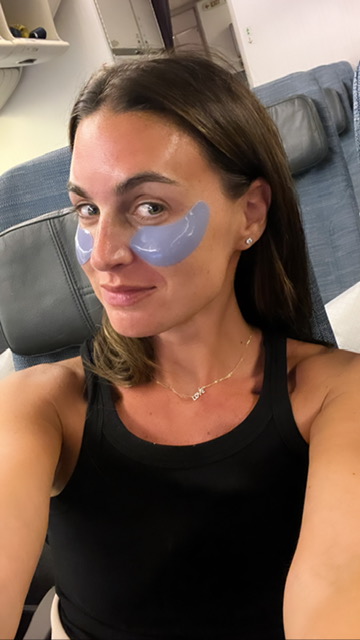 PREPARE FOR TAKE OFF
That's make-up removal I'm talking about. Those in the know never travel with a full face. If you can't bare to make it through the airport without anything on your skin, make sure you pack a mini micellar and reusable cotton pads into your hand luggage and remove everything as you get settled. Anti-bac those hands first.
RE-HYDRATION STATION
You lose up to 30% of the skin's moisture after a four-hour flight. Plane cabins are pressurised to simulate conditions found at 7,000 feet – the equivalent of being on top of a mountain— so less blood and nutrients are transported to the surface of your skin.
Your body loses roughly one cup of water for every hour you're in the sky. Drink as much water as you can get through while in the air. Moisture is also pulled from the skin as the humidity drops, leaving it super thirsty. This can lead to oily skin, breakouts and puffiness. This is where skincare layering comes in: think humectants, occlusives and emollients. I swear by anything containing hyaluronic acid when I fly; a molecule that can hold up to 1000 times its own weight in water.
Layer up; a mist, a serum, a sheet mask – when you apply a sheet mask Masks are the best way to intensely hydrate the skin during a long-haul flight. it decreases water evaporation and the hydrating ingredients are absorbed better. Leave it on for the recommended 15 to 20 minutes, then massage any residue into your skin.
Don't forget your lipbalm – a stick, not a pot if we're being fussy – germs!
PREPARE TO BATTLE PUFFINESS:
Air pressure combined with fluid retention from salty in-flight snacks and sitting for long periods create the perfect storm for making your face look puffy. Inflight plane food is loaded with salt, and unless you're my husband who loves plane food, you'd probably be happy to give it a miss and swap it for fruit or a sandwich from Pret & a bit of facial massage instead.
Using a hydrating serum or facial oil; sweep your hands from your chin to the bottom of your ear, down to the collar bone a few times to flush away excess fluid. Do the same from the cheek, to the middle of your ear, down to the collar bone. And repeat.
LAYER UP:
Flying during the day? SPF is just as important while you're in the air as it is while on land. In fact, UV radiation levels are twice as high at 30,000 miles (the altitude of most commercial flights) than they are at ground level. Finish off your in-flight routine with a layer of SPF – and hop off the plane with flawless skin when you touch down on the tarmac.
IN OUR HAND LUGGAGE
(all under 100ml)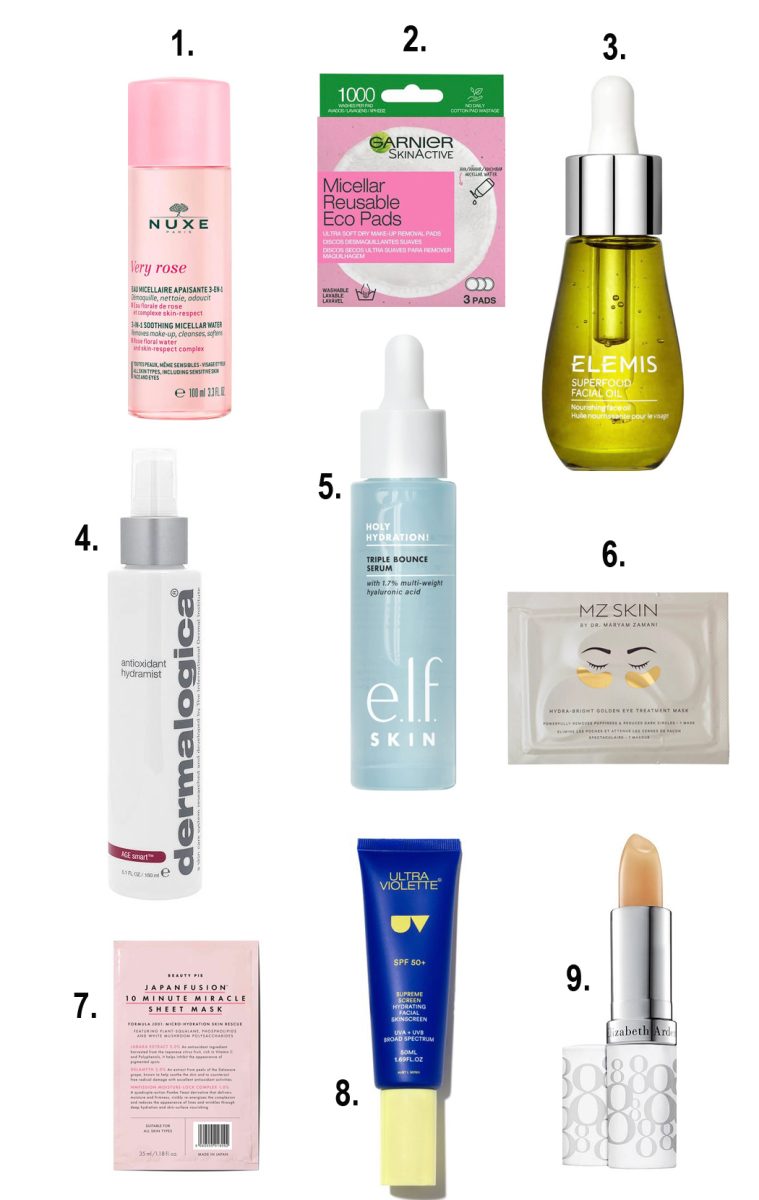 [tap links below to shop]
1: Nuxe 3 in 1 Soothing Micellar Water, £10 // 2: Garnier Reusable Make-up Remover Pads, £6 // 3: Elemis Superfood Facial Oil, £36 // 4: Dermalogica Age Smart Antioxidant Hydra Mist, £12 // 5: Elf Holy Hydration Triple Bounce Serum, £12 // MZ Skin Hydra-Bright Golden Eye Treatment, £75 for pack of 5 // 7: Beautypie Japanfusion 10 Minute Miracle Sheet Mask, £7 members, £16 non-members // 8: Ultra Violette Supreme Screen Hydrating Facial Sunscreen SPF50, £34 // 9: Elizabeth Arden 8 Hour Lip Protectant Stick, £18