I get asked questions about my Dubai trips on an almost daily basis so I thought it was about time I committed all of this to the blog, to make it super simple to refer back to.
We've been to Dubai five times now. The hotels – any hotel our there, I believe – are faultless and the service is incredible. Because of that, it can be hard to narrow down where to go. Price obviously is the most important factor, and after that it's all about finding ones that work for you and for your family – in terms of location, facilities and vibe.
Do you want calm and serenity? Do you want more of a party vibe? Do you need places to walk to within the resort or would you be happy getting cabs to restaurants.
We stayed twice at the Four Seasons when my kids were very little. The hotel is beautiful, the service is faultless (when we were deep into our superhero phase, the staff at breakfast gifted Leo the most exquisite Batman mask and cake on our last day) and the facilities are absolutely stunning. In terms of restaurants, you have all the fancy ones there – Nusr-Et, Scalini, Coya – which can make things pricey, unless you want to leave the hotel and eat elsewhere, or eat in the lobby.
As my kids got bigger and needed more space, we looked for other hotels with more facilities' – water parks, football pitches etc. They started to eat more too, which becomes pricy on holiday. That's when we discovered Jumeirah al Naseem.
I would describe the Jumeirah strip as similar to Sani; one big private beach resort with five hotels set around the Madinat. You can use whichever beach, swim in whichever pool, and eat in whichever restaurants you want.  It just comes down to, which hotel you prefer / the cost (each hotel differs in price) and it will be dependant on your room type (needs, wants, number of kids) in each hotel. So there is a fair bit of research to do.
The hotels on the Jumeirah Beach strip are: Jumeirah Beach, Jumeirah al Naseem, Jumeirah Al Qasr, Jumeirah Mina A'Salam, Jumeirah Dar Al Masyaf. There is also the Jumeirah Tower in the city, and the Jumeirah Zabeel Saray on the Palm. Both of which are slightly cheaper. We stayed there in Easter, and while it's 15 minutes cab ride from the JB strip, you can use all of the restaurants and facilities here.
For us, we love Jumeirah al Naseem; it feels modern and fresh, but with an Arabian twist.
SLEEPING
The rooms at Al Naseem work well for us. As a family, we are very happy to all sleep in one room on holiday, keeping costs down, as long as possible. The beauty with the rooms in the Al Naseem, is that they have sliding doors, separating the lounge area (and the sofa bed where the kids sleep) from the bedroom, meaning you can zone off the room if you need to. The bathrooms are also huge and the wardrobe space is plentiful – something that is often a squeeze when fitting four people into a room.
Small touches make a difference; fresh flowers on the desk, luxury skincare (111 face masks) are left on your pillow at night & my favourite, phone charger tidies by the bed – so your wires are organised immaculately. The kids were delighted when they found toys and robes on their bed.
EATING
So for us, this is what swung it when looking for a hotel to stay in with kids. Food can be pricey in Dubai; the equivalent of London prices. Here, children under 4 eat free. This is invaluable when it comes to ordering lunches and snacks from the pool bar. The half-board dine around is also amazing. With over 40 restaurants between the hotels, you have so much choice, you never need to leave. From noodles bars to high-end sushi, steak houses to Thai restaurants, Mexican and Chinese. There are so many choices. The majority of them are covered on half board, some you may need to pay a supplement.
My favourites:
Tortuga, Mexican. The kids absolutely love it, dine on the water and watch the boats; they have a guitar player a few nights a week. Get the fruit platter for dessert.
Shimmers, Greek. Super special and romantic with a great vibe. Kids can eat on the terrace, not the beach. (Supplement)
Pad Thai, Thai. Amazing Thai restaurant. Huge portions. Excitement added in that you need to take a boat to dinner. (Supplement.)
Zheng He's, Chinese. Incredible food with amazing views of the Burj al Arab all lit up at night. Great set menu for adults and kids.
FOR KIDS
It's a kids playground. The first year we came here, my kids were obsessed with the Al Naseem kids club. They would ask to go daily, and always come back with stories. We came for dinner when we stayed at the Zabeel Saray, and popped into the Kids Club, and the staff remembered their names from four months ago. This year, they didn't actually use it so much as they were a bit older, had made their own little football team and spent the majority of the day playing football on the grass by the pool.
There is also a larger central kids club, called Sinbads with a little water park that all of the hotels can use. Kids over 3 use the kids clubs free of charge.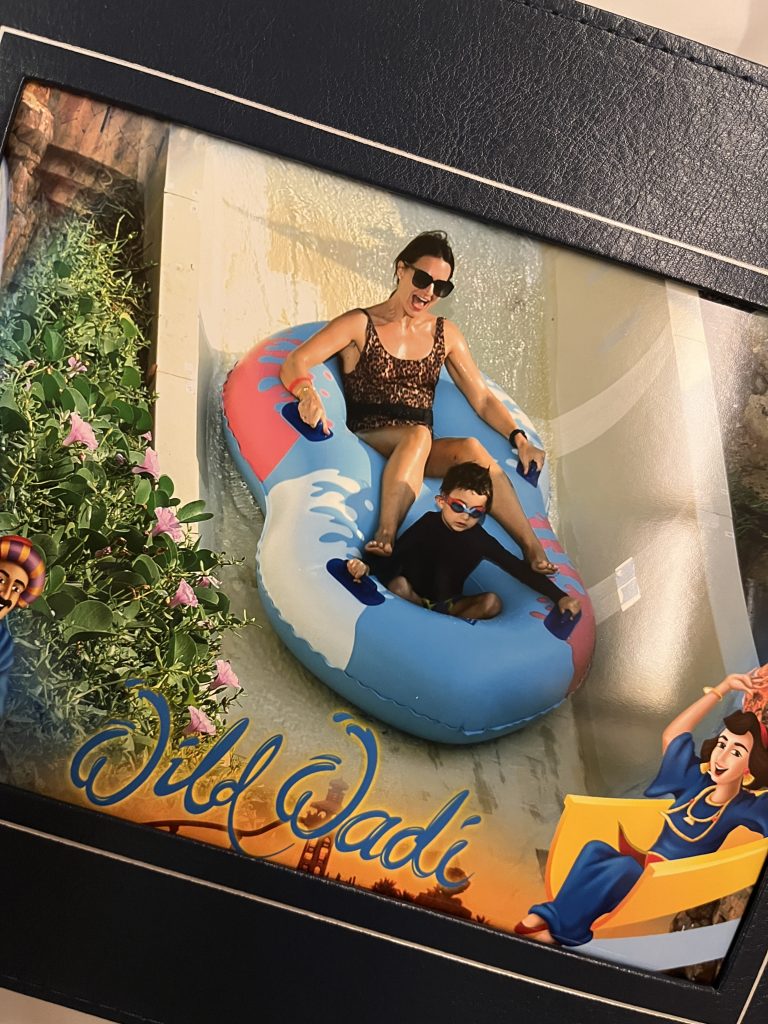 On the theme of water parks, the Wild Wadi Waterpark is included in your stay, and residents get free daily access. A note on this, for most of the larger rides you need to be over 1.3m. There is also a smaller area for little kids, and a large wave pool. It isn't as huge as the Atlantis waterpark but it's brilliant, not chaotic, and clean.
There's an on-site turtle sanctuary; every morning at 11am kids can go and feed the turtles.
If your kids like transport; sitting in the front of golf buggies is exciting enough, let alone getting a boat to dinner. Or just having a boat ride before dinner, which is what we sometimes do.
They also run a Football Escapes camp during peak school holidays; something I haven't done yet but I am sure is in my future as a football mom.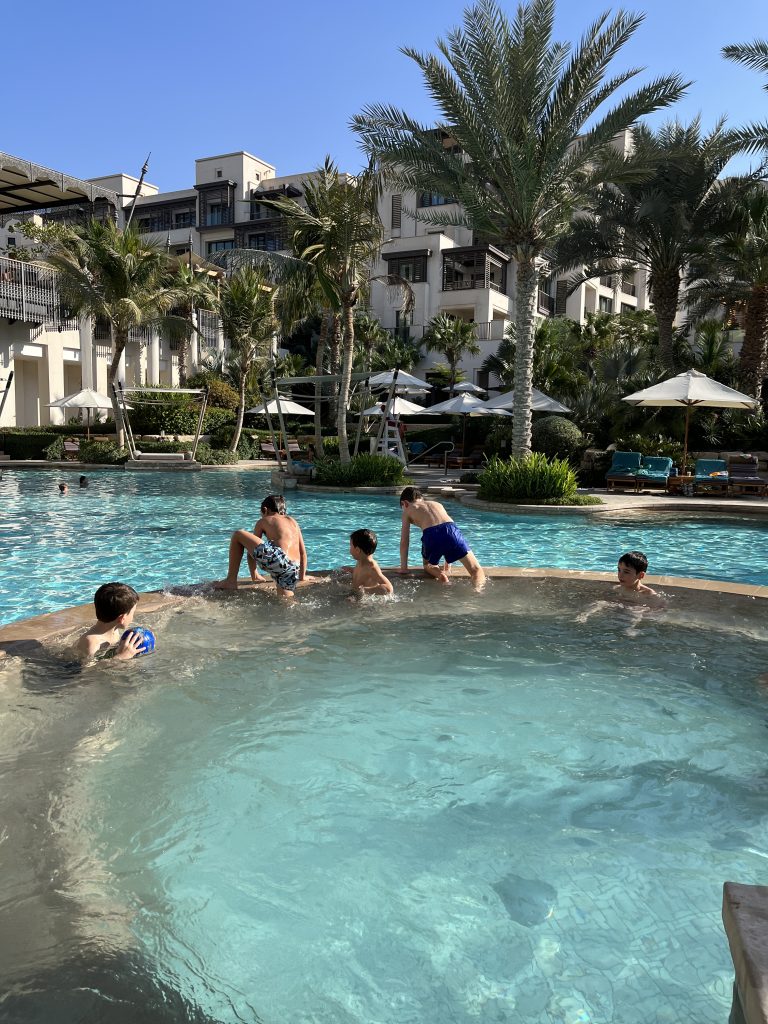 THE REST
The hotel would surprise everyone sporadically with things like a sweetie trolley to your room in the evenings, a poolside magic show or a cocktail trolley.
To get around Dubai, we either use Uber Family or Careem Kids app. Both come with car seats in the boot (pristine, obv). We use Black Lane for airplane transfers.
Our trips have all been paid in full by ourselves, but booked via ReserveAHotel. Sam can often beat any price you find on booking.com.