Skincare routines can be overwhelming – there's so much being sold to us these days – so much we 'should' be using. Do we need to double cleanse? Do we need a serum? Do we need an eye cream? Now that we're effectively in lock-down, we thought it could be a good time for everyone to really get to grips with their skincare, use the time that we'd never otherwise have to put a little more effort in and hopefully we'll all emerge with glowing skin. Our video is below, so feel free to cleanse along with us, but we've also written a little step-by-step for you to refer to…
[You can also watch our Morning Skincare Routine HERE]
The whole point of a night time routine is to allow your skin a full 8 hours (ish) to take what it needs from the products that you put on it without any interruption of pollution/sunlight/makeup etc…
DOUBLE CLEANSE
When you have time. We know that most of the times you'll be too tired to even brush your teeth – on those nights a single cleanse is more than enough. We prefer an oil/balm because it will take most of the days dirt/gunk off alongside a flannel.
BUT – think about it. These days make-up is designed to stay on your face for 24 hours, it needs a bit of elbow grease to make sure it's all gone. And the products that you put on your face will not do their job overnight if your skin isn't clean.
ACID/ RETINOL
If you're still a little confused about this, have a look at our blog post "What are acids and how do I used them?"
If you are using a retinol, apply it onto dry skin. Leave for 20 minutes, and then if you need it apply a moisturizer on top.
EYE CREAM
Apply using your ring finger, it has the lightest touch.
SERUMS
This is where you spend the most money. If you can, it's a good idea to have a few in your serum 'wardrobe' and you can cocktail them together depending on what your skin need. Hyaluronic acid is a great hydrator. Vitamin C is a good glow booster.
MOISTURISER
How much? 10p size is averagely the right amount.
If you are oily and prefer to avoid moisturisers, go for an oil-free moisturiser or a hyaluronic serum.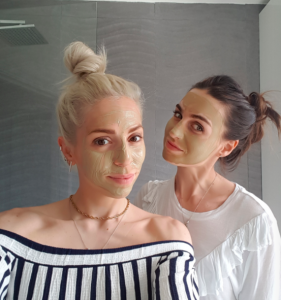 Hope this was helpful. As always, we'd love to know your thoughts. Let us know below or by leaving a comment on our IGTV or Instagram.